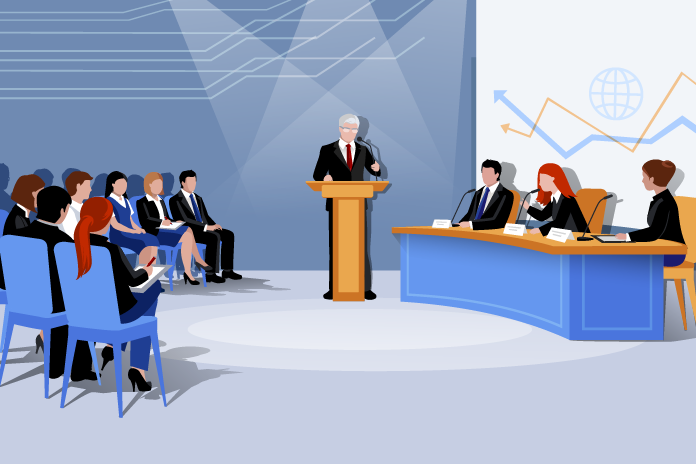 Over the last couple of years, several changes in technology have an impact on financial and banking services as well. Now everyone is aware of the term FinTech which means usage of technology in the financial sector. Definitely, fintech influencers had their piece of share in making fintech an enormous thing by sharing their ideas and influencing the world of techno-finance. Along with several other nations, the Middle East also have seen many influencers who helped in Fintech growth.
Here's a list of top Fintech influencers in the Middle East region (not in a specific order)
Raja Al Mazrouei is the Executive Vice President of FinTech Hive at the Dubai International Financial Centre(DIFC). She works with an aim to make DIFC as the region's best innovative destination for Fintech.
2. Arif Amiri
Arif Amiri is the Cheif Executing Officer at Dubai International Financial Center(DIFC). He manages the strategic and operational functions of the center. Currently, DIFC is working towards the fintech development which is a part Arif's vision for DIFC.
Leigh Flounders is the Senior Vice President Head of Digital Strategy and Engagement at Emirates NBD. He bagged several awards till date, amongst which The 2017 South By Southwest(SXSW) Conference FinTech & Payments pitch winner deserves a special mention.
4. Craig Moore
Craig Moore is the founder of Beehive which is the first peer-to-peer lending platform in the Middle East and North Africa(MENA) region. Beehive was launched in November 2014, it connects businesses seeking finance and investors. Till date, it has provided finance to more than 32 SMEs.
Kanchan Kumar is one of the founders of Remitr. Remitr is an end-to-end money transfer platform which was started with an aim to make global payments simple. In the year 2016, it was recognized as one of the most promising startups in the UAE region.
6. Suvo Sarkar
Suvo Sarkar is the Senior Executive Vice President and Group Head in Retail banking & Wealth management at Emirates NBD. He contributes to the growth of revenue, profits and customer base for the bank by setting new standards for product innovation. He also publishes a column on the changing paradigms in the banking sector. He is considered as a Finovate speaker in the Middle East.
Abdulaziz Al Jouf is the founder of PayTabs. PayTabs is a payment gateway that provides businesses to transfer funds to each other without any complications. Realizing the difficulties faced by the SME merchants in the MENA region to get a payment gateway, Abdulaziz developed PayTabs. It provides payment solutions to all kinds of business be it small and medium enterprises, large scale organizations, etc.
Mirna Sleiman is the CEO and founder of Fintech Galaxy which is a digital crowdsourcing platform. It connects fintech entrepreneurs and investors. Mirna is the former award-winning financial journalist. She even guided several banks and governments on their digital transformation projects.
9. Sridhar Iyer
Sridhar Iyer is the Head of Mashreq Neo and Banking. Mashreq Neo is the digital banking application that is working with an aim to make banking easy and swift for the customers. This definitely makes a good addition to the growth of fintech in the UAE region.
10. Moussa Beidas
Moussa Beidas is the founder of Bridg, a smartphone app. It is an app which uses Bluetooth to make online payments. It is the first app that works on flight mode as well. Bridg is definitely one of the best fintech innovations. It makes the payment process simple.
11. Sagar Sanap
Sagar Sanap is the AVP- Digital Sales Lead in Citi Bank. Being expertise in the field of Product strategy, Digital marketing, and campaign management, he is making a good share in the field of fintech.
12. Sam Quawasmi
Sam Quawasmi is one of the founders of the first equity crowdfunding platform Eureeca. It provides equity-based crowdfunding opportunity for the businesses. In the year 2013, Sam Quawasmi and Chris Thomas(Founder of Eureeca) were awarded "Innovator of the Year" award by Gulf Business Industry Awards in the UAE.
13. Peter Smith
Peter Smith is the managing director, policy and strategy at Dubai Financial Services Authority(DFSA). DFSA regulates the financial services conducted from Dubai International Financial Center(DIFC) which works with a vision to drive the future of finance.
14. Philip King
Philip King is the Global Head of Retail Banking at ADIB. Prior to ADIB, he worked in several other well-known banks. ADIB launched MoneySmart which is the first digital community in the Middle East region. It also added "ADIB Express" to their app in order to provide instant digital services to their customers.
15. Richard Teng
Richard Teng is the CEO of the Financial Services Regulatory Authority (FSRA), Abu Dhabi Global Market(ADGM). The first Fintech Regulatory Laboratory Framework in the MENA region was developed in ADGM under the supervision of Richard. He works in the development of Fintech ecosystem in Abu Dhabi region.
16. Wai Lum Kwok
Wai Lum Kwok is the Executive Director of Capital Markets, Financial Services Regulatory Authority (FSRA), Abu Dhabi Global Market(ADGM). He is known for his efforts and supervision in the development of Fintech in ADGM.
17. Promoth Manghat
Promoth Manghat is the Group Chief Executive Office of Finablr. He is responsible for strategy execution and management. Having an experience of more than 20 years, he is acknowledged as an expert in the Fintech domain. He was also listed in "Top 100 aspiring leaders in the Middle East" by Arabian Business.
18. Jayesh Patel
Jayesh Patel is the head of Liv. account of Emirates NBD. Liv. account is the first digital banking account in the UAE region. This account was launched by taking millennials and digital lifestyle into consideration. Liv account is one of the best add-ons to Fintech growth in the UAE.
Stelios Michaelides was the head of Digital Banking in Commercial Bank of Dubai(CBD). CBD Now is a digital banking product that was launched under the supervision of Stelios. It uses the latest technologies which promote in the safe and simplest way of banking for the customer.
20. Siddiq Farid
Siddiq Farid is the CEO and one of the founders of SmartCrowd. SmartCrowd is a real estate crowdfunding platform in the UAE. It is the only company that is regulated by the DFSA(Dubai Financial Services Authority) and the first company in UAE that supports digital real estate investments.
21. Tanvir Shah
Tanvir Shah is the Managing Director of The Partnerships Consulting. He supervises on banking, payments, fintech strategies, etc. in the MENA region. His works have been recognized by several popular publications like The Banker Middle East, Cards International, etc.
22. Lynnette Abad
Lynnette is the Director of Research and Data at PropertyFinder group. Having technology and real estate as her professional passions, she's been working on PropTech for maximum time in her career. She applies her unique blend of technology and real estate experience to optimize business performance through data and tech-driven strategies. Her highly developed understanding of real estate consumer behavior is sought by leading banks, developers, institutional investors, consultants, and governments.
23. Mark Chahwan
Mark is one of the co-founders of Sarwa. Sarwa is an online financial advisor that helps customers in finding investment opportunities with good returns and low-risks. It was recognized as one of the top 20 fintech companies by Forbes and the first startup to have an innovation license by the Dubai International Financial Center.
24. Mike Cunningham
Mike has been spending most of his career in the FinTech sector. He works as an independent mentor at DIFC(Dubai International Financial Center) Fintech Hive. Besides that, he is the CEO of BankClearly a startup which invented a new way of banking.
25. Omar Soudodi
Omar Soudodi is the managing director at PayFort. PayFort is a payment gateway platform which provides a secured and safe payment facility for online shoppers. It has won several awards in the MENA region along with the Best Fintech Company in the year 2016 by The Entrepreneur.
26. Usama Zafar
Usama Zafar is the Head of Digital & Direct Marketing in ADIB. He has 13+ years of work experience in well-acclaimed domestic and international companies. He is considered a growth hacker and uses innovative digital marketing techniques to promote products. 
With a track record of over a billion dollars in annual sales, he has achieved great success in helping large organizations monetize their digital investments using data analytics and performance marketing.
27. Nameer Khan
Nameer Khan is not only a fintech influencer but also an insurtech. He is a founding board member of MENA Fintech Association which helps in shaping the future of financial services in the UAE.
28. Ola Doudin
Ola Doudin is the Cofounder and CEO of BitOasis which is digital asset exchange and wallet. It allows individuals to purchase, sell and trade digital assets. Along with the digital wallet and trading services, they also offer consulting services to the organizations.
29. Omar Rana
Omar Rana is the co-founder and director of strategy and finance in Finalytix. Finalytix provides financial advice and wealth management of a company. Omar is also a global fintech speaker who was invited to talk at various conferences.
30. Omeed Mehrinfar
Plug and Play Tech is a platform that connects Startups and the world's largest corporations. Omeed Mehrinfar is the regional director of such an innovative platform that helps the startups, investors, etc connect with each other. Plug and Play Tech work on the main objective to catalyze technological advancement.
31. Osama Al Rahma
Osama Al Rahma is the CEO of the Al Fardan Exchange. Al Fardan Exchange is a well-known exchange center in the UAE. Apart from the Al Fardan Exchange center, he is a board member of certain well-acclaimed companies like Foreign Exchange and Remittance group, 2 the point, who is responsible for the development of strategies.
32. Tim Buckler
Tim Buckler is the Digital Sales Manager in Emirates Islamic Bank. With 9+ years of experience in the field of digital finance, his strategies mainly focus on developing overall e-commerce experiences. He helps in building the digital channel that eventually drives towards the customer and product gain.
33. Preeti Mundhra
Preeti Mundhra the Head of Marketing and Partnerships at the Liv. Digital Bank is one of the best fintech influencers in the UAE through Liv. account which is one of the best initiatives in the fintech space.
The founder and CEO of the well-known rent and property management platform, Ajar Online is Shaheen Alkhudhari. This platform helps homeowners manage their properties by offering a quick online rent collection facility. This makes the process of receiving or sending rent very easy.
35. Khalid Saad
Khalid Saad is the CEO of Bahrain Fintech Bay. Bahrain Fintech Bay is the first fintech hub in Bahrain and largest fintech hub in the MENA region. He is also the Executive Director of Fintech Consortium which helps in growth and acceleration of Fintech ecosystems.
36. Sonny Zulu
Sonny Zulu is the Managing Director and Head of Retail Banking at Standard Chartered Bank. He is known for delivering outstanding performance at work which helped in the growth of profits, revenue, etc.
37. Eric Modave
Eric Modave is the Chief Operating Office in Arab Bank who is in charge of all the IT operations, Enterprise Digital Innovation, data management, etc. for the bank. Prior to the Arab bank, he worked at top-noted banks in other regions.
38. Denit Varghese
Denit Varghese is the Senior Digital Planner at Carat. With long career experience in the field of digital marketing, his motto of looking at the long term success rather than short term returns makes him the best at the industry.
39. Bogdan Maranu
Bogdan Maranu is the Associate Media Director at Spark Foundry. It is a start-up that melds an innovative business approach with resources and capabilities.
40. Omar Bin Brek
Omar Bin Brek is the founder of the UAE Fintech Startup Foloosi. Foloosi facilitates consumer to business payments with advanced technical solutions. This is definitely a good add-on to fintech realm.
Other than these, there are several other influencers who are helping in the growth of Fintech in the Middle East and North Africa(MENA) region.
Disclaimer: The views expressed here are based on the author's research and do not represent the opinions of any entity or whatsoever.