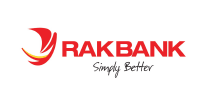 RAK BANK
Last Updated on 24 March 2020
About the Bank
Rakbank, which is also known as the Ras Al Khaimah National Bank (P.S.C), is a government joint venture company. The Bank was founded in 1976 and has undergone a significant transition from corporate banking to personal and business banking in 2001.
Today, the Bank offers a broad range of services for personal and business banking in its 36 branches, including mobile and online banking solutions. It also provides personal and business banking services in accordance with Sharia law, via its Islamic Banking Group, RAK islamic. The Bank offers Islamic wholesale and traditional, commercial banking and small business services through a network of 36 branches and 296 ATMs in the UAE.
Banking Products & Services
Rakbank offers a wide range of banking products & services like Credit Cards, Bank Accounts, Personal Loans, Home Loans, Business Loans, Islamic banking, Wholesale Banking etc. Explore all the Rakbank Products and Services here:
Popular Products & Services
Rakbank provides different types of financial products in the UAE and other regions. The flagship products include Credit Cards, Loans, Bank Accounts, Wholesale Banking, Islamic Banking, etc. Here are the popular financial products:
Credit Cards:
Rakbank offers various credit cards for different purposes to suit everyone's needs. There are different types of Credit cards available like RAKBANK Titanium Credit Card, RAKBANK World MasterCard Credit Card, etc. You can even enjoy the different features like Zero Annual Fees, cashback on movies, dining, travel insurance, complimentary stays, etc and many more. Read more
Loans & Mortgages:
Rakbank provides attractive loan options for expatriates and UAE nationals. There are different Loans available at Rakbank like Personal Loans, Home Loans, Car Loans, Business Loans, etc. It provides Collateral free loans, Competitive rates of interest and simple eligibility requirements with minimum salary required is AED 5,000.
Bank Accounts:
Various types of bank accounts serve unique needs. It's wise to put money into the best account, and use the right tools to spend and save, depending on your goals. Rakbank provides different Bank Accounts according to your requirements like Savings Accounts, Current Accounts, Islamic Accounts, etc.
Credit Card Offers
Bank offers various discounts, deals, and promotions on shopping, dining, travel, hotels, entertainment, education, health, and wellness, etc. Visit Rakbank credit card offers page for further details
CEO: Peter England
Chairman: H.E. Mohamed Omran Alshamsi
Founded Year: 1976
Head Quarters: Ras Al Khaimah
Swift Code: NRAKAEAK
Total Assets: AED 53.5 Billion
Net Profit: AED 839.4 million
Website: www.rakbank.ae
Savings Account
Home Loan
Car Loan
Business Loan
Credit Card
Personal Loan
Current Account
Deposit Account
Islamic Account
Premier Account
Savings Account

Provided by Rakbank
Frequently Asked Questions
Q. What is Swift Code for Rakbank?
A. Swift Code for RAKBANK: NRAKAEAK
Q. Is there any International Transaction Fee to purchase with Credit Card?
A. Yes, when you pay in Non-AED Currency- 2% of transaction amount & When you pay in AED Currency 2.5% of transaction amount.
Q. Is there any duplicate statement fee?
A. Yes, for each statement AED 45 (before last statement) is charged.
Q. Is there any Card replacement fee charged by RAKBANK?
A. Yes, Card replacement fee from RAKBANK is AED 75.
Q. Is there any E-Statement fee?
A. No. There is no E-Statement
Q. Who can have RAKBANK current account?
A. The UAE residents who are above 21 years can open the Current Account. But, Non-Resident individuals cannot open the Current Account.
Q. What is Elite in RAKBank?
A. Elite is a banking service that provides privileged banking services that gives personalised banking experience to the customers.
Q. What is the maximum limit for RAK money transfer to India?
A. The maximum limit for RAK Money Transfer to India is INR 2 Lakhs.
Q. Can we transfer money from credit card?
A. Yes. On RAK Money Transfer you can transfer funds in your accounts or credit card.
Q. What are the service charges for RAK Money Transfer?
A. The service charges for RAK Money Transfer varies from AED 5 to AED 15. It depends upon the transferred amount.
Latest Updates About Rakbank
RAKBANK is launching a much-awaited digital community platform called ' SMEsouk ' for SMEs in the UAE
06 November 2019
The Bank partnered with reputable entities to help create a digital community platform that delivers an entire spectrum of Financial services and non-banking value-added services specifically for SME's SMEsouk is the perfect digital medium that links SMEs with a list of innovative solutions that will help their businesses thrive.
RAKBANK honors the Department of Criminal Investigation (CID) and the Raffa Police Station for their assistance throughout the year
11 September 2019
RAKBANK was given the honor of inviting officials of the Criminal Investigation and Raffa Police Station to accept awards and appreciation for their constant support and critical assistance to the bank to combat fraud, financial-laundering and cybercrime under the patronage of HE engineer Sheik Salem al-Qassimi, member of RAKBANK's board and Chairman of RAK Civil Aviation Department's department.