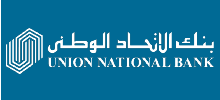 Union National Bank
Last Updated on 01 April 2020
Follow Union National Bank on
About the Bank
UNB was established in 1982 as a Public Joint Stock Company. Its headquarters was in Abu Dhabi, UAE. It provided a wide range of financial products & services to private & cooperative companies. It had 50+ locations across the UAE. Recently, in 2019, Union National Bank has merged with ADCB bank. Currently, it has 72 branches & 450 ATMs across the UAE.
Banking Products and Services
UNB provides a broad range of financial products & services according to the customer needs to fulfill their individual & corporate requirements. Let's have a look at it -
Popular Products & Services
UNB offers different types of its flagship products like - cards, loan, account etc. Let's explore all in detail -
Credit Cards:
This bank offers various credit cards like - Union National Bank Titanium Credit Card, Union National Bank Platinum Credit Card, Union National Bank World MasterCard, Union National Bank Extra Classic ADCOOP Credit Card, according to the customers requirement. Using UNB credit cards, customers can avail the benefits of high cashback, huge discounts on booking movies, Free companion ticket, Valet Parking & many more with an annual fee range from AED 0 - AED 630. Visit UNB Credit Cards page for more details.
Loans & Mortgages:
This bank offers you a variety of finance options for expatriates & UAE nationals which helps you to meet your personal needs some of them like - Personal loan, Home loan, Car loan on very low interest rates with AED 5,000 minimum salary. You can also calculate its EMIs with Loan Calculator.

Bank Accounts: UNB offers to the customers various types of bank accounts where its customers can keep the money according to their purpose safely. It provides Saving Account, Current Account, Deposit Account, Children Account, SME Account, etc
Credit Card Offers
UNB provides variant discounts, deals, cashback, easy payment plan on booking hotels, dining, travel, shopping etc. Check out the UNB Credit Card Offers page for more details.
CEO: Mohammad Nasr Abdeen
Chairman: H.H.Sheikh Nahayan Mabarak Al Nahayan
Vice Chairman: H.E.Mohamed Dhaen Al Hamli
Founded Year: 1982
Head Quarters: Abu Dhabi
Total Assets: AED 279 Billion
Net Profit: AED 4 Million
Website: www.unb.com
Savings Account
Home Loan
Car Loan
Credit Card
Personal Loan
Current Account
Deposit Account
Childrens Account
SME Account
Savings Account

Provided by Union National Bank
Frequently Asked Questions
⭐ How can I get UNB credit card statements?
A. One can visit the branch & can request for the statement or can get print out through online banking.
⭐ How much amount UNB charges to open an account?
A. This bank charges AED 250 to open an account.
⭐ What is the minimum amount we'll have to maintain for UNB savings account.
A. AED 3000 is required for maintaining UNB saving account.
⭐ Will my existing UNB account get closed after UNB and ADCB merger?
A. No. You will provided with new ADCB account with the same fees, charges and interest rates as UNB.
⭐ Can I use my old UNB credit card?
⭐ I already have an account at ADCB. What will happen to that?
A. Your existing ADCB account and UNB account will be merged and you will be given a new customer ID and account number.
⭐ Will my UNB account number be same at ADCB?
A. No. You will be given a new ADCB account number with CID.
Latest Updates About Union National Bank
The last steps of the integration journey following the merger of ADCB and UNB
02 April 2020
From 2nd April 2020 all the former UNB customers will have complete ADCB banking experience and access to comprehensive digital banking services. The Accounts, along with any Loans, Deposits, and Investments, will be automatically transferred to ADCB.