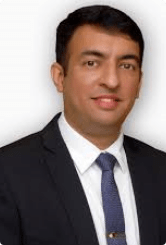 Amit Mitbawkar
Amit Mitbawkar is an independent Dubai-based financial advisor. He is a part of an elite club "Million Dollar Round Table'' which is for the best financial advisors globally. He helps entrepreneurs and other professionals to create a second stream of income through investment options. He particularly focuses on helping the clients in creating a personalized financial plan and suggests actionable investment strategies.
He penned a book called 'Creating, Preserving, Distributing Wealth' and also a guide "6-Step Financial Success Course".
His work has been featured on famous print media platforms like Gulf News, Khaleej Times, The National, etc.
Areas of Expertise:
Personal Financial Planning
Investment Strategies
Wealth Management
Savings Planning
Money Management
Retirement Planning
Certifications:
He was certified by Chartered Institute For Securities & Investments (CISI) and Chartered Insurance Institute. His professional certifications also include:
International Certificate in Wealth & Investment Management (C.I.S.I. - Level 3)
Introduction to Securities & Investment (International) (C.I.S.I. - Level 2)
U. A. E. Rules & Regulations (C.I.S.I. - Level 1)
Award in Financial Planning (Chartered Insurance Institute - C.I.I.)
Posts from this expert