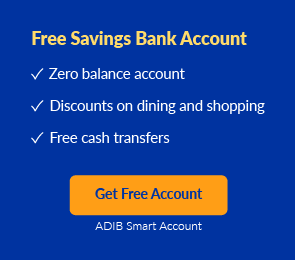 Check Eligibility for ADIB
Car Loan
You are eligible to apply for a ADIB
Car Loan .
You may not be eligible * to apply.
* Minimum salary AED 5000 required to apply for a ADIB Car Loan .
*No loan for :User_Nationality available in this page
Popular Car Loans
Top 10 Personal Loans
Car Loan Provided By ADIB
Check Eligibility for ADIB Car Loan

Features of ADIB Car Loan
Attractive profit rates.
Salary transfer not mandatory
Quick approval procedures
Up to 60 months repayment tenures
Free ADIB VISA Cashback Card for first year
vehicle Takaful with low contribution
Free postponement option
Down payment as low as 20%
With Ijarah finance (only for new cars), you get additional benefits:
​​Full comprehensive Takaful cover
Extended warranty
No traffic registration fee
Eligibility Criteria of ADIB Car Loan
Minimum Age: 21 years (25 years for Ijarah)
Minimum Salary: 5000 AED (10000 AED for Ijarah)
Minimum length of employment with current company/employer: 6 months
Documents Required of ADIB Car Loan
Valid Emirates ID (For UAE Nationals)
Valid passport (For Expatriates)
Valid residence Visa (For Resident Expats)
Active bank account statements (past 3 months)
Relevant Vehicle Documents
Note: The bank may ask for more documents if necessary.
ADIB Car Loan Profit Rates

ADIB is a Public Joint Stock company and is one of the largest banks in the UAE region. Its values include transparency in services, an atmosphere of hospitality and tolerance followed by nature of simplicity and sensibility.
ADIB stands as one of the best banks of UAE by carrying out all the transactions, contracts and services by abiding Ismalic Shari'a principles.
Ask questions and share your comments
We encourage our users to have discussion on questions they might have on financial products and help other users by sharing their insights. Kindly help us in making this site useful. We don't encourage any spam posts here. This is a public forum, so we request you to be safe by not disclosing personal information such as bank account or phone numbers etc. Please follow our posting guidelines. All the comments posted under MyMoneySouq official account are not reviewed by the financial institutions.