Popular Prepaid Cards
Credit Bureau Consent, Welcome Offer & General Terms & Conditions
I hereby acknowledge and agree to allow Citibank to share my details with any UAE credit bureau and make enquiries about me with any UAE credit bureau at its sole and absolute discretion. I agree to the Terms and Conditions listed below. Citibank Terms and Conditions apply, are subject to change without prior notice and are available upon request. For the current Terms and Conditions, please visit our website www.citibank.ae. All offers are made available on a best-effort basis and at the sole discretion of Citibank, N.A. Citibank, N.A. makes no warranties and assumes no liability or responsibility with respect to the products and services provided by partners/other entities. By inquiring about our services, offers or products, you will be authorizing our representatives to approach you on your contact details including your telephone/mobile number for any product or service offered by Citibank. The applicant agrees to be bound by Citibank's General Terms and Conditions available on the website www.citibank.ae. The applicant hereby represents and warrants that the information provided herein is true, accurate, and complete and that he/she agrees to remain responsible for and to indemnify Citibank, N.A. from and against any losses, claims and/or liabilities incurred by Citibank NA as a result of having relied on such information. Citibank, N.A. is not required to verify the information provided by the applicant and neither is the bank obliged to provide the applicant with any loans or credit facilities based on the provided information. The products and services mentioned on this website are not offered to individuals resident in the European Union, European Economic Area, Switzerland, Guernsey, Jersey, Monaco, San Marino, Vatican, The Isle of Man or the UK. This page is not, and should not be construed as, an offer, invitation or solicitation to buy or sell any of the products and services mentioned herein to such individuals.
FAB Prepaid Cards in UAE
Eligibility Criteria of FAB Prepaid Card
The eligibility criteria of the FAB prepaid card varies with each card.
For Ratibi Prepaid Card, the employer issuing the card must have a corporate account at FAB
Only companies are eligible to get a FAB prepaid card
FAB eDirham Prepaid Card can be availed by UAE residents or non-residents as well
First Abu Dhabi (FAB) Prepaid Card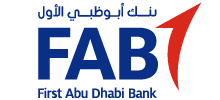 5 Prepaid Cards Provided By First Abu Dhabi (FAB)
Benefits
The bank account is not needed for the cardholders
Can reload the card easily
Can use it any merchant that accepts Visa or Mastercard cards
Can use it for cash withdrawal
Can use it for online transactions, bill payments, etc
Cardholders can get transaction statements for free
No minimum balance requirement
Provides a mobile app
Can get the details of the prepaid card easily using the online portal
An exclusive card for government entities i.e. Multi-Currency Prepaid Card
Can use the eDirham cards at government entities as well
How to check FAB Balance?
FAB Balance enquiry can be done in a simple and convenient way through the following steps. Through FAB Bank Balance Check, you can find out the balance available in your prepaid card, transaction history on the card, and recharge the card accordingly.
Keep your FAB prepaid card available during FAB Balance Check.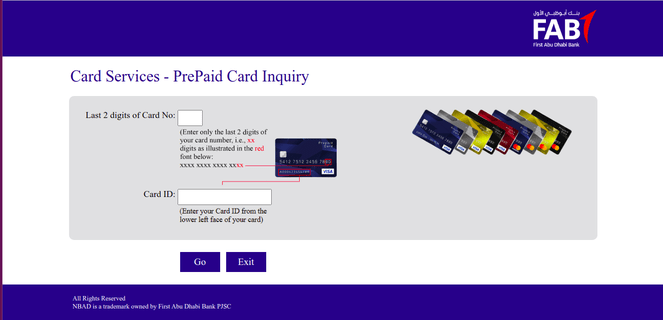 Enter the last two digits of the prepaid card.

Ex: If your card number is "1234 1234 1234 5678", Enter "78"

Enter the Card ID provided on the prepaid card. Every prepaid card consists of the card id which is a unique combination of letters and numbers. Enter the ID without any errors.

Click on GO

You will find your available balance on the top along with other basic details like Name, Card Number, Status, etc.
You can also check the latest 10 transactions by default. You can also check the transactions by giving start and end dates.
Prepaid cardholders can get free and convenient FAB balance enquiry by following these simple steps.
Reloading FAB Prepaid Cards
After the FAB balance enquiry, you can reload your prepaid card as per the maximum balance on the card and also the load amount per day.
Prepaid cards can be reloaded by, like
Visiting any FAB ATMs centers or

On FAB prepaid online portal
FAB Bank Salary Check
FAB salary check process is simple and easy through FAB prepaid card enquiry system page. Have your FAB prepaid card ready and follow the below steps for the FAB salary check:
Open FAB Prepaid card enquiry system page

Enter the last two digits of your prepaid card number in the first column provided on the page.

Every prepaid card is given an ID on the left side of the card at the bottom. Enter the complete ID given below the card number in the next box on the page.

Verify the details you've entered

Click on "GO"
You can check FAB salary and balance details on the profile. The FAB online balance checking is available at any time of the day on no charges.
Frequently Asked Questions
Q. Can we reload the gift card as well?
A. No. The Prepaid Gift card is loaded once by the corporate and gifted. The maximum amount on it is AED 3500 and can't be reloaded.
Q. Can individuals avail the FAB prepaid cards?
A. No. FAB Prepaid cards are exclusive for the corporates. However, individuals can avail FAB eDirham Prepaid Cards.
Q. How to activate the FAB prepaid card?
A. There is no separate activation required for the FAB prepaid cards.
Q. Are there any charges levied for FAB balance enquiry?
A. No. FAB Balance enquiry is provided for free which can be availed at any time and anywhere.
Q. Do we need to get an account at FAB to get the prepaid card?
A. Only for FAB Ratibi Prepaid Card, the company needs to hold a FAB corporate account. For other cards, the cardholders need not have an account in FAB.
Q. Can we reset the PIN of the prepaid card?
A. Yes. You can reset your FAB prepaid card PIN by visiting the Prepaid Online Portal.
Q. What are the documents required for non-residents to get the FAB eDirham Prepaid Card?
A. Non-residents need to provide a copy of the passport as the document to get FAB eDirham Prepaid Card.
Q. Is it mandatory to have FAB account for the prepaid card?
A. No. There is no FAB account required for the prepaid cards.
Q. Are there any charges on FAB (NBAD) salary check?
A. No. You can perform FAB salary check for free through FAB PPC page.
Q. Can we get balance enquiry of any prepaid card?
A. No. You can get FAB prepaid card balance only on FAB website.
Q. Can we get details of money credited in the prepaid card on FAB balance enquiry page?
A. Yes. You can check money credited and debited into your prepaid card on FAB balance enquiry page.
Q. Can we check FAB prepaid card balance even if I don't have card?
A. If you have the details of your FAB prepaid card, then you can login and check the card balance.
First Abu Dhabi Bank (FAB) is one of the largest banking institutions established in 2017 and is a merger of NBAD and FGB. FAB offers tailor made solutions, products and services to the customers.The international network of FAB is spread over 5 continents providing global relationships, expertise and financial strength to local and international business. FAB offers its diversifying services by having differentiation, agility and innovation as their main motto and vision