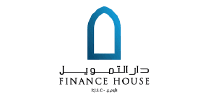 Finance House
Last Updated on 02 January 2020
About the Bank
In July 2004, Finance House was launched as one of the first independent company of finance in UAE. It offers investment, consumer & industrial services across the UAE. It has 4 branches in UAE.
Banking Products & Services
Finance House offers its financial products & services to the account holders like- cards, loans, deposits & insurance for improving the experience of money management.
Popular Products & Services
Here's the list of Finance House flagship products that are offered by the bank to the customers. Let's have a look -
Credit Cards: According to the customer needs Finance House provided credit cards like - Finance House MasterCard Platinum, Finance House MasterCard Gold which are available on a minimum salary range at AED 8k. Customers can avail the benefits of its various features & discounts on shopping, travel, dining etc with no annual fee. Visit Finance House credit card page for more details.
Loans & Mortgages:
Finance House offers easy finance, home finance, auto finance & Personal Loan to the customers. It offers loans on low interest rates with a minimum salary on AED 5k, which you can calculate using Loan Calculator
Bank Accounts: Its treasury department provides MYFD, Fixed & Flexi deposits information of financial solutions to the institutional & corporate customers.
Credit Card Offers
Finance House provides huge discounts on shopping, dining, travel, fitness, entertainment, health & wellness categories. Visit Finance House credit card offers page for further details.
Chairman: Mohammed Abdulla Jumaa Alqubaisi
Vice Chairman: Ahmad Obaid Humaid Al Mazrooei
Founded Year: 2004
Head Quarters: Abu Dhabi
Total Assets: AED 3.97 Million
Net Profit: AED 0.026 Million
Website: www.fh.ae
Personal Loan
Credit Card
Personal Loan

Provided by Finance House

Executive Finance

Flat Rate

Minimum Salary

Reducing Rate

Max Loan Amount

Early Settlement Fee

Arrangement Fee






Frequently Asked Questions
Q. How many Supplementary cards I can apply for?
A. You can apply for maximum 4 Supplementary cards on your primary credit card at the Finance House.
Q. How much can I withdrawal from credit cards?
A. You can withdrawal 30% of the card's credit limit.
Q. How much time will it take for issuing a card?
A. It will take about 5 working days for issuing a card.
Latest Updates About Finance House
BPaas solution
15 October 2019
Du on-Boards Finance House in launch of UAE's 1st Blockchain-Powered 'Bank Trust Network' BPaaS solution.