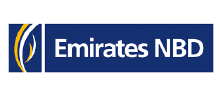 Emirates NBD
Last Updated on 02 January 2020
About the Bank
On 19 June 1963, Emirates NBD was founded by H. H. Late Rashid bin Saeed Al Maktoum, which became the first national bank founded in Dubai and the United Arab Emirates (UAE) to sign the Charter of Incorporation of the National Bank of Dubai (NBD). NBD merged on 6 March 2007 to form Emirates NBD with Emirates Bank International (EBI).
More than 9,000 people currently work for the Emirates NBD, representing 70 nationalities, in the UAE. The bank now has 233 branches in the UAE and 1081 ATMs and SDMs. The bank operates through a network of 749 branches, with a presence in Turkey, Austria, Germany, Bahrain, and Moscow.
Banking Products & Services
Emirates NBD offers a wide range of banking products & services like Credit Cards, Bank Accounts, Personal Loans, Home Loans, Business Loans, Islamic banking, Wholesale Banking etc. Explore all the Emirates NBD Products and Services here:
Popular Products & Services
Emirates NBD provides different types of financial products in the UAE and other regions. The flagship products include Credit Cards, Loans, Bank Accounts, Islamic Banking, etc. Here are the popular financial products:
Bank Accounts:
Various types of bank accounts serve unique needs. It's wise to put money into the best account, and use the right tools to spend and save, depending on your goals. It provides different Bank Accounts according to your requirements like Savings Account, Current Account, Emirates NBD SME Account, Emirates NBD Premier Account, Deposit Accounts, Islamic Account, etc. Loans & Mortgages:
Emirates NBD provides attractive loan options for expatriates and UAE nationals. There are different Loans available at Emirates NBD like Home Loan & Personal Loan, Car Loan, etc. Credit Cards:
Emirates NBD offers various credit cards for different purposes to suit everyone's needs. Visit Emirates NBD Credit cards page for further details.
Credit Card Offers
Bank offers various discounts, deals, and promotions on shopping, dining, travel, hotels, entertainment, education, health, and wellness, etc. Visit Emirates NBD credit card offers page for further details.
CEO: Shayne Nelson
Chairman: H.H. Shaikh Ahmed BinSaeed Al Maktoum
Founded Year: 2007
Head Quarters: Dubai
No.of Employees: 9000+
Swift Code: EBILAEAD
Total Assets: AED 537.8 Billion
Net Profit: AED 7.5 Billion
Website: www.emiratesnbd.com
Savings Account
Home Loan
Car Loan
Credit Card
Personal Loan
Current Account
Deposit Account
Islamic Account
Premier Account
SME Account
Savings Account

Provided by Emirates NBD
Frequently Asked Questions
Q. What is a Smart Saver Account?
A. Smart Saver is an online savings account that can be opened and operated completely.
Q. What is the minimum amount to start a Gold Investment Account?
A. No, to start a Gold Investment Account, there is no minimum amount required.
Latest Updates About Emirates NBD
Emirates NBD provides instant mobile account opening
04 November 2019
Instant accounts for new customers on their mobile phone has been announced by EmiratesNBD. Salaried UAE residents can now digitally open their current or savings account by downloading the Emirates NBD Mobile Banking App from Apple or Google Play App Stores.