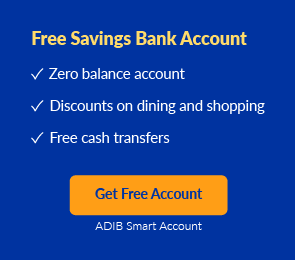 Check Eligibility for CBD
Personal Loan
You are eligible to apply for a CBD
Personal Loan .
You may not be eligible * to apply.
* Minimum salary AED 8000 required to apply for a CBD Personal Loan .
*No loan for :User_Nationality available in this page
CBD Personal Loan Calculator
Top Personal Loans
Personal Loan Provided By CBD
Check Eligibility for CBD Personal Loan
CBD Personal Loan Calculator

CBD Personal Loan Details
Minimum Salary
AED 8000 per month
Interest Rates
Flat rate: 2.45% | Reducing rate: 4.5%
Maximum Loan Amount
AED 2500K
Early Settlement Fees
1% of the outstanding amount
Arrangement Fees
1% of the approved loan amount
Tenure
48 months
Age
21 - 60 years(Expats) & 65 years(UAE Nationals)
Features of CBD Personal Loan
CBD offers personal loans for both Emiratis and expatriates. Some striking features of the personal loans offered by CBD are:
High loan amounts of up to AED 2.5 million for UAE Nationals and AED 1.5 million for expats.
Flexible repayment period up to 48 months.
Competitive interest rates
Personal loans available with / without salary transfer
No guarantor required to sign the loan application form
Current account with minimum balance requirement waived
Facility of buy-out or transfer of Personal Loan from other banks (with or without topping up the loan amount)
Free Debit Card for purchases and withdrawals
Loan deferment available
Fees and Charges
Processing fee : 1% of loan amount min. AED 500 max. AED 2,500
Insurance fee : 1% insurance premium
Part-prepayment : 1% of the prepayment amount
Early settlement : 1% of the remaining balance
Loan postponement : AED 100
Loan rescheduling : AED 250
Eligibility Criteria of CBD Personal Loan
Minimum salary required is AED 8,000 per month for the Northern Emirates and Sharjah and is AED 10,000 per month for Abu Dhabi and Dubai
UAE National aged between 21 and 65 years old (at the finance maturity) or if you're an expatriate aged between 21 and 60 years old (at the finance maturity).
Permanent employee or with six months minimum length of service with a CBD approved employer
Documents Required of CBD Personal Loan
Application form and loan agreement
National ID, valid passport, residence visa and Emirates ID
Original 3 months bank statement for new customers
Salary transfer letter
Salary certificate.
CBD Personal Loan Interest rates

4 CBD Bank Personal Loans
About CBD
Commercial Bank of Dubai (CBD) offers a wide range of retail and commercial banking products and services, in both conventional and Shariah-compliant formats, with a network of 26 branches and over 210 ATMs throughout the UAE. The bank endeavors to build sustainable prosperity through extraordinary banking experiences. CBD commits to:
Authenticity
Simplicity
Partnership
Innovation
Responsibility
Excellence
Ask questions and share your comments
We encourage our users to have discussion on questions they might have on financial products and help other users by sharing their insights. Kindly help us in making this site useful. We don't encourage any spam posts here. This is a public forum, so we request you to be safe by not disclosing personal information such as bank account or phone numbers etc. Please follow our posting guidelines. All the comments posted under MyMoneySouq official account are not reviewed by the financial institutions.
x
MyMoneySouq's Robo Advisor
Thank you for your feedback
Ask me about Personal Loans