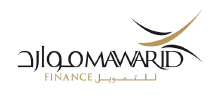 Mawarid Finance Bank
Last Updated on 27 March 2020
Follow Mawarid Finance on
About the Bank
Mawarid Finance was established in 2006 in Dubai, United Arab Emirates. It is an Islamic Finance & Investments group licensed by the UAE Central Bank. It has also been focusing on supporting & developing the national economy through the provision of Islamic financial products & services for small, medium enterprises & enabling them for the country's economic growth.
Banking Products & Services
Mawarid Finance Bank offers a wide range of services & products that help customers in managing their wealth.
Popular Products & Services
Mawarid Finance provides various financial services & products across the UAE. It's flagship products are Credit Cards, Loans, Business Deposits, Islamic Finance Products. Here's the list of popular products of Mawarid finance -
Credit Cards:
Mawarid Finance offers those credit cards that suit its customer needs. There are different types of credit cards available with a salary range from AED 15K. like - Mawarid Finance Falak Tayyeb Platinum Murabaha Mastercard. Visit Mawarid Finance Credit Card page for more details.
Loans & Mortgages:
This institute offers Personal Loan for expatriates and UAE nationals. You can calculate its EMI using Loan Calculator. It provides loans on AED 10,000 minimum salary.
Credit Card Offers
It also provides various discounts & deals on its credit cards. To avail the benefits and discounts on credit cards. Visit Mawarid Finance Credit Card Offers page for more details.
CEO: Mohamed Ali Abdullah S. Musabbeh Al Nuaimi
Chairman: Omran Sultan Abdullah Al Owais
Vice Chairman: Abdul Aziz Mohammed Abdullah Al Bannai
Founded Year: 2006
Head Quarters: Dubai, UAE
Total Assets: AED 1.45 Million
Website: www.mawarid.ae
Personal Loan
Credit Card
Personal Loan

Provided by Mawarid Finance

Personal finance

Flat Rate

Minimum Salary

Reducing Rate

Max Loan Amount

Early Settlement Fee

Arrangement Fee






Frequently Asked Questions
Q. Do I get lounge access with Mawarid Falak Tayyeb credit cards?
A. Yes. You can get complimentary accesss to the airport lounges worldwide, depending upon the card.
Q. Are there any yearly charges for Mawarid Falak Tayyeb credit cards?
A. No, there are no any yearly charges on Mawarid Falak Tayyeb credit cards.
Q. Can I lock my credit card through Mawarid Mobile app?
A. Yes, one can lock their credit card through the Mawarid Mobile app.
Q. Does Mawarid Finance provides Islamic Finance services?
A. Yes. Mawarid Finances offer Islamic Finance Services.
Q. Can I activate my credit card through the mobile app?
A. Yes. Through the Mawarid mobile app you can activate your credit card.