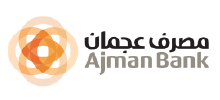 Ajman Bank
Last Updated on 27 March 2020
About the Bank
The Bank was established in 2007 as the first Islamic bank incorporated in Ajman's Emirate. In February 2008, its shares were listed on the Dubai Financial Market, and the Bank officially opened and started operations from two branches in Ajman in 2009.
The Bank now has UAE-wide branches and ATMs. This bank has a total of 8 branches and 35 ATMs' in the UAE. Ajman Bank has correspondent banking relationships across several countries in the Middle East, North Africa, Asia, Europe, and America with well-known banks and financial institutions.
Banking Products & Services
Ajman Bank offers a wide range of banking products & services like Consuming Banking, Wholesale Banking, etc. Explore all the Ajman Bank Products and Services here:
Popular Products & Services
AJMAN Bank provides different types of financial products in the UAE and other regions. The flagship products include Credit Cards, Loans, Bank Accounts, etc. Here are the popular financial products:
Credit Cards:
AJMAN Bank offers various credit cards for different purposes to suit everyone's needs. There are different types of Credit cards available with a salary range from AED 8K. Like, Ajman Bank Power Gold, Ajman Bank RoadMiles Classic Card, & Ajman Bank Power Platinum, etc. Read more Loans & Mortgages:
AJMAN Bank provides attractive loan options for expatriates and UAE nationals. There are different loans available at AJMAN Bank like Car Loan, Home Loan, & Personal Loans, etc. Bank Accounts:
Various types of bank accounts serve unique needs. It's wise to put money into the best account, and use the right tools to spend and save, depending on your goals. AJMAN Bank provides different Bank Accounts according to your requirements like Savings Account, Current Account, & Deposit Account, etc.
Credit Card Offers
Bank offers various discounts, deals, and promotions on shopping, dining, travel, hotels, entertainment, education, health, and wellness, etc. Visit AJMAN Bank credit card offers page for further details
CEO: Mohamed Abdul Rahman Amiri
Chairman: H.H. Sheikh Ammar bin Humaid Al Nuaimi
Founded Year: 2007
Head Quarters: Mushairef - Ajman
Swift Code: AJMNAEAJ
Total Assets: AED 23.4 Billion
Net Profit: Dh 132.61 million
Website: www.ajmanbank.ae
Savings Account
Home Loan
Car Loan
Credit Card
Personal Loan
Current Account
Deposit Account
Islamic Account
SME Account
Savings Account

Provided by Ajman Bank

Savings Account

Interest Rate

Min Balance to Maintain

Monthly Fee

Annual Fee

Relationship Manager

Currency Account


3K
Min Balance to Maintain




Frequently Asked Questions
Q. What is 3D Secure?
A. 3D Secure is a free Ajman Bank service that enables you to securely transact online with your Credit Card. 3D Secure provides an additional layer of digital transaction authentication to ensure additional security.
Q. How do I get 3D Secure Registration?
A. There is no need to sign-up. This feature is activated on your card automatically. Please make sure that your latest mobile phone number has been updated with the bank because records will send OTP to your mobile number.
Q. Can businesses also avail Ajman Bank Online Banking services?
A. Yes. Businesses can avail Ajman Bank Online Banking services.
Q. Are there any offers provided by Ajman Bank for children school fees?
A. Ajman Bank credit cardholders can convert the school fee payments to 0% EPP for 12 months tenure.
Q. What is Ajman Bank Bright Card?
A. Ajman Bright Card is travel credit card that comes with a wide range of travel offers and benefits
Q. Does Ajman Bank offer payroll account?
A. Yes. Ajman Bank provides payroll accounts services with good benefits like no minimum balance requirement and can open with minimal documentation.
Q. Is the savings account provided at Ajman bank an interest bearing account?
A. Yes. Ajman Bank Saving Account is an interest bearing account.