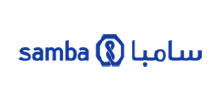 SAMBA Bank
Last Updated on 01 April 2020
About the Bank
After Citibank founded SAMBA's first branch in Jeddah in 1955, SAMBA has maintained a record of excellence. Samba was established in 1980 by a Royal Decree and has now grown into one of the Middle East's leading financial institutions.
SAMBA is listed on all three national stock exchanges, namely Karachi, Lahore, and Islamabad. The bank has a network of thirty-seven (37) strategically located branches in Karachi, Sialkot, Lahore, Islamabad, Peshawar, Multan, Faisalabad, Gujranwala, Quetta and Bagh (AJK), Rawalpindi. In the Middle East, Europe and South Asia, Samba's growing presence include branches in Pakistan and Dubai.
Banking Products and Services
SAMBA Bank offers a wide range of banking products & services like Credit Cards, Bank Accounts, Personal Loans, Home Loans, Islamic banking, etc. Explore all the SAMBA Bank Products and Services here:
Popular Products & Services
SAMBA Bank offers a wide range of banking products & services like Credit Cards, Bank Accounts, Personal Loans, Mortgages, Investments, Insurance, etc. Explore all the SAMBA Bank Products and Services here:
Bank Accounts: Various types of bank accounts serve unique needs. It's wise to put money into the best account, and use the right tools to spend and save, depending on your goals. provides different Bank Accounts according to your requirements like Savings Account, Current Account, etc. Loans & Mortgages:
SAMBA provides attractive loan options for expatriates and UAE nationals. There are different Loans available at SAMBA like Home Loan & Personal Loan, etc.
Credit Cards:
SAMBA offers various credit cards for different purposes to suit everyone's needs. There are different types of Credit cards available SAMBA Platinum Shopping Credit Card, SAMBA Titanium Credit Card, SAMBA MasterCard Platinum Credit Card, SAMBA Al Khair Platinum Credit Card, etc. Read more
Sambagold:
A team of highly trained Samba Gold officers will provide you with customized one-to-one banking and investment services in the private banking room and provide you unique advantages and exclusive prices for the wide variety of Samba bank and investment products.
You could get a highly trained Sambagold officer one-on-one as a Sambagold customer and leave all financial details in his hands. The dedicated official will be educated in modern banking techniques. Anyone who anticipates all your needs and gives you financial advice of the highest standard. In a term, you can trust someone to manage your finances and help you with one of your most valuable assets: your time.
Sambadiamond:
As a customer of Sambadiamond, you are treated as one of the most important customers of the bank, enjoying outstanding rights and a special degree of personalized service that is literally unparalleled.
When you become a Sambadiamond customer, you can enjoy all the below services.
Free international ATM card

Free international credit card

A dedicated 24-hour Sambadiamond toll-free number for any assistance, anytime

Exclusive access to our dedicated Sambadiamond Center, designed to let you bank in unparalleled comfort and style

Personalized one-on-one services from your own Sambadiamond officer

Discounts of up to 100% on banking transactions

For any assistance, you can reach the Sambadiamond team at 80066000 anytime.

Private Banking:
Samba Private Banking is built around individual needs and provides personalized, creative investment strategies designed to exceed expectations.
A professional Samba Private Banker, your devoted private banker, and an established expert in the art of personal banking and wealth management are at the core of every Samba private banking partnership.
Your committed private banker knows that it's not just about increasing your wealth or managing your portfolio, it's about balancing your life and concentrating on other important priorities in life.

This is why the devoted private banker is fully committed to your financial goals and is always at your side, nearly 24 hours every day, to supervise world-class assets that a seasoned professional can utilize in a deft and wonderful way.
It only takes a telephone call or fax to make him (A professional Samba Private Banker) follow all your specifications.

Credit Card Offers
Bank offers various discounts, deals, and promotions on shopping, dining, travel, hotels, entertainment, education, health, and wellness, etc. Visit SAMBA Bank credit card offers page for further details.
CEO: Rania Mahmoud Nashar
Chairman: Eisa M. Al Eisa
Founded Year: 1980
Head Quarters: Riyadh, Saudi Arabia
No.of Employees: 3,497
Swift Code: SAMBSARI
Total Assets: AED 231.9 billion
Net Profit: $1.47 billion
Website: www.samba.com
Savings Account
Credit Card
Personal Loan
Current Account
Premier Account
Savings Account

Provided by SAMBA

Savings Account

Min Balance to Maintain

Currency Account

3K
Min Balance to Maintain

Frequently Asked Questions
Q. How to open SAMBA current account?
A. You can open SAMBA current account just by calling 800 124 1010 or visit any of the SAMBA branches.
Q. What is contactless service?
A. Contactless is Samba's value added service that allows credit cardholders to pay conveniently, easily and quickly by just waving the card on to the POS terminal.
Q. What happen when Cardholders waves their cards more than once erroneously at the POS terminal; is this more than a payment considered?
A. No. The terminal will only accept payment in this scenario once.
Q. What is Samba Al-Khair Personal Finance?
A. Samba Al-Khair Personal Finance is a Shariah-compliant solution that can help meet your financial needs with flexibility and convenience. Samba Al-Khair Personal Finance is based on Tawaroq by purchasing and selling local commodities and does not require a guarantor.
Q. Does Samba Bank offers private banking facility?
A. Yes. Samba Bank offers private banking facility.
Q. Do we get a personal banker on availing private banking facility?
A. Yes. On Samba Private Banking facility you can get a personal dedicated banker who can help with the banking solutions.
Q. What do I get in SMS alerts?
A. SMS alerts are provided on every activity made on the account.
Q. What are the charges for SMS alerts?
A. No charges are levied for SMS alerts.
Latest Updates About SAMBA
Samba Financial group to provide exclusive home financing offers to the ministry of media subordinates.
01 February 2020
Samba Financial Group and the ministry of media have entered into the agreement, which says that Samba provides simplified financing offers that enables the Ministry of media subordinates to get their own housing with competitive and exclusive benefits.
Samba Announces pricing of Debut USD 1 Billion 5-year International Bond
25 September 2019
Samba Financial Group ("Samba") priced a highly successful USD 1bn bond due in 2024 (5-year) at a fixed coupon rate of 2.75% per annum.