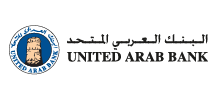 United Arab Bank
Last Updated on 24 March 2020
Follow United Arab Bank on
About the Bank
United Arab Bank is based in Sharjah & operating with 11 branches throughout the UAE. On 21st January 1975, it was launched as a foreign direct investment among the UAE investors & the French international financial group. It offers a broad range of financial services in corporate & retail banking. It has appointed as a leading solution provider for growing commercial & industrial companies across the UAE. There is a total no. of 6 branches and over 62 ATMs across the UAE.
Banking Products & Services
United Arab Bank offers various financial products like- loan, cards, accounts & deposits to their customers for improving their wealth management capabilities.
Popular Products & Services
United Arab Bank provides various financial services & products to their customers across the UAE. UAB offers Credit Cards, Loans, Bank Accounts, Transaction Banking, Online Banking, Islamic Banking, Deposits etc. Let's check out its popular financial products -
Credit Cards:
UAB provides the credit cards facility according to the customer needs. It offers credit cards that are available on AED 6K salary range like, United Arab Bank Infinite Card, United Arab Bank Platinum Card, United Arab Bank Business etc. You can even enjoy the different features like free access to the airport, discounts on hotels & resorts, etc. Visit UAB Credit Card page for more details.
Loans & Mortgages:
UAB provides attractive loan options for expatriates and UAE nationals. There are different Loans available like Car Loan, Home Loan, Personal Loan, etc. It offers easy, low-interest loans which can be calculated using Loan Calculator. UAB provides loan on AED 1000 minimum salary.
Bank Accounts:
Various types of bank accounts serve unique needs. It's wise to put money into the best account, and use the right tools to spend and save, depending on your goals. UAB provides different Bank Accounts according to your requirements like Savings Account, Current Account, Deposits Account, etc.
Credit Card Offers
The bank offers various deals on dining, travel, entertainment etc. Visit UAB Credit Card Offers page for more details.
CEO: Ahmad Abu Eideh
Chairman: H.E. Sheikh Faisal Bin Sultan Bin Salem Al Qassimi
Deputy Chairman: Sheikh Mohamed Bin Abdullah Al Nuaimi
Founded Year: 1975
Head Quarters: Sharjah
Swift Code: UARBAEAA
Total Assets: AED 20.5 Million
Net Profit: AED 0.07 Million
Website: www.uab.ae
Savings Account
Home Loan
Car Loan
Business Loan
Credit Card
Personal Loan
Current Account
Deposit Account
Islamic Account
Premier Account
Savings Account

Provided by United Arab Bank
Frequently Asked Questions
Q. What is the lowest interest on a personal loan charged by the United Arab bank?
A. The minimum interest rate charged on a UAB personal loan is 5.25%.
Q. What is the maximum repayment period for personal loans?
A. The maximum repayment period for a personal loan is 48 months.
Q. What are the charges for opening the personal account?
A. It is free of cost for opening the personal account.
Q. Are there any charges levied for availing online banking services?
A. No. All UAB customers can avail online banking services for free.
Q. Is the online banking portal available in regional languages?
A. The UAB online banking portal is available in English and Arabic.
Q. Does UAB provides Islamic Banking services as well?
A. Yes. United Arab bank offers Islamic Banking services as well.
Latest Updates About United Arab Bank
UAB creates 50K fund for disabled people
22 October 2019
UAB donates AED 50k to the Ajam Club for Disabled people
UAB House Finance Solution
01 August 2019
UAB has signed 100% house finance solution to the Emirati Citizens