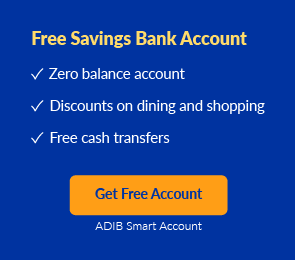 Popular SME Accounts
CBD Sme Accounts in UAE

Features of CBD SME Account
No account maintenance fees will be charged as long as minimum monthly balance of just AED 25,000 is maintained
Six account currency denominations choices is provided
Chequebook and business debit card are provided free of cost in CBD Bank
Per month you can get upto 10 fee-free branch teller transactions
Free mobile banking, SMS transaction alert and online banking service
A dedicated Business Banking call centre is provided 24/7 at your service
Documents Required of CBD SME Account
Application form
Passport Copy + Visa
Articles of Association (AOA)
Board Resolution
Trade Licence
Memorandum of Association (MOA)
Chamber of Commerce Certificate copy
Address Proof
CBD SME Account


Interest Rate

Min Balance to Maintain

Monthly Fee

Currency Account

Approval Time

Local Transfer Cost

International Transfer Cost


AED 20K
Min Balance to Maintain




AED 50
Local Transfer Cost

AED 75
International Transfer Cost
Benefits
No account maintenance fees is needed provided minimum monthly balance of AED 25,000 is maintained
Free Cheque Book
Free Business Debit Card
Benefits
No account maintenance fees is needed provided minimum monthly balance of AED 25,000 is maintained
Free Cheque Book
Free Business Debit Card
Free 10 branch teller transactions per month
You can access to Business Banking Zones and Business Banking tellers
Free mobile banking service
Free SMS transaction alerts
Dedicated Business Banking call centre
Dedicated self-service phone banking

Interest Rate

Min Balance to Maintain

Monthly Fee

Relationship Manager

Currency Account

Approval Time

Local Transfer Cost

International Transfer Cost


AED 150K
Min Balance to Maintain





AED 40
Local Transfer Cost

AED 60
International Transfer Cost
Benefits
No account maintenance fees is needed provided minimum monthly balance of AED 1,50,000 is maintained
Free 40 branch teller transactions per month
Free cheque books
Benefits
No account maintenance fees is needed provided minimum monthly balance of AED 1,50,000 is maintained
Free 40 branch teller transactions per month
Free cheque books
Free 'My Business' debit card with higher daily cash withdrawal limits
Free electronic bank statements
Free mobile banking service
Free SMS transaction alerts
Frequently Asked Questions
⭐ Is it possible to reduce my overdraft limit on my personal current account?
A. Yes, you can send CBD a secured message using internet banking or you can directly contact CBD on +971 600 575 556.
⭐ Do I have to make daily payments in CBD?
A. No, payments are made only on weekly, monthly and yearly basis in CBD.
⭐ After how many days of account opening, we will get cheque book, credit card and internet banking facility?
A. Within 7-8 working days, you'll receive cheque book, credit card and internet banking facility.
⭐ Is my personal information safe with CBD?
A. Yes, your personal information is safe and secured with CBD.
⭐ Can I authorise another person to access my CBD Bank account?
A. Yes, but that person will have to undergo identity check.
⭐ What all industries are eligible for business finance in CBD Bank?
A. Any for-profit business is eligible for business finance in CBD Bank.
Commercial Bank of Dubai (CBD) offers a wide range of retail and commercial banking products and services, in both conventional and Shariah-compliant formats, with a network of 26 branches and over 210 ATMs throughout the UAE. The bank endeavors to build sustainable prosperity through extraordinary banking experiences. CBD commits to:
Authenticity
Simplicity
Partnership
Innovation
Responsibility
Excellence
Ask questions and share your comments
We encourage our users to have discussion on questions they might have on financial products and help other users by sharing their insights. Kindly help us in making this site useful. We don't encourage any spam posts here. This is a public forum, so we request you to be safe by not disclosing personal information such as bank account or phone numbers etc. Please follow our posting guidelines. All the comments posted under MyMoneySouq official account are not reviewed by the financial institutions.