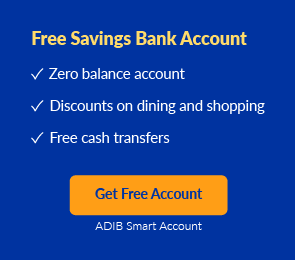 Popular SME Accounts
Emirates NBD Sme Accounts in UAE

Emirates NBD SME Account

3 Emirates NBD Bank SME Accounts
International Transfer Cost


AED 50K
Min Balance to Maintain




AED 45
Local Transfer Cost

AED 85
International Transfer Cost
Benefits
Exclusive business banking centres can be accessed
Across UAE you can find wide network of branches, ATMs and cash deposit machines
Online business banking service is available
Benefits
Exclusive business banking centres can be accessed
Across UAE you can find wide network of branches, ATMs and cash deposit machines
Online business banking service is available
International Transfer Cost


AED 200K
Min Balance to Maintain





AED 40
Local Transfer Cost

AED 75
International Transfer Cost
Benefits
Free cheque books
Preferential rates for online transactions through smartBUSINESS
Exclusive Business Banking centres can be accessed
Benefits
Free cheque books
Preferential rates for online transactions through smartBUSINESS
Exclusive Business Banking centres can be accessed
Priority Queue cards for teller transactions
You can find a large network of ATMs and cash deposit machines across UAE
Business Banking call centre is also available
International Transfer Cost


AED 500K
Min Balance to Maintain





AED 35
Local Transfer Cost

AED 65
International Transfer Cost
Benefits
Free cheque books
Preferential rates for online transactions through smartBUSINESS
Exclusive Business Banking centres can be accessed
Benefits
Free cheque books
Preferential rates for online transactions through smartBUSINESS
Exclusive Business Banking centres can be accessed
Priority Queue cards for teller transactions
You can find a large network of ATMs and cash deposit machines across UAE
Business Banking call centre is also available
In 2007, Emirates Bank International (EBI) and the National Bank of Dubai (NBD), the second and fourth largest banks in UAE, merged to form the banking champion - Emirates NBD. With more than 200 branches and over 900 ATMs and Cash Deposit Machines (CDMs) across the country and overseas, it is globally recognized as the most valued financial services provider in the Middle East. On November 15, 2016, Emirates NBD took over Emirates Money Consumer Finance LLC, becoming a regional consolidation blueprint for banking and finance sector in the UAE.
Corporate Values of the Emirates NBD are:
Customer Focus
Service Excellence
Innovation
Passion For Performance
Integrity
Teamwork
Ask questions and share your comments
We encourage our users to have discussion on questions they might have on financial products and help other users by sharing their insights. Kindly help us in making this site useful. We don't encourage any spam posts here. This is a public forum, so we request you to be safe by not disclosing personal information such as bank account or phone numbers etc. Please follow our posting guidelines. All the comments posted under MyMoneySouq official account are not reviewed by the financial institutions.