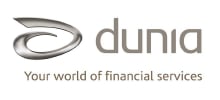 Dunia Finance
Last Updated on 07 July 2020
About the Bank

Banking Products & Services

Popular Products & Services

Credit Card Offers

Customer Support
About the Bank
Dunia is a financial company regulated by the UAE Central Bank, which has been incorporated and established in the UAE since 2008. It offers a full range of functions including secured and unsecured loans, credit cards, deposits, financial protection and payroll processing to non-individual customers.
Banking Products & Services
Dunia Finance UAE offers a wide range of banking products & services like Credit Cards, Bank Accounts, Personal Loans, Home Loans, etc. Explore all the DUnia Finance Bank Products and Services here:
Popular Products & Services
Dunia Finance Bank UAE provides different types of financial products in the UAE and other regions. The flagship products include Credit Cards, Loans, Bank Accounts, Savings, Deposits, Insurance, etc. Here are the popular financial products: Credit Cards:
Dunia Finance Bank UAE offers various credit cards for different purposes to suit everyone's needs. There are different types of Credit cards available with a salary range from AED 8K. Like, Dunia Finance Dunia Titanium Card, Dunia Finance Dunia Platinum Card, etc. Read more
Loans & Mortgages:
Dunia Finance provides attractive loan options for expatriates and UAE nationals. There are different Loans available at Dunia Finance like Personal Loans & more.
Credit Card Offers
Bank offers various discounts, deals, and promotions on shopping, dining, travel, hotels, entertainment, education, health, and wellness, etc. Visit Dunia Finance credit card offers page for further details.
CEO: Rajeev Kakar
Chairman: Saed Arar
Founded Year: 2008
Head Quarters: Dubai
Website: www.dunia.ae
Frequently Asked Questions
⭐ Is there a charge for Dunia Online?
Dunia Online can be viewed freely online by all Dunia customers.
⭐ What is the Dunia Finance contact number?
You can call +9714 42 38642 to instantly connect with Dunia Finance customer service or you can visit our customer care page to get the Contact details for a particular Dunia finance product.
⭐ Dunia Finance UAE address?
The dunia finance is located in building no.6, Dubai outsource city, UAE.
⭐ Is there a charge for Dunia Online?
Dunia Online can be viewed freely online by all Dunia customers.
⭐ How do I get a loan from Dunia Finance?
Currently, Dunia finance is not offering loans. Only old customers can avail the benefits.
⭐ What is the interest rate of Dunia Finance personal loan?
The Dunia Finance offers personal loan interest rate - Flat rate - 7.72% | reducing rate - 14%
⭐ Will I return my expired Titanium Card Dunia Finance when it is renewed?
Usually, your expired card doesn't have to return. With the same details, a new card will be renewed. You must cut your expired card into two halves.
⭐ How do I pay my Dunia credit card online?
Latest Updates About Dunia Finance
Dunia Finance cards and loans are now offered by Deem Finance (L.L.C)
Invalid date
Dunia finance financial products can be availed by Deem Finance (L.L.C). Existing Dunia Finance product holders can continue using the same products under the same charges and terms and conditions.