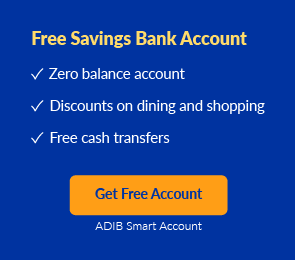 Popular SME Accounts
ADIB Sme Accounts in UAE

Features of ADIB SME Account
Free online international transfer of funds
You'll be assigned with a dedicated relationship manager
On high ATM and POS limits get free business platinum Debit Card
Get personalized ADIB platinum Cheque books
Account can be opened in AED and other major currencies also
You can do free local transfer of funds
Documents Required of ADIB SME Account
Valid Passport and residence Visa
Original Emirates ID
Articles of Association (AOA)
Board Resolution
Trade Licence
Memorandum of Association (MOA)
Chamber of Commerce Certificate copy
ADIB SME Account

Frequently Asked Questions
Q. If I switch my business account, will it affect my credit ratings?
A. No, as long as you have successfully repaid your outstanding overdraft on previous account, your credit ratings will not get affected.
Q. How can I make payments in ADIB?
A. You can make payments on daily, weekly or monthly basis in ADIB.
Q. Do we have to pay for online local transfer of funds?
A. No, local as well as international transfer of funds is free in ADIB.
Q. Does ADIB check my credit history?
A. Yes, for security purpose, ADIB goes through your credit history before approving your application.
Q. Can a person with no credit history apply in ADIB?
A. For an individual it is very important to have a credit history, as only that can give assurity to banks .
Q. Do we get facility of withdrawing cash from other cities?
A. Yes, in ADIB you can withdraw cash from any part of the world.
Q. Can I open current account with my spouse?
A. Yes, you can open a joint account with any of your family member.
Q. Do we get any assistance while applying for accounts in ADIB?
A. Yes, you get free dedicated relationship manager assigned to you for your assistance.
ADIB is a Public Joint Stock company and is one of the largest banks in the UAE region. Its values include transparency in services, an atmosphere of hospitality and tolerance followed by nature of simplicity and sensibility.
ADIB stands as one of the best banks of UAE by carrying out all the transactions, contracts and services by abiding Ismalic Shari'a principles.
Ask questions and share your comments
We encourage our users to have discussion on questions they might have on financial products and help other users by sharing their insights. Kindly help us in making this site useful. We don't encourage any spam posts here. This is a public forum, so we request you to be safe by not disclosing personal information such as bank account or phone numbers etc. Please follow our posting guidelines. All the comments posted under MyMoneySouq official account are not reviewed by the financial institutions.