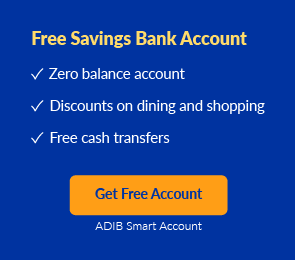 Popular Savings Accounts
Savings Account Provided By CBD

Features of CBD Savings Account
There is no minimum monthly balance requirement for any of the CBD Savings Account.
Avail attractive and competitive interest rates with your CBD savings account.
You can easily access your statements via online banking.
Avail Attijari reward points, with your savings account from CBD.
There is an option of standing instructions facility, with your account.
CBD also provides the option of money transfer facility with their accounts.
You can manage your daily finances and plan for your goals, with the help of CBD's savings account.
Avail the option of 24 hour contact service of CBD.
Eligibility Criteria of CBD Savings Account
If you are UAE National, UAE resident or non-UAE resident and minimum 18 years of age.
Documents Required of CBD Savings Account
Completed account opening form.
National ID or valid passport, residence visa and Emirates ID.
CBD Savings Account

4 CBD Bank Savings Accounts
Frequently Asked Questions
Q. Is there a need to maintain a minimum balance for any of the savings accounts of CBD?
A. Yes, there is a need to maintain a low minimum balance for any of the savings accounts from CBD.
Q. What is the minimum monthly fee that is needed to be paid to main our savings account?
A. No, there is no minimum monthly fee to maintain your savings account. You need to pay AED 25, if you fail to maintain the minimum balance.
Q. What is the criteria for negative balance?
A. There is a need to pay an amount of AED 200, if there is negative balance in your account.
Q. What are the facilities available with the debit card from CBD?
A. You can avail complimentary access to many airport lounges with your MasterCard Platinum Debit Card.
Q. What are the most popular savings accounts opted by the customers of CBD?
About CBD
Commercial Bank of Dubai (CBD) offers a wide range of retail and commercial banking products and services, in both conventional and Shariah-compliant formats, with a network of 26 branches and over 210 ATMs throughout the UAE. The bank endeavors to build sustainable prosperity through extraordinary banking experiences. CBD commits to:
Authenticity
Simplicity
Partnership
Innovation
Responsibility
Excellence
Ask questions and share your comments
We encourage our users to have discussion on questions they might have on financial products and help other users by sharing their insights. Kindly help us in making this site useful. We don't encourage any spam posts here. This is a public forum, so we request you to be safe by not disclosing personal information such as bank account or phone numbers etc. Please follow our posting guidelines. All the comments posted under MyMoneySouq official account are not reviewed by the financial institutions.