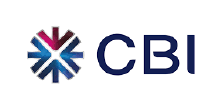 CBI
Last Updated on 02 January 2020
About the Bank
Commercial Bank of International is helping major companies & aspirational people of UAE in managing their personal finances & businesses. It's headquartered in Dubai & incorporated in Ras Al Khaimah. It is also listed on the Abu Dhabi Securities Exchange. This bank has great financial strength & stability and investment-grade rating from fitch which is a globally recognized independent rating agency. There are overall 10 branches and 10 ATMs across the UAE.
Banking Products & Services
CBI offers a wide range of its products & services to the account holders. Let's explore all CBI bank products & services here -
Popular Products & Services
CBI bank provides various types of its financial products across the UAE. It includes credit cards, loans, bank accounts & insurance etc. Let's have a look at its flagship products -
Credit Cards:
This bank offers various credit cards like - CBI Rewards MasterCard Platinum Card, CBI First World Mastercard, CBI Rewards World Mastercard which suit the customer needs. You can even avail the different benefits like - cashback on purchasing, buy one get one offer, complimentary access & many more with an annual fee range from AED 0 - AED 840. Visit CBI credit card page for more details.

Loans & Mortgages: CBI offers tempting finance options to the expatriates & UAE nationals. It provides Personal loan, Home loan, Car loan & Business loan on a very low interest rates with AED 2,000 minimum salary. You can also calculate its EMIs with Loan Calculator.

Bank Accounts: CBI facilitates its customers with various types of bank accounts where its customers can put the money according to their goals securely. CBI provides Saving Account, Current Account, Deposit Account, Children Account, Business Account etc.
Credit Card Offers
Customers can avail benefits from CBI credit cards like deals & discounts on movies, hotels, entertainment, dining & many more. To unlock the latest deals visit CBI credit card offers page.
CEO: Ali Sultan Rakkad Al Amri
Chairman: Mohamed Sultan Al Qadi
Vice Chairman: Ali Rashid Al-Mohannadi
Founded Year: 1991
Head Quarters: Abu Dhabi
Swift Code: CLBIAEAD
Total Assets: AED 22,741,034
Net Profit: AED 225,512
Website: www.cbiuae.com
Savings Account
Home Loan
Car Loan
Business Loan
Credit Card
Personal Loan
Current Account
Deposit Account
Childrens Account
Savings Account

Provided by CBI

Saver account

Min Balance to Maintain

Monthly Fee

Relationship Manager

3K
Min Balance to Maintain


Regular Savings Account

Min Balance to Maintain

Monthly Fee

Annual Fee

Relationship Manager

1K
Min Balance to Maintain



Mabrook Savings Account

Min Balance to Maintain

Monthly Fee

Annual Fee

Relationship Manager

1K
Min Balance to Maintain



Frequently Asked Questions
Q. What is the meaning of CBI First?
A. It is the Priority Banking service of CBI.
Q. How does CBI decides Interest rates on loan?
A. CBI charges loan interest rates on the basis of one's credit history & monthly income.
Latest Updates About CBI
CBI is in expansion mode with new generation of bank branches
23 November 2018
The new branch concept has interactive digital spaces for customers where they can avail self service and online banking.