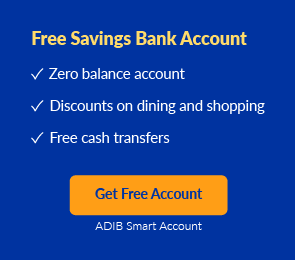 Popular Childrens Accounts
ADCB Childrens Accounts in UAE

ADCB Childrens Account

1 ADCB Bank Childrens Accounts

AED 0
Min Balance to Maintain



Features
This account is an Islamic account by nature.
Features
This account is an Islamic account by nature.
Benefits
The most important benefit is that this account is approved by Shariah and supervisory board.
Avail free debit card, with this card.
Also get monthly account statements, phone banking and internet banking.
Account is opened and operated by the guardian, on the behalf of the child.
Free cash withdrawal teller transactions with this account.
Free cash/cheque deposits teller transactions.
Free e statements and personal internet banking.
Avail free debit card with this account.
You can receive ADCB touch points with this account.
Abu Dhabi Commercial Bank (ADCB), features in the Forbes list of top 1000 biggest public companies. It provides retail, commercial, Islamic banking and other financial services to people. Founded in 1985 and headquartered in Abu Dhabi, UAE, the bank operates on five strategic pillars:
UAE-centric approach with controlled internationalization
Sustainability through growth of liabilities
Culture of efficiency and service excellence
Follow a pre-defined risk strategy
Focuses on staff
ADCB offers three categories of services:
Aspire
Privilege Club
Excellency
The services and charges vary depending on the category in which you choose to bank with them.
Ask questions and share your comments
We encourage our users to have discussion on questions they might have on financial products and help other users by sharing their insights. Kindly help us in making this site useful. We don't encourage any spam posts here. This is a public forum, so we request you to be safe by not disclosing personal information such as bank account or phone numbers etc. Please follow our posting guidelines. All the comments posted under MyMoneySouq official account are not reviewed by the financial institutions.