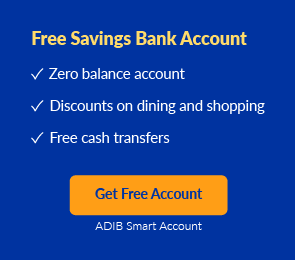 Check Eligibility for Rakbank
Credit Card
You are eligible to apply for a Rakbank
Credit Card .
You may not be eligible * to apply.
* Minimum salary AED 5000 required to apply for a Rakbank Credit Card .
*No loan for :User_Nationality available in this page
Popular Credit Cards
Rakbank Credit Cards in UAE
Check Eligibility for Rakbank Credit Card

Features of Rakbank Credit Card
Cashback of 3% - 50% is provided on RAK Bank Credit Cards
Exclusive dining, shopping, lifestyle benefits are provided
Complimentary offers and benefits on Mastercard Buy 1 Get 1 free app
No annual fees are charges on RAK Bank Credit Cards
Can avail privileges on local and international purchases as well
Get discounts on Careem app
Travel benefits like airport lounge access, discounts at hotels, etc., are provided
Can avail Easy Payment Plan on 0% interest rate
Purchase protection and travel insurance are provided
Eligibility Criteria of Rakbank Credit Card
Minimum salary range from AED 5K-35K depending on the type of card
Minimum age of 21 years is required
Both UAE Nationals and Expats are eligible
Documents Required of Rakbank Credit Card
Salary Certificate/Salary transfer letter (Salaried individuals)
Emirates ID
UAE Residence Visa(For Expats)
3-6 months bank statements
Address Proofs(Utility bills)
Passport (Expats)
Trade licence(Self employed individuals)
Rakbank Credit Card Interest rates

15 Rakbank Bank Credit Cards
Rakbank Credit Card Benefits
Provides up to 50% discount on travel bookings that varies with each RAK bank card
Get 0.25% cashback on utility payments
Accident and travel cover up to AED 500,000 is provided
Can convert regular credit card payments at shopping, travel, jewellers, health, etc. to RAK Bank credit card installment plan on 0% interest rates
RAK Bank offers free for life credit cards in UAE

RAKBank Credit Card Offers

Travel

Use RAKBank World MasterCard and get access to 850+ airport lounges worldwide
Use any RAK Bank Credit Card and get 10-12% off on Jet Airways ticket and can avail 0% Easy Payment Plan on minimum spend of AED 2000
Get complimentary stays at Starwood Hotels & Resorts on using RAK Bank Credit Card
Up to 15% off is provided at luxury serviced apartments worldwide
Free airport pickup and drop facility
Get up to 10% off on cleartrip.ae
10% - 25% off on chauffeur rides on Hertz car rental and Avis car rental

Leisure and Entertainment

Get 15% reduction on rooms and 10% off on Spa at Rixos Bab Al Bahr
Get over 50% cashback on purchase of movie tickets using RAK Titanium Credit Card
Get 30% off on rental bill at Al Wasl Yachts using any RAK Bank Credit Cards
Avail 10% off at Bahi Ajman Palace Hotel using any RAK Bank Credit Cards
Avail 25% discount at Revival Spa and Beauty Lounge

Food

Have fine dining at 800 Thali and get 15% off on bill payment made using RAKBank Credit Cards
20% off at Crowne Plaza
Get 5% cash back on payments for dining using RAK Titanium Card
About Rakbank
Established in 1976, RAKBANK or the National Bank of Ras Al Khaimah (P.J.S.C), is one of the oldest banks in the UAE. As a member of the UAE Banking Federation (UBF), RAKBANK follows the Custom Charter as stipulated by the UBF and tries to encourage best practices in the financial services industry. It works with a vision to provide 'simply better' financial solutions to its customers in and around the UAE' and a Mission to be the leading bank in the UAE by offering best products.
Ask questions and share your comments
We encourage our users to have discussion on questions they might have on financial products and help other users by sharing their insights. Kindly help us in making this site useful. We don't encourage any spam posts here. This is a public forum, so we request you to be safe by not disclosing personal information such as bank account or phone numbers etc. Please follow our posting guidelines. All the comments posted under MyMoneySouq official account are not reviewed by the financial institutions.
x
MyMoneySouq's Robo Advisor
Thank you for your feedback
Ask me about Credit Cards