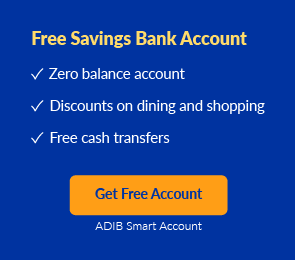 Check Eligibility for CBD
Credit Card
You are eligible to apply for a CBD
Credit Card .
You may not be eligible * to apply.
* Minimum salary AED 8000 required to apply for a CBD Credit Card .
*No loan for :User_Nationality available in this page
Credit Card Provided By CBD
Check Eligibility for CBD Credit Card

Features of CBD Credit Card
No annual fees
High travel and careem benefits
Exclusive card to shop online
Rewards points on every usage of the card
Eligibility Criteria of CBD Credit Card
Minimum salary required AED 8-30K
Documents Required of CBD Credit Card
Emirates ID
Resident Visa
Salary Certificate(for salaried individuals)
Trade Licence(for self-employed)
CBD Credit Card Interest rates

6 Credit Cards Provided By CBD
CBD Credit Card Benefits
Can avail balance transfer on no interest rates
Get cash on the credit card
Access to the best airport lounges
Up to 50% off on movie tickets at VOX cinemas, UAE
Free Valet parking
Get Attijari reward points
Frequently Asked Questions
Q. Is the card provided on zero annual fees life long?
A. Only a few cards are provided on 0 annual fees lifelong. The rest charge AED 500 - AED 750 per annum.
Q. What is the tenure provided on getting cash from the credit card?
A. On cash advance, the maximum tenure provided is 3 years and the minimum is 3 months.
Q. How much cash can I transfer from my card to an account?
A. Up to 50% of your credit limit can be transferred to your account.
Q. What is the interest rate charged on getting cash advance?
A. 3.49% of the outstanding balance is charged on a cash advance.
Q. Do I get travel insurance for free?
A. Yes, travel insurance and purchase protection covers are provided for free.
Q. What is the eligibility criteria to get a supplementary card?
A. The cardholder must be a family member of minimum age 15 yrs.
Q. What are the other cashback credit cards available?
Q. What are the offers provided on Commercial Bank of Dubai (CBD) credit card?
About CBD
Commercial Bank of Dubai (CBD) offers a wide range of retail and commercial banking products and services, in both conventional and Shariah-compliant formats, with a network of 26 branches and over 210 ATMs throughout the UAE. The bank endeavors to build sustainable prosperity through extraordinary banking experiences. CBD commits to:
Authenticity
Simplicity
Partnership
Innovation
Responsibility
Excellence
x
MyMoneySouq's Robo Advisor
Thank you for your feedback
Ask me about Credit Cards