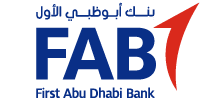 First Abu Dhabi Bank
Last Updated on 31 March 2020
About the Bank
First Abu Dhabi Bank (FAB) was formed as a merger between First Gulf Bank and the National bank of Abu Dhabi. On July 3, 2016, First Gulf Bank and National bank of Abu Dhabi announced that their boards of directors had unanimously voted to recommend a merger of the two banks to shareholders. It has a total of 74 branches in UAE and above 100 ATMs. The international network of FAB covers more than 19 countries worldwide.
Banking Products & Services
FAB offers a wide range of banking products & services like Prepaid Cards, Bank Accounts, Personal Loans, Home Loans, Insurance, etc. Explore all the FAB Products and Services here:
Popular Products & Services
FAB provides different types of financial products in the UAE and other regions. The flagship products include Credit Cards, Loans, Bank Accounts, etc. Here are the popular financial products:
Bank Accounts:
Various types of bank accounts serve unique needs. It's wise to put money into the best account, and use the right tools to spend and save, depending on your goals. provides different Bank Accounts according to your requirements like Premier Account, Deposit Accounts, FAB SME Accounts, Savings Accounts, Current Accounts, etc. Loans & Mortgages:
FAB provides attractive loan options for expatriates and UAE nationals. There are different Loans available at FAB like Home Loan & Personal Loan, Car Loan, etc. Credit Cards: FAB offers various credit cards for different purposes to suit everyone's needs. There are different types of Credit cards available like FAB Visa Platinum Credit Card, FAB Etihad Guest Infinite Credit Card, etc.
Credit Card Offers
The bank offers various discounts, deals, and promotions on car rentals, health supplements, Vitamins, Dining, food, etc. Visit FAB credit card offers page for further details.
Chairman: H.H.Shk Tahnoon Bin Zayed Al Nahyan
Founded Year: 2016
Head Quarters: Abu Dhabi
Swift Code: NBADAEAADIR
Total Assets: AED 733 Billion
Net Profit: AED 3.1 Billion
Website: www.bankfab.ae
Savings Account
Home Loan
Car Loan
Credit Card
Personal Loan
Current Account
Deposit Account
Islamic Account
Premier Account
SME Account
Savings Account

Provided by FAB
Frequently Asked Questions
Q. What will happen when we have accounts on both NBAD and FGB banks?
A. Both accounts will continue to remain active unless you decide to close one.
Q. Do we need to maintain the minimum balance in every account when we have multiple accounts with FAB?
A. No, as long as all of your accounts' total balance meets your minimum total balance requirement.
Q. Does FAB offer Islamic banking as well?
A. Yes. FAB offers Islamic Banking services.
Q. Even businesses can avail Islamic Banking services?
A. Yes. Businesses can also avail islamic banking services.
Q. Do we get prepaid cards at FAB?
A. Yes. FAB provides Prepaid cards as well.
Latest Updates About FAB
First Abu Dhabi Bank adds Al Khobar to its growing branch network in Saudi Arabia
29 October 2019
First Abu Dhabi Bank (FAB), the largest bank in the UAE and one of the largest and most secure financial institutions in the world, has expanded its operations in Saudi Arabia by opening a branch in Al Khobar.