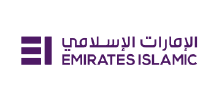 Emirates Islamic Bank
Last Updated on 02 January 2020
Follow Emirates Islamic on
About the Bank
Emirates Islamic, formerly known as the Emirates Islamic Bank, was founded in 2004 as one of the country's four Islamic banks. The bank was set up to provide banking services in accordance with the principles of Shari'a. Emirates Islamic has around 50 Branches & 39 ATMs' in UAE.
Banking Products & Services
Emirates Islamic Bank offers a wide range of banking products & services like Credit Cards, Bank Accounts, Personal Loans, Home Loans, Car Loans, Business Loans, etc. Explore all the Emirates Islamic Bank Products and Services here:
Popular Products & Services
Emirates Islamic Bank provides different types of financial products in the UAE and other regions. The flagship products include Credit Cards, Loans, Bank Accounts, etc. Here are the popular financial products:
Bank Accounts: Various types of bank accounts serve unique needs. It's wise to put money into the best account, and use the right tools to spend and save, depending on your goals. provides different Bank Accounts according to your requirements like Islamic Accounts, Children Accounts, etc. Loans & Mortgages: Emirates Islamic provides attractive loan options for expatriates and UAE nationals. There are different loans available at Emirates Islamic like Home Loan, Personal Loan, Car Loans & Business Loans. Credit Cards: Emirates Islamic Bank offers various credit cards for different purposes to suit everyone's needs. There are different types of Credit cards available Emirates Islamic RTA Platinum Card, Emirates Islamic Cashback Plus Card, Emirates Islamic Emarati Credit Card, Emirates Islamic Flex Elite Card, etc. Read more
CEO: Salah Amin
Chairman: Hesham Abdulla Al Qassim
Founded Year: 2004
Head Quarters: Dubai
Swift Code: MEBLAEAD
Total Assets: AED 61.1 billion
Net Profit: AED 673 million
Website: www.emiratesislamic.ae
Savings Account
Home Loan
Car Loan
Business Loan
Credit Card
Personal Loan
Islamic Account
Childrens Account
Savings Account

Provided by Emirates Islamic
Frequently Asked Questions
Q. Can we open the Islamic Account for the minors?
A. Yes without a cheque-book facility, an Emirates Islamic account can be opened with the guardian for a minor who is less than 18 years of age.
Q. What is the cost of the replacement of the Card?
A. If you lose your card the replacement fee AED 100 will be applicable regardless of credit card type.
Latest Updates About Emirates Islamic
Emirates Islamic launches exclusive Cashbacksouk.ae portal
04 September 2019
Emirates Islamic, one of UAE's leading Islamic banks, has announced that it will be providing up to 25% of the cashback at over 1500 local and global brands through Cashbacksouk.ae. This is an online purchase portal exclusively available for Emirates Islamic Cardholders.
The Kunooz Savings Account of Emirates Islamic has been named Best Banking Service by Global Banking & Finance Review
12 February 2019
For its flagship Kunooz Savings Account, one of the leading Islamic financial institutions in the UAE, Emirates Islamic has won the prestigious Best Banking Service Award from Global Banking & Finance Review. The award reaffirms the technical excellence of the bank and the success of the Kunooz Savings Account in building a healthy culture of savings in the UAE.