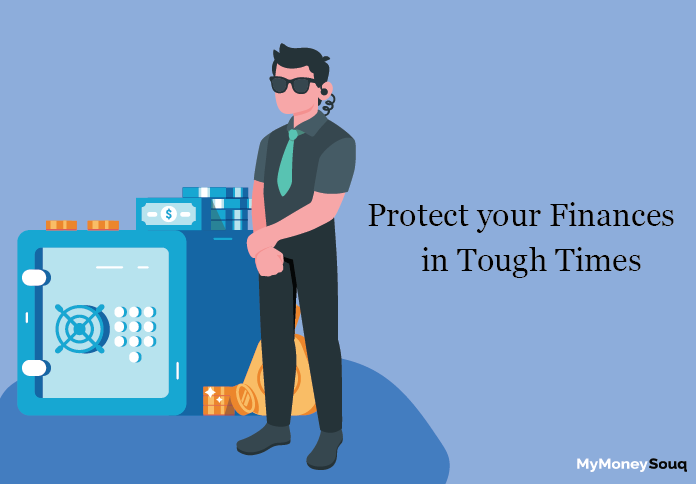 Hard times in life may come at any time whether it is facing financial challenges or dealing with any medical emergencies. Today many people are facing reduced income or loss of income and some are facing a financial crisis due to CoViD-19.
The future is uncertain and being prepared for the financial crisis is better than panic. Start now and do the very best things by getting ready for tough times. Here are some things that you should know and get ready for financially tough times.
Savings in Budget
Income from other sources
Protect credit score
Prioritise bill payments
Plan for an alternative if you lose a job
1. Savings in Budget
A Budget gives you information about where your money is going and how you will use your money in the future. Using a budget will help you track your spending and plan your expenses.
Give first priority to basic necessities of lifestyle. This will help you to cover your expenses for survival. Next lookout for where you want to spend your money. You are now in a position of understanding where your money is going. Make your money go into savings and emergency funds.
Spend money only on the essentials and save the remaining money that you have. Look at your personal goals and set aside money for savings and also set funds for emergencies in life. When you are in financial need and you need money to pay for basic necessities such as utility payments, medical bills or for any urgent needs you can rely on your savings money and emergency funds.
Click here to know about Why your Budget fails & tips to overcome it
2. Income from other sources
Income earned from regular sources is routed for your essential requirements, but any income earned from other sources like part-time jobs, tuitions, freelancing, rental income and come in rescue during the financial crisis. The income may not be huge but it will be a great source that will contribute to your hard times. Hence, income from other sources will definitely help you when you need the most.
3. Protect your Credit score
It is important to note that people who do not have savings habits or an emergency fund tend to put more spending from credit cards in times of need. The most important factor of a credit card is paying dues on time. How you use your credit card limit also matters.
Do not use more than 30 percent of your credit card limit. If you use your credit card more than 30 percent of credit limit then your credit score may drop. Missing credit card payments or continously paying only minimum dues on credit card will also hit your credit score. If your credit score is less, then you will not be issued new loans or advances.
If your credit score is good you can ask for more credit and also apply for new loans. Avoid new credit applications if you are planning for financing or refinancing large purchases such as home or car.
Click here for Reasons why your credit score dropped
4. Prioritise your bill payments
When you cannot pay all your bills, have a strategic plan about what to prioritise on your bill payments. Prioritise your payments for survival first, pay for your food, utilities, shelter, work-travel expenses, mobile phone bills, baby care expenses, and other priorities.
Apart from your priority bills anything else can be paid later. But remember skipping some payments can damage your credit or your good will. Once your financial crisis is over you can recover and rebuild your goodwill.
Click here for Different payment methods in UAE
5. Plan for an alternative if you lose your job
Networking is the best way to create new job opportunities. Keep your resume updated and lookout for a job. There are some fields of employment where jobs are vulnerable. Long term job loss is big unrecoverable loss which would make you debt-ridden.
Look out for an alternative job or start off your own business or do freelance work or turn your passion as your professional career. These decisions look very different from what you were doing previously but once you start earning money you will not look back again.
Have a plan when you are already in job and keep your job alternatives ready. If you lose your job you can implement your alternative job plan.
Conclusion
There is no predefined solution to financial problems in life but your systematic planning, savings income, emergency funds, priotising payments, alternative income source and other strategies for payments will definetly solve financial issues and protect you in tough times. 

Vinay Kumar Goguru is a finance professional with more than 8 years of diverse experience as a researcher, instructor and Industry work experience with both public and private entities. Prior to MyMoneySouq, he spent 6 years in Berkadia, It's a commercial mortgage banking company. He has a "Doctoral Degree in Commerce" and two master's degrees with a specialization in Finance, one as Master of Commerce and other as Master of Business Administration. He has written several articles on personal finance, published by different International journals. He loves traveling, reading and writing is his passion. He has a dream of writing a book on his favorite finance topics.