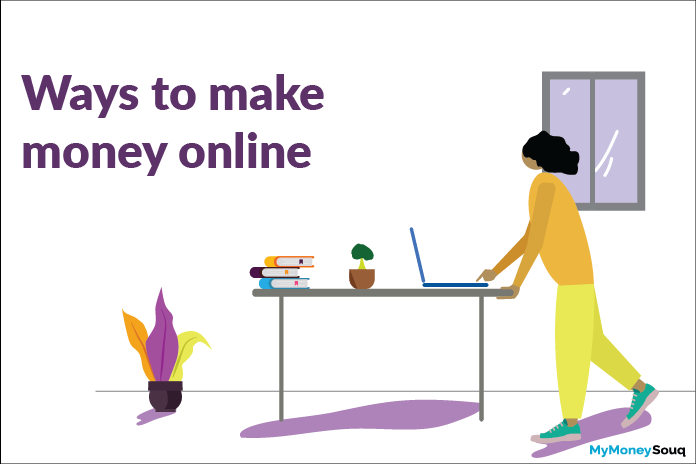 In this smart generation making money is not tough if you utilize your skills properly. Be it the main source of income or an additional way, extra skills can always help in maintaining a balanced life financially. Especially in a city like Dubai where the cost of living is quite expensive, it is required to be strong financially.
Apart from the cost of living, the current lockdown due to COVID-19, is encouraging us to stay at home to protect ourselves from the virus. Depending on savings during this quarantine is not so ideal. Therefore finding out ways that can help us in making money by staying at home will be helpful.
There are plenty of options available to make money in Dubai. Here are some effective ways to earn money online in Dubai, UAE with the list of money making apps.
Read: What financial lessons you can learn from the COVID-19 crisis?
1. Online Tuitions
Taking online tuitions is one of the best ways to make money. You can make use of your extra skills like music, dance, any arts as well and teach them online. There are many portals that provide you with opportunities to teach your skills. These websites listed below, offer services all over the world. You can get students worldwide.
2. Blogging
Blogging is the current trend on the internet. You can create a blog of your knowledge and interest and start providing your views. You can run ads on your blog, promote some products, and get paid for it. You can contribute to other blogs and earn money by providing guest articles. Some of the topics that would interest readers are,
Best comedy movies in 2021
Upcoming movies in 2021
Top ten places to visit in the world
Top 10 mobile phones under AED 20,000
Computer tips and tricks
Best travel blogs for best places
Entertainment news on Bollywood and Hollywood
Check: AED to INR exchange rate today
3. Photography
If photography is your passion then you can make some money out of it. There are several photography portals to sell the pictures you've clicked. You can just upload the picture, get paid if anyone downloads it. Apart from selling the pictures, you can also take part in online photography competitions and win prizes and cash rewards. Some of the well-known portals are,
4. Freelancer
Freelancing is something where one can contribute their services to several organizations at the same time and earn well. There are certain high valued websites that offer online gigs to registered users. If you are good at website development or designing or even at content writing then you can be a freelancer and get decent pay for spending 3-5 hours a day depending on the workload.
5. Fitness Instructor
Everyone wants to be fit but no one has time to get out of the house and workout. If you are a fitness instructor or can do fitness workouts by yourself then you can help others as well by taking online classes. It makes you stay fit and earn on it simultaneously. This will help you to make money online without any investment.
Maybe interested: How expats in UAE can invest in India
6. Mobile applications
Even though technically you don't make money on mobile applications, they can earn you gift vouchers, coupons, etc., on taking surveys or using the application. These can be redeemed on shopping or some leisure which will save you money. Swagbucks is one of the money-making apps you can give a try.
7. Arts and Crafts
If you are interested in arts and crafts or have so much stuff at your home then make use of it. You can sell these online and make money out of it.
8. Ebooks
Writers or people with good writing skills can publish their books online. You can get some share of the profit you make. Some of the money making apps to publish your ebooks are Amazon Kindle, Lulu, Blurb, Tradebit, etc.
9. Youtube
Other than teaching online to particular people at a specific time, you can reach out to the public via Youtube. You can record yourselves teaching, cooking, etc., and upload it to Youtube. You can earn on a number of subscriptions and views you get. You can record yourselves on the below topics such as
Favorite Hindi Movies list
Kitchen Home recipe videos
Latest cricket news and photos
Mobile phone features
10. Virtual Assistant
You can be a virtual assistant by setting up a schedule of daily tasks, managing appointments, etc. A virtual assistant does everything much like a regular assistant but by sitting at home and assisting online. This can help you earn by working online.
Also Check Today's Gold Rate in Dubai
11. Travel Agent
Who doesn't love to travel?! If you are a frequent traveler then this can be the best job you can consider. You can become an online travel agent and help people to plan their travel. You can tie up with hotels, transport providers, tourist spots and get your share if any of the facilities are utilized on your reference. You can open a website of your own and build some contacts.
12. Advertisements
Website owners can run Google ads on their website by signing up themselves on Google Adsense. You will get paid depending on the clicks redirected from your website. You can even put podcasts on your website. Advertisers pay you for having their podcasts on your website.
13. Online Surveys
You can earn money online in Dubai by filling up online surveys? Oh yes! Earning money through filling online surveys is the easiest way to make some amount of money and earning money cannot get easier than this. There are many genuine websites that give you this opportunity. Example Triaba, TgmPanel, Swagbucks.
14. Affiliate Marketing
If you have a great presence online on different social media platforms than this is the best way to earn money online. The money will start coming in as soon as you get noticed and start promoting various brands, companies, products online.
For example: If you are good at cooking, then start your own cooking page on Instagram where you can present your culinary skills. This way you can promote different food product brands and make some money.
15. Sell old stuff online
Amazon gives you the option to sell used books online. This can actually turn into a business when you start buying books at the year-end from students and sell them online at the beginning of the course year.

Apart from books, you can also sell unnecessary things, furniture, unused clothes, baby stuff online. To sell electronics you can check Second Hand Dubai, clothes can be sold on My Ex Wardrobe.
16. Email Marketer
There are many NGOs and companies who want to reach a wider pool of people you can become an email marketer from the comfort of your home. Just find the right organization and get to work for them.
17. Online Interpreter
If you have the skill of speaking more than one language and want to earn money working from home. This is a great job where you can use your multilingual skills and earn money online. The jobs for interpreters is exponentially increasing.
18. Consulting
If you are an expert in any field you can provide your advice through counseling. You can provide advice on how can a business handle their social media pages, provide career advises and much more which totally depends on your area of expertise.
19. Sell Stuff Online
If you have a brand or a retailer, you can sell your stuff online without having your own website. Fulfillment by Amazon offers a facility to sell your stuff online by charging a commission charge. Mumzworld helps you sell baby products and stuff online. You can check instashop where you can list your business and provide online services.
Check: 5 Ways to Protect your Finances in Tough Times
These are some of the ways where you can make money online in Dubai. Some of these can make you earn quickly while some take time. But most of these ways and money earning apps include making use of your talent. Don't forget "If you are good at something, never do it for free".

MyMoneySouq helps the visitors to find the right financial product by comparing different products provided by various banks in UAE. It compares different loans, insurance, accounts, credit cards. It works with a goal to give the users a clear idea of what to expect out of their funds and what they can get from those.