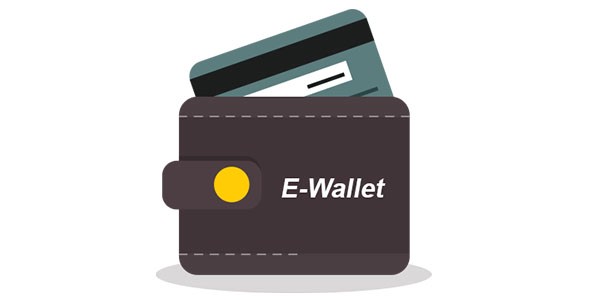 Electronic Wallet is designed to do transactions electronically. It is a digital wallet that enables customers, merchants, agents and business corporations to make payments and receive payments through the fastest and secure mode.
This service is available for all those using smartphone applications for consumers, web portals, direct interface using APIs (Application Programming Interface) for agents, merchants and business corporations.
Ewallet on your phone

Ewallet can be carried on your phone by downloading the app. You can even use Ewallet through the computer. Your debit/credit card details can be saved on the ewallet platform. It allows you to make payments through logging into your account.
Your money in your account becomes virtual cash which can be used to purchase and make payments. Transactions can be performed through phone or computer.
What is the use of Ewallet?
Ewallet can be used to send or receive money electronically.
As a Customer, you can use an e-wallet to
Send/receive money to your bank account
Pay Mobile bills
Pay Utility bills
Make merchant payments
Earn and redeem points
As a Merchant, you can use an e-wallet to
Receive money from customers
Send or receive money from business partners or suppliers
Transfer money to your bank account
Pay Salaries for your employees
Receive payments from vendors
Users can maintain a track of their transactions and record digital receipts. The scope of business increased with e-wallet as you need not carry a large amount of cash to buy goods or services.
Click here to know about How to Save money using Digital Bank?
E-Wallets in the UAE
There are several e-wallet providers in UAE which provide services through their platform or an app. Below are some of the digital e-wallets in UAE.
Google Pay
G pay or Google pay is the digital wallet platform developed by Google. Google Pay can be used by anyone. G pay works on both Android and iOS.

You have to register your card details issued by the bank and you can make payments across UAE.

The service is available for Emirates NBD, Emirates Islamic and Mashreq, Standard Chartered. RAKBANK and many other banks are set to join the service in the near future.

Google Pay security is protected with a passcode and there is no need to worry regarding card information security. The reason is neither phone nor your bank send/receive/store your account information.
The transactions are encrypted, it uses codes to give instruction to the bank and in this way it secures your payments.

Emirates Digital wallet
The first of its kind wallets implemented under the UBF (UAE Bank Federation). It supports the banking sector making it a milestone in pushing UAE towards a cashless society. It was established by 16 UAE nationals banks.

Emirates Digital Wallet LLC owns and operates Klip. Klip is an app that provides money to spend, store, remit digitally.

Klip can be accessed through Emirates Digital wallet or an app available from the stakeholder.
You can link klip account to your bank account or add cash at selected locations in the UAE. You can use a klip account to send or receive money for goods and services.

Anyone who is a resident of UAE and the one who has an active SIM card can use it. It is like having cash in your pocket. It is also available for those residents in the UAE who do not qualify for a bank account.

It enables biometric banking and voice-activated payments which empower users to have control over their mobile phone devices.

Samsung Pay
Samsung Pay is a simple and convenient way to make payments. It works with any retailer for virtual payments.
Samsung Pay is compatible only with Galaxy S8, Galaxy S7, Galaxy A5 (2016/2017), Galaxy S7 Edge, Galaxy Note5, Galaxy S6 Edge+, Galaxy A3 (2017), Galaxy A7 (2016/2017), Galaxy S8+, Samsung Gear S3.

It is accepted at all swipe or tap terminals and it is not restricted only to NFC contactless terminals.

Samsung Pay is focused on enabling simple and secure in-store payments.

Samsung Pay is built with five-layer security and you are well protected with Samsung pay to perform cashless transactions.

Beam Wallet
Beam Wallet is a payment system which uses NFC based system. The wallet user can add a card or pre-load credits to the wallet.
Payments can be made by tapping at the terminal to complete the transactions. Beam wallet provides cashback and discounts to users regularly

Beam wallet users can recharge mobiles, pay for DTH subscriptions and also pay for fuel using this e-wallet. In the year 2016, the Beam wallet became the first app to let UAE pay for fuel expenses. Beam wallet was ranked at no. 5 in the Financial IT Pathfinder ranking in the year 2016-2017.

Etisalat Wallet

Etisalat wallet is a rewarding, convenient and highly secure service from Etisalat. It allows customers to pay utility bills, make purchases, transportation fees, top-up Etisalat's mobile credit and many other services.

Etisalat Wallet is available to download from Android and iOS app stores.
Etisalat wallet provides customers to access thousands of retailers and merchants enrolled to program. To use Etisalat wallet users need to have Etisalat mobile account either postpaid or wasel prepaid. A valid credit or debit card from Visa or Mastercard.
Apart from the general benefits of Ewallet, the benefits of using an Etisalat wallet is you can purchase parking tickets in Dubai, Abu Dhabi and Sharjah, pay bills, top-up Etisalat credit including family members. It provides a high level of end to end security.

Apple Pay
This Digital wallet is compatible with Apple devices like iPhone, iPad or Apple watch. In the UAE, the Apple watch payment is not widely used yet.

The key feature of Apple pay is Touch ID. It will let you make payments with a contactless reader after holding your phone device next to the terminal. Users have to add their debit or credit card information on the passbook. This feature comes exclusively for Apple devices.
Apple does not share your card details when you shop online. In case if you have lost your phone, you can get it deactivated using your iCloud account or even with the loss mode feature available on another iPhone device.
WePay
A Chinese online payment service provider is a fast emerging app. WePay is part of WeChat. It started its operations service in Dubai. There are many options in WePay but all the options are not available for the residents of the UAE.
The reason is that this app ties your phone directly to your bank account which must be in mainland China. WePay accepts MasterCard Credit cards and foreign Visa cards but you can still use them to make payments.

WePay uses similar security features as other E Wallets so that your payments are secured.

AliPay

AliPay is a widely used online payment service which is provided by China. It was established in 1994, with more than 70,000 merchants and 200 financial institutions across 55 countries.
First Abu Dhabi Bank got into partnership with Alipay to provide better connectivity to UAE merchants. AliPay has features that work similarly to other Ewallets. AliPay has a payment authorization rate which guarantees the best user experience.
Click here to know Things to know about Digital Banking in UAE
Conclusion
There are many other digital wallets in the market. Each Ewallet has its own features and wallet companies provide the best security measures. As UAE is moving very close to a cashless society, stay ahead by making digital payments using E Wallets.