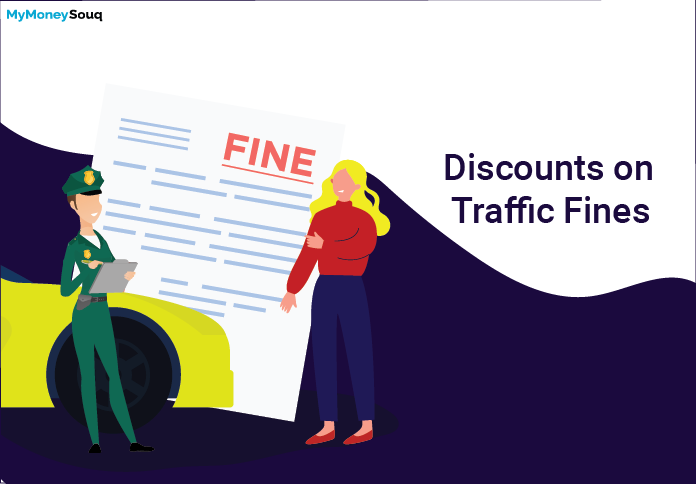 Traffic Fines Discount in Ajman – 2022
As a part of UAE Golden Jubilee Celebrations, there is 50% OFF provided on Ajman traffic fines. This is valid on fines levied before November 21, 2021, and the fines are supposed to be paid by 14 January 2022.
Traffic Fines Discount in Sharjah – 2021
As a part of UAE Golden Jubilee Celebrations, there is 50% OFF provided on Sharjah traffic fines. This is valid on fines levied before November 21, 2021, and the fines are supposed to be paid by 31 December 2021.
Traffic Fines Discount in Umm Al Quwain – 2022
During the UAE Silver Jubilee Celebration this year, the Umm Al Quwain police are offering a 50% discount on traffic violations incurred before November 1, 2021. The fines are supposed to be paid from 1st December 2021 to 6th January 2022.
However, the discount will not be valid on certain traffic violations like,
Driving the vehicle in a way that causes danger to the life of others.
Unofficially changing vehicle engine or chassis without a valid driver's licence in the UAE.
Violating Covid-19 precautionary measures and instructions
Traffic Fines Discounts in Ras Al Khaimah (RAK) – 2022 January

The police of Ras Al Khaimah also announced 50% OFF on traffic fine discounts as a part of UAE Silver Jubilee celebrations. This discount is limited till January 17, 2022.


Traffic Fines Discounts in Fujairah
The police of Fujairah has announced a 50% discount scheme on all the traffic fines and the discount would be valid from 2nd December 2020 to 15th December 2020 to mark the 49th National Day celebrations. All the black points will be cancelled and all the vehicle impoundment penalties shall be waived.

The police of Fujairah announced that the 50% discount on all traffic fines in Fujairah will be implemented from Wednesday the 2nd of December to Tuesday 15th of December 2020. This reduction will be applied to all the traffic violations that have been registered before the 1st of December, it covers the traffic violations on all kinds of vehicles and all vehicle impoundments.
RAK Traffic Fines Payments in 0% Instalments
RAK Traffic fines can be cleared in instalments with zero interest rates. The RAK traffic fines holders should contact their banks and get a prepaid card to avail the 0% interest instalment plan to clear the traffic fines. The banks that offer 0% instalment payment on RAK traffic fines are,
Emirates Islamic Bank
RAK Bank
Commercial Bank of Dubai
Conclusion
All the credit for such a unique initiative goes to the Crown Prince of Fujairah Sheikh Mohammed Bin Hamad Bin Mohammed Al Sharqi. Accordingly, this campaign would be the best opportunity for all the traffic violators, especially those who have piled up a good number of fines that have to be cleared can clear all the records at a lower cost.
This new move of reducing the traffic fines to 50% is to reduce the financial burdens of the people and provide a very good opportunity for all the drivers who are earlier booked for violating the traffic rules. These drivers can pay all the fines at a very low cost and clear all the pending records. Introduction of such schemes can make the public happier.

The traffic fines that are accumulated because of dangerous driving are excluded from the discount. These offences mainly include driving a heavy truck in a hazardous way, driving a noisy vehicle, escaping from traffic police and driving a vehicle in such a way to cause grave risk to the road users. The drivers who are included in any of the above fines are supposed to pay all the fines without any discount.

The police said, "All the drivers are urged to drive the vehicles following the rules and regulations strictly for their safety as well as everyone's safety". This can avoid the loss of life as well as the loss of property.
Disclaimer: The information provided by MyMoneySouq is for informative purposes only. MyMoneySouq strives to keep the facts and figures updated. However, it is recommended to visit the official website of RTA UAE for updated information.


Vinay Kumar Goguru is a finance professional with more than 8 years of diverse experience as a researcher, instructor and Industry work experience with both public and private entities. Prior to MyMoneySouq, he spent 6 years in Berkadia, It's a commercial mortgage banking company. He has a "Doctoral Degree in Commerce" and two master's degrees with a specialization in Finance, one as Master of Commerce and other as Master of Business Administration. He has written several articles on personal finance, published by different International journals. He loves traveling, reading and writing is his passion. He has a dream of writing a book on his favorite finance topics.