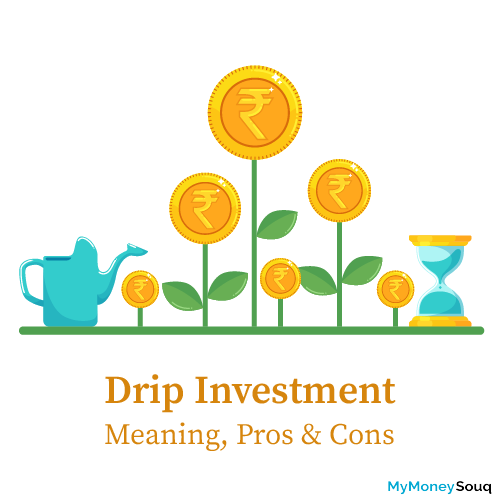 The stock market is associated with volatility and every investor will have the most important questions like, Where to invest?, How to invest? and How much to invest?

When an investor has lump sum money they will always have a question of whether to invest cash at once or make a systematic investment monthly. Here, both the ways have their pros and cons and the final decision on investment is dependent on the investor. The investor will calculate the risk, and amount of money to dispose and consider the fluctuations of the market.

Investing a lump sum amount in the stock market can make all your money start working for you. If you have made arrangements for investing small portions of your money then you will earn on the money you invested. A dividend reinvestment plan or Drips is a way in which cash dividends from investments will get auto invested in shares. When you enrol in drip investment it will make reinvestment in cash dividends easy and sometimes it is cost-effective.

What is Drip Investment?
Drip investments are programs which will automatically do investment in shares from any cash dividends that you get on your investments. It is important to enrol in a drip for availing the facility and this method is not mandatory to follow.

Brokers will provide the options where you can make investments. For example, the drip investment of stocks can be in mutual funds, American depository receipts, ETFs and others.
Click here for Investment in REIT
How does it work?
For suppose you have 500 shares of any given company which will pay you 1 AED dividend per share. With the help of a broker, you got enrolled in a drip program. Once the company pays you dividends you will be getting AED 500.

If you have received the dividend and where the stock is traded for AED25 per share and in this situation instead of you getting AED 500 as cash you will be getting extra 20 shares of stock.
Click here for Top thumb rules of Investing
Drip Investment Pros and Cons
The following are the pros and cons of drip investment.

Pros
Averaging
Reinvestments
Low commission
1. Averaging
Auto investing in dividends will inherently make dollar-cost averaging. Dollar-cost averaging is a way which involves recurring investment purchases. It is not a lump sum investment purchase. When you purchase more shares at frequent intervals it will make you reduce the total average purchase price.
2. Reinvestments
Dividends are auto invested into shares where drips will reduce the chances of non-investment which is left in your account. If the dividends that are available in your account remain uninvested and you have to manually invest them.

This facility will automatically reinvest your dividends into additional shares. Available cash in your account if invested will give good returns over a period of time.
3. Low commission
Drip can be set through the brokers and the broker firm may reduce or eliminate the commission on the reinvestments. It means that there is more cash getting invested into shares.
It is important to note that all broker firms will not eliminate the commission, consult your broker and make sure to check with your broker.

Cons
Tax
No diversification
1. Tax
In the taxable jurisdictions if you are participating in drip investments then you should be aware that you should be paying 20% taxes on reinvested dividends. The concern here is that you have to pay the tax on the due date and otherwise you may be forced to sell shares to pay taxes.
2. No Diversification
If you are setting up a drip investment for a stock then you will accumulate a significant amount of that stock over a period of time. This will reduce diversification and there will be more risk. It is advised to check portfolios at periodic intervals and rebalance them.

Setting up Drip
Brokerage firms will provide the facility to enroll in drips investment. You can login to your online account and select the option of dividend reinvestment. The navigation will guide you through the process and you can set up drip investment.
Alternatively, you can call the investment broker or the call center and work with them in setting up drip investment. There are few companies which will provide their own drip investments. To get the advantage you should contact them directly and avail the benefits.


Vinay Kumar Goguru is a finance professional with more than 8 years of diverse experience as a researcher, instructor and Industry work experience with both public and private entities. Prior to MyMoneySouq, he spent 6 years in Berkadia, It's a commercial mortgage banking company. He has a "Doctoral Degree in Commerce" and two master's degrees with a specialization in Finance, one as Master of Commerce and other as Master of Business Administration. He has written several articles on personal finance, published by different International journals. He loves traveling, reading and writing is his passion. He has a dream of writing a book on his favorite finance topics.