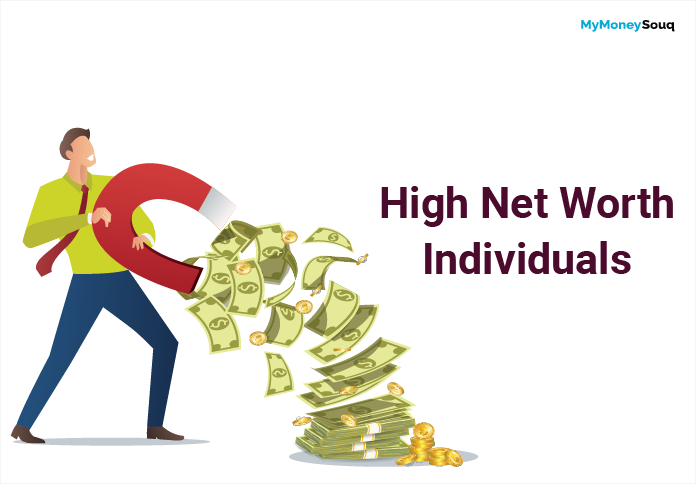 Net Worth describes the financial status of an individual with a figure that is left over when the assets are liquidated and liabilities are cleared. Net Worth is calculated for individuals, companies, sectors, countries, etc. Net Worth is used to determine the financial health of an individual especially by banks and financial institutions. Individuals are categorised according to the net worth as High Net Worth Individuals(HNI), Sub-High Net Worth Individuals and Ultra High Net Worth Individuals.  

HNI stands for High Net Worth Individuals. To be specific, individuals with a positive and high net worth are known as High Net Worth Individuals (HNI). Individuals with more than $1 Million net worth in the UAE are considered High Net Worth Individuals. This means if an individual has liquidated the assets like house, car, savings account balance, retirement account balance, valuable possessions like jewellery, etc. to cash and cleared the liabilities like loans, then the leftover cash is $1 Million or more than that.

According to a report by Knight Frank's Wealth report in 2019, there are 197,565 people in the UAE with a high net worth of more than $1 Million.

Banks and financial institutions classify these specific individuals into high net worth categories with a separate investment account. Though the eligibility criterion for being considered as a High Net Worth customer differs from each bank, the common factor is having liquid assets worth $ 1M or more than that. Customers with a net worth of $ 100,000 to $ 1M are considered sub-high net worth and if the net worth is more than $30 Million they are considered Ultra High Net Worth Individuals. 
Check: Best Investment Strategies according to Age
How High Net Worth Individuals Get benefited? 

Apart from having the benefits of being rich, the High Net Worth Individuals are provided special privileges by banks and financial institutions as well. Banks offer exclusive investment accounts for High Net Worth Individuals instead of regular mutual funds as investment options.
Some of the perks offered by banks in the UAE for High Net Worth Individuals are,
Free business/personal debit cards
Dedicated Relationship manager
Benefits on loans
Exclusive rewards and privileges on luxury brands
Competitive interest rates on loans
Bank accounts with multiple currency access
Locker facility for free
Free cheque books
Low fees on money transfers
Free airport lounge access, airport transfers, etc.
Access to Elite clubs in the UAE
Competitive interest rates on Deposit accounts
High cash withdrawal limits
Obviously, a person who has a high net worth has more assets and needs help in managing these. Hence they have a good demand among Private Wealth Managers who manage the assets, investments portfolios, mortgage planning, etc. for the individuals.

Higher the net worth, the higher the wealth manager/ banks get profited. Needless to say, the work will also be more as, to manage the assets and increase the profits in investments. 
Also, check: Investment Diversification-How does it work?
Tips to keep up with your High Net Worth 

Along with earning and keeping your finances up, it is equally important to manage it well by taking only wise steps

Ensure you are managing your finances rightly and taking financial advisor's advice who is well-experienced
Make sure your assets are protected with an insurance
Though you have a wealth manager, keep a constant eye on the investments and other assets
Pick low-interest loan options for your liabilities
Pick investment options that give good returns by taking your risk appetite into consideration
Nikitha is a Senior Analyst at MyMoneySouq.com. She has been writing about personal finance, credit cards, mortgage, and other personal finance products in the UAE. Her work on Mortgage loans has been featured by the GulfNews and other popular Financial Blogs in the UAE.