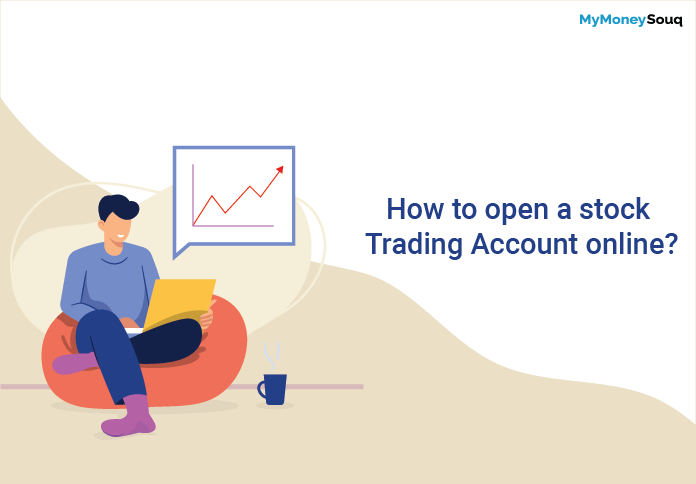 A trading online platform operates through software which connects traders, financial institutions and the investors to perform the online trading. It is a platform where the traders place their stock and the investors invest and monitor their investments. Trading platforms facilitate software with charts, research tools, live updates, knowledge centres and others.

UAE Financial Market
UAE is a diverse land with seven emirates. Among these, there are two financial centres in the country that provide a way to investors those are Dubai and Abu Dhabi.

In the UAE, there are two exchange platforms they are Dubai Financial Market (DFM) and Abu Dhabi Securities Exchange (ADX). The stock exchanges are operated with rules and regulations under the guidance of the Securities and Commodities Authority. Each exchange deals with different financial products like bonds, futures, equities, securities, commodities, metals, derivatives and others.

Documents required for opening account
The following are the documents required for opening a stock trading account. If your filling documents online should have soft copies to upload. If you are getting done through a broker or agent they will assist in collecting the documents.

Filled in application form
Passport copy
Original ID copy such as passport copy, driving license or labor card. The documents will be verified by the authorities.
Khulasat-al-Qaid this is for UAE Nationals only
Bank account number – current, savings or corporate account (Optional)
Investor number – DFM and /or ADX
Any other documents as required by the authorities
Once you fill the online application form on the broker's website you will need to submit the documents. The verification team will verify the documents and will get back to you for additional clarification or information. After the verification process gets completed you will be issued an account number with login credential details on your email and mobile. Some broker firms also send hard copies to registered addresses. After receiving the login credentials you can link your bank account and do trading online.
Click here for Types of Mutual Funds
How to open a stock trading account?
For UAE residents who want to open stock trading accounts and start trading online have different options. To make an easy choice for you we are providing the best trading platforms. The investors can choose the brokerage accounting firms and start to open trading accounts. The following are the online trading platforms in which you can open a stock trading account.

Investing has been very easy with the online platforms, the user can open an investment account to do the trade. It is like a bank where you can deposit your shares into it. Depending on the broker whom you select it takes one or two days to create your account. After you create an account you can start trading. For trading in Nasdaq Dubai or Dubai Financial market you should have Investor Number which is issued by Dubai Financial Market CSD.

There are various opportunities that UAE provides to the investors. The benefits range from less tax burden, stable politics, supportive legal environment and many other factors. Most of the cryptocurrencies have made UAE as their home with the advancement of technology and financial technology in this area.
How to Trade?
Once you have the online broker, you can trade online in the UAE. The brokers regulated with guidelines have strong relationships and reputation with the clients. In stock trading for doing online trade with listed securities on the Dubai Financial market you should have a NIN number. With this number, you can trade on Dubai Financial Market and Abu Dhabi Stock Exchange. You can buy and sell securities and start your trading experience. Professional brokers provide services where to invest, when to invest and how much to invest. These professionals charge fees for their services and investors can get the benefits of their services.
Click here for UAE stock market what you need to know
Investment Opportunities in the UAE
Dubai Financial Market is a pioneer in the development of the UAE, it is the first market which complies with the Sharia law. It deals with debt and equity instruments, ETFs, borrowing or security lendings and others. Dubai has seven other exchanges where investors can have trading opportunities as follows.

NASDAQ Dubai
The Dubai International Financial Centre
The Dubai Multi Commodities Centre
The Dubai Pearl Exchange
The Dubai Diamond Exchange
The Dubai Gold and Commodities Exchange
The Dubai Mercantile Exchange
The stock market is regulated by the Securities and Commodities Authority. The transactions of commodities, the accuracy of the deals, investment of funds, fair prices are all monitored by the securities and commodities authority. The regulatory authority provides awareness and recommendations to investors. The online brokers are controlled by the Dubai Financial Services Authority. If any brokers violate the regulations, the authorities can take action against the online broker firms.

Take away
Online stock trading provides convenient services to transact from anywhere. With the advancement of technology, opening a stock trading account is on your fingertips. You can invest in a range of stocks, diversify your portfolio by investing in real estate, stocks, derivatives and many others. You can manage your portfolio from anywhere. You can check the user experiences, ratings, services, costs and fees, quality of trade services and various other factors and then open your stock trading account online.

Vinay Kumar Goguru is a finance professional with more than 8 years of diverse experience as a researcher, instructor and Industry work experience with both public and private entities. Prior to MyMoneySouq, he spent 6 years in Berkadia, It's a commercial mortgage banking company. He has a "Doctoral Degree in Commerce" and two master's degrees with a specialization in Finance, one as Master of Commerce and other as Master of Business Administration. He has written several articles on personal finance, published by different International journals. He loves traveling, reading and writing is his passion. He has a dream of writing a book on his favorite finance topics.