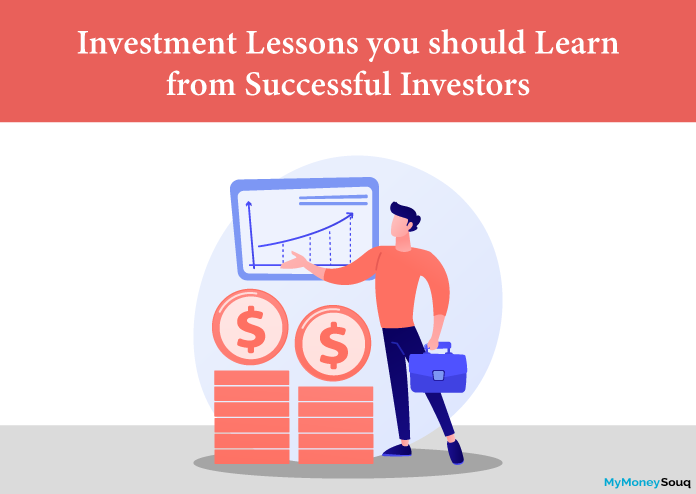 Making money work for you is a way for investing. You do not need to have great knowledge or hold any special degrees for making an investment. You just need to have knowledge about savings, ways of money management, investments and other related matters. Here in this article, we provide you with great investment lessons from successful investors that you can learn which will help you to become successful investors.

Research
Winning trade run
Diversification
Patience is the key
It's your money
1. Research
Warren Buffett is considered as one of the successful investors. He is the richest man in the whole world who multiplied his wealth through investments. He is also the financial advisor for many world leaders and when Warren Buffett talks, the world listens. The financial markets move according to his words. The annual letters from Mr.Buffett are lessons that are taught in the world's most prestigious financial universities.

The success behind the best investment is thorough research. Warren Buffett focuses more on the research. Research is the first and fundamental step for making the right investment decision. Doing research and studying the company over a period of time and holding the investment facts and having the vision of long term investment is what the investors should intend to do.
2. Winning trade run
Dennis Gartman is a great investor, economist, and commodity analyst. His publications on investments began in the year 1987. His comments on global markets and observations on hedge funds, brokerage firms, mutual funds and other trade firms are keenly watched by the investors. Gratman is a guest, consultant, advisor, tradesperson in the finance network.

He always said that being patient with winning trades will work in the long run. Be impatient with losing trades. You can make large investment returns if you hit the right investment portfolio. All it takes is just 30% of your time and it is good if the losses are minimal and profits are maximum.

Many young investors learn from his suggestions. He suggests that you do not sell your investments for small profits. Let the investments keep multiplying and increase the profits. If you are losing the trade then do not lose a lot of your money. Get out of the losing trade as quickly as possible. If you learn to master this, the money you lost can be recovered from the gains that you earn from winning the trade run.
Related- What are short term investments are they worthy?
3. Diversification
Bill Gross is a successful businessman, a manager, co-founder of PIMCO and a great investor. PIMCO is a US investment firm that focuses on investments, fixed income management. Bill was the Chief officer of the world's largest bond fund.

Diversification of portfolios is the universal rule that every investor should learn about. Do not invest all money under one name. If one investment pick makes a good investment move and if another does not make a good move then still you can hold with a big move.

Diversification can give you a chance of making money. Keep spare funds in your account to make the investment at the right time when the markets are favourable for investment. Rely on your research and make the investment when you believe it is the right time for investment.
4. Patience is the Key
In the investment world, Prince Alwaleed Bin Talal is a very well known personality. He is a Saudi Arabian investor and also the founder of the Kingdom Holding Company. This company over a period of time became a major holding in Citigroup as it became the largest shareholders.

Prince always said that he is a long term investor and not a seller. When other investors were selling their shares he held his investments. His research on holding investment and the timing of selling the investments have resulted in riding the markets. Patience has always remained the key for his success. The right time for making the investments and the right time for selling the investments.
Click here for Best fixed income investments
5. It's your money
Carl Icahn is a great investor who made his holdings in big giant companies such as Yahoo, Time Warner, Blockbuster LLC and Clorox. He is a modern-day investor who is among the corporate raiders purchasing large amounts of holdings in the companies.

Learn from your mistakes, be in the business and make the decisions for yourself as it is your hard-earned money that you are investing. Investors should not take anyone's advice and invest with interpersonal relationships.

Investment should happen having the understanding of the market. Doing exhaustive research and based on real time data analysis from reliable sources the investments should be made because it is your hard earned money. It is your money that you are investing so do not solely rely on others advice. Considering advice and verifying is part of the research but do not invest your money without proper research.
Take away
Successful investors have much experience and they are a good learning source for the young and experienced investors. Investment experts will provide you with the knowledge on various platforms such as books, article blogs and directly talking to the experts. Each investor has their own investing experience and by getting to know their investment lessons you will be able to make right investment decisions.

Vinay Kumar Goguru is a finance professional with more than 8 years of diverse experience as a researcher, instructor and Industry work experience with both public and private entities. Prior to MyMoneySouq, he spent 6 years in Berkadia, It's a commercial mortgage banking company. He has a "Doctoral Degree in Commerce" and two master's degrees with a specialization in Finance, one as Master of Commerce and other as Master of Business Administration. He has written several articles on personal finance, published by different International journals. He loves traveling, reading and writing is his passion. He has a dream of writing a book on his favorite finance topics.