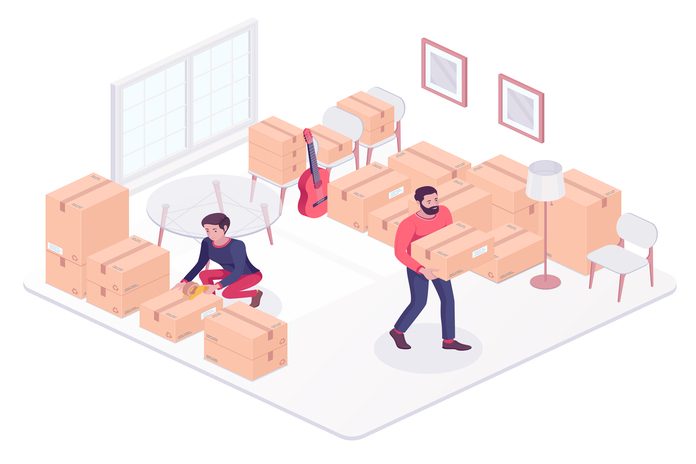 Buying a house is definitely not a piece of cake. There are several things to be considered right from finances, down payment to finding your dream home. Apart from the main cost that is the property price, buying a house involves different costs like property registration fees, home interior decoration costs, new installations, etc. Usually, these additional costs can take up at least 10% of your property price but get overshadowed. It is essential for all the "to be homeowners" to pay attention to these additional costs as well and be prepared financially.
Check: When is it a good time to Buy a house in the UAE?
Banks and financial institutions don't provide home loans to cover these additional expenses. So, along with the downpayment which is 20% of the property cost in the UAE, the homeowner should set aside 10% of the property price to cover these supplementary expenses. But while spending on these additional costs, most of the homeowners forget to understand why they are spending and how much they are spending which ultimately makes them spend more than usual.

A new homeowner must list down the costs involved while purchasing a house and thoroughly check which expenses can be cut down or where they can save.

7 Money-Saving Tips for a New Homeowner

Here's a list of the top 7 simple tips for a new homeowner where they can save money. 

1. Setup LED lights 
If your new house has regular bulbs and lights, replace them with LED lights and bulbs. LED lights save a lot of energy and also live longer when compared to normal bulbs. You can replace regular incandescent lights with LED lights especially in the areas like kitchen, dining room, living room, etc. where you spend most of the time.

2. Choose energy-efficient products 
One of the best ways to save money for a new homeowner would be by starting with energy-saving products. The energy-saving products will reduce your electricity bill by a big number. Replace all your old electronics like TV, Air Conditioner, Refrigerator, Microwave, etc. with the new products that consume less power.

Setting up smart power strips will also help in power consumption. Usually, though the electronic devices are not in usage they consume a little bit of power. Smart power strips detect the devices that are in sleep mode and stop supplying energy. This is a small yet efficient upgrade that can save your electricity bill.

3. Get water pipes repaired 
This is one of the first and foremost things you need to do once you buy the house. Check all the water pipes, taps, etc. Ensure there are no leaks as it will determine your water bill overall. 
Also, check: How buying a House can be Financially Beneficial?
4. House Insulation 
Apart from choosing less power consuming products, you also need to get your house rightly insulated. House insulation protects your home from extreme weather conditions. The hot climate in UAE does not need an introduction. Getting it insulated is the way to make heat not enter the house and save on your air conditioner bill.

Along with the insulation, you can also set up a home garden which will give shade and breeze and also increase your property value.

5. Get new window shades
After fixing the water leaks and getting insulation fixed, the next step would be setting up window shades that will protect you from the scorching sun. You can pick good quality window shades that will let the light in but block the heat.

6. Install new locks 
While moving to a new house, you may not be aware of how many people would be having copies of the key to your house. Getting the entire doorway changed can be unnecessary but you can get door locks changed and get spare keys for you and your family.

7. Start an Emergency Home Repair Savings
There are several costs that a homeowner will be spending. There can be monthly or annual maintenance required. Back in the day, your landlord might have been taking care of such repairs but right now it's your responsibility to bear such costs. Take a home inspection once in a while but to bear all the expenses you must be prepared financially. Therefore set up an emergency fund for house repairs or upgrades. When something breaks down all of a sudden you'll be prepared financially with your emergency funds.     

Being a first-time homeowner can be quite overwhelming. When you are financially prepared, you'll be prepared mentally. Keep a track of all the repairs and upgrades. Most of the costs listed above are like an upfront investment that ultimately leads to good savings. Therefore, make small and efficient changes in your new house which can help you save well. Simultaneously opt for cost-saving techniques that can make you afford the surprising costs that can come your way.

Nikitha is a Senior Analyst at MyMoneySouq.com. She has been writing about personal finance, credit cards, mortgage, and other personal finance products in the UAE. Her work on Mortgage loans has been featured by the GulfNews and other popular Financial Blogs in the UAE.