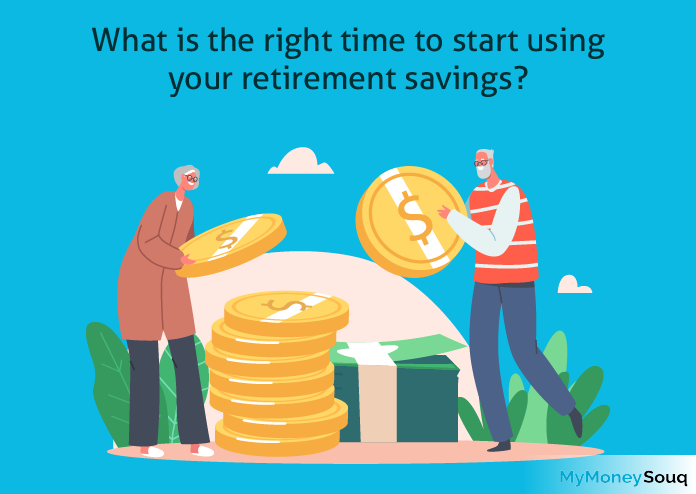 Retirement income spending depends largely on the personal and financial goals that you have set for yourself. The savings income in the retirement savings account is largely from years of money put together with dedication. Many have a question about how much money they should have during retirement and how much money they should spend monthly. It all largely depends on the individual's ability and needs. Here in this article, we discuss the right time to start spending your retirement money.

Understanding the rules
Planning for interests and taxes
Setting goals
Planning re-evaluation
Social security
1. Understanding the rules
To use the retirement funds you should be close to 60 years of age when you can withdraw money from the retirement account. This is required to manage the expenses for your future days. The major expenses for retirees are medical emergencies.

It is required to start withdrawing money from the retirement savings account with less quantity. Even when you reach the retirement age of 70 years the calculated spending will benefit you. These rules will help in maintaining a good balance between spending and saving.
2. Planning for interests and taxes
When you are spending money from your retirement account you should also keep in mind that the more withdrawals you make the fewer chances of earning interest. There are also possibilities that you may have to pay taxes on withdrawal limits and also understand the tax exemptions.

Funds held in stocks and mutual funds are different and they have their conditions. It is important to talk to your financial advisor and balance the taxes and make calculated withdrawals. The withdrawals are from the account which you have set up for use during retirement.
Click here for New financial goals after clearing debts
3. Setting goals
Saving money for retirement is the goal of all retirement plans. Many people set money for retirement but they fail to set financial goals for themselves for the retirement budget.
Spending and savings are very important during retirement as there is no other source of cash inflow into the retirement fund. All you have to do is manage the limited amount of money that you have in your account.

During your retirement age if you are working part-time this can add up to the retirement amount. It gives little flexibility to spend money and enjoy your life but it is also important to have spent within the limited guidelines.
4. Planning re-evaluation
To create a retirement fund you spend almost all of your years putting money into the fund account. The effort that you put into building the corpus amounts to the same effort you have to put in while spending from the corpus fund. It can create a fear of going out of money when you need it the most.
It is a general observation that people spend less money when they are aging. Re-evaluating making a reassessment of goals considering your financial situation and financial needs. The tax payments, penalties, excess withdrawals and all adjustments bring change in the fund amount.

You should re-evaluate your expectations and expenses based on which you have to make a plan on how to spend. Once you make a progressive plan for your fund you can start using money from the savings account.
Click here for When you should re-evaluate your investments?
5. Social Security
The social security retirement benefits are provided at the age of 62. If your retirement is before the fulfillment of the age then you get a reduced benefit of the retirement. The retirees who are collecting social security at the age of 62 years instead of the full retirement age are getting monthly benefits lower than 30 percent. This is the reason that financial experts suggest that it is better to spend from other retirement saving accounts in the initial period which will maximize the guaranteed income from social security after a period of time.
Take away
Find out how much saving amount you need and plan to build that corpus amount. Do not take off reinvesting the corpus fund to grow your money. Calculate your living expenses, medical expenses and have a plan for spending your retirement fund. Use the social security retirement benefits fund at the right time. Apart from what has been discussed here, the right time to spend is when you understand how much to withdraw and how to spend money efficiently from the fund account.


Vinay Kumar Goguru is a finance professional with more than 8 years of diverse experience as a researcher, instructor and Industry work experience with both public and private entities. Prior to MyMoneySouq, he spent 6 years in Berkadia, It's a commercial mortgage banking company. He has a "Doctoral Degree in Commerce" and two master's degrees with a specialization in Finance, one as Master of Commerce and other as Master of Business Administration. He has written several articles on personal finance, published by different International journals. He loves traveling, reading and writing is his passion. He has a dream of writing a book on his favorite finance topics.