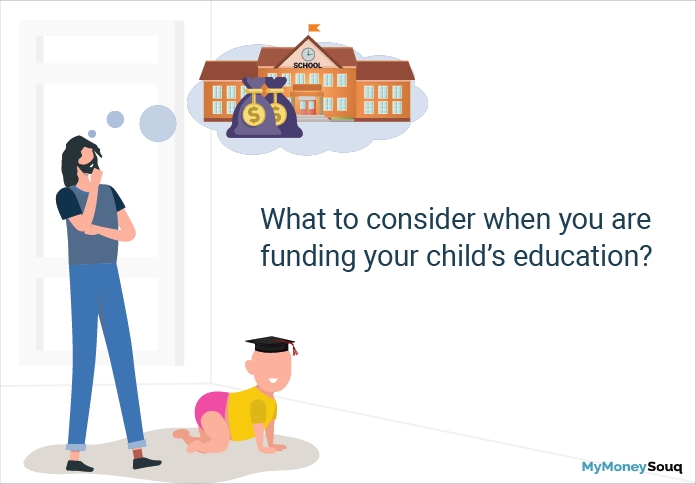 Education is an important aspect of a child's life. As a parent, we strive to provide the best education our children can get right from their early schooling years to higher education. However, in a world with costs determining quality, preparing yourself financially for the education-related costs is crucial. According to reports, as compared to the global average, parents in the UAE tend to spend more on their children's education. This includes the tuition fees, books, transportation, etc. and does not include the top-end schools. Hence, parents in the UAE need to have a strategic plan to ensure that they are financially prepared for funding their children's education.
So, how does one begin? Just target an approximate figure and start saving? When is the right time to start? What aspects must one consider while saving for a child's higher education? Is saving money enough or should one invest too? Today, we are going to offer a guide that can help you plan your savings and investments to create a corpus for your child's education.
I. Assess the costs
One of the most important steps in being prepared for the education costs of your child is to think about where he/ she is likely to study. We understand that this will not be perfect since predicting the future is impossible, but unless you have an idea about the expected costs, you can't prepare yourself for them, right?
The most important is to understand how many years to go for college or higher education. It is always best to start as early as possible. The best time to save for education is to start immediately the kids are born, as parents don't have to pay school fees or other extracurricular activities in initial 4-5 years. Instead, they can put into education.
While the decision about schooling is in your hands, higher education will depend upon the kind of interests your child develops. You must figure out a way to assess the possible options that your child might consider and prepare for the costliest one. Look at options within the UAE as well as other countries. Today's children do not like to be confined by the boundaries of the country they reside in and are willing to explore the world from a very young age. Also, it is important to know where the prospects want to send their kids for education, as the fee structures are different between the US, UK, Europe and Asian countries.
This gives you a number to start working with. While there are other factors that need consideration, this is the base number that you need to determine before you begin.
II. Save Regularly
Once you have the figure in mind, you need to start saving money for achieving the goal within time. So, if your child is two years old and should attend university at the age of 18, then you have 16 years to save for his/ her education. However, being a long-term plan, many people tend to falter and lose out on valuable time. Hence, we recommend that rather than counting the years, plan your savings based on the number of salaries you will receive in the period.
For example, you receive 12 salaries per year (unless you are having multiple sources of income). Hence, in 16 years, you will have 192 salaries. Hence, whatever amount you are targeting needs to be divided into 192 parts making your savings plan more focused and efficient.
If your target amount for education is AED 1,000,000. Then dividing it into 192 parts will be approximately AED 5200. Therefore, you should ensure you have accommodated AED 5200 per month for education savings.
Check: Today's Live Gold Price in Dubai
III. Consider Inflation
When saving for the future, you cannot ignore inflation. In simple terms, inflation means the rate at which the value of money deteriorates over time. Therefore, if you can buy a certain product/service for AED 100 today, then by 2030, how much of the same product/service will you be able to purchase for the same amount?
Every country has an inflation rate that can help you determine the correct cost of education post-inflation. If you are saving for education in a different country, then you must take the inflation rate of that country into consideration.
If the rate of inflation is around 5%, then in 15-16 years, the cost of education will be more than double. Hence, it is important to consider inflation while planning for any future expenses like your child's education.
IV. Create a budget
Budgeting is one of the most important tools in the arsenal of someone planning to save money for the future. We all have limited income and need to manage our expenses while saving some money too. We also have dreams and aspirations that require financial planning. This is where a budget comes handy. It allows you to approach the huge future costs efficiently by planning and saving for it over the years. With a good budget, you can avoid unnecessary expenses and ensure that you save enough to be financially prepared for planned and unplanned expenses in the future. It can also help you keep your debts in check and highlight the need for an additional source of income for achieving your goals.
V. Invest carefully
Merely saving money is usually not enough to prepare yourself for high expenses like your child's education – investing is important. There are a plethora of investment options available today offering returns ranging from 4-15% on your investments with varying risk exposure. These include equity, debt, commodities, gold, real estate, etc. Each of these instruments has certain pros and cons. Therefore, it is important to assess them carefully and choose those that can work well with your investor profile and financial goals.
For example, while equity investments tend to offer better returns, they have a higher element of risk associated with them. On the other hand, debt investments have lower risks but don't offer attractive returns. A balanced approach tends to work well for most investors.
If you are new to investing, then we would recommend talking to an investment advisor to get started. Remember, you are working hard to earn money and harder to save it. Hence, invest prudently and avoid unnecessary risks.
VI. Protect your child's future
When you are planning for your child's future, it is advisable to protect it even if you are unable to continue saving and investing due to any critical illness or even death. Life is unpredictable and you wouldn't want your child's education to suffer for any reason. Hence, apart from working towards your financial goals, ensure that you also purchase protection plans that ensure that your financial goals are met in the case of any such eventuality.
Summing Up
Education is the best gift you can give your child. It will be his armor and tool when he enters the real world and helps him have a better perspective on life. With education getting costlier, it is becoming increasingly important to start early and work towards ensuring that you are well prepared to manage the higher education costs without burdening yourself with loans or worse, asking your child to compromise. The tips mentioned in this article can help you create a strategic plan to fund your child's further education. Remember, the sooner you start, the easier it will be to reach your financial goals without making a lot of lifestyle sacrifices. Good Luck!