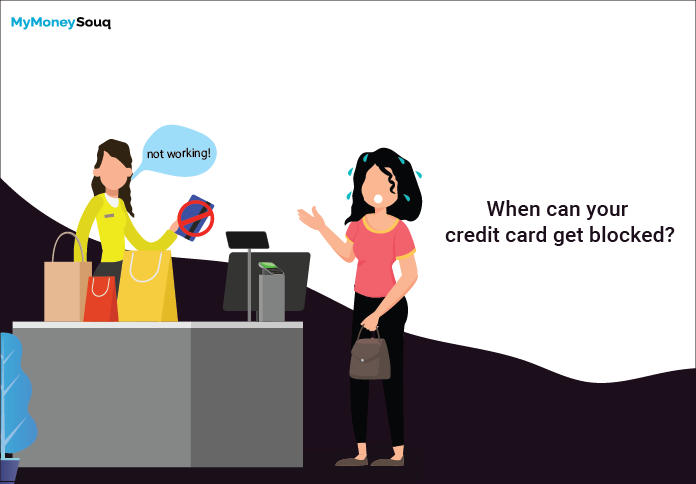 Credit card companies take high anti-fraud measures to provide protection to the customer against any frauds. They use the softwares which provides protection against any frauds. Sometimes it may happen that the card gets blocked when you, the cardholder tries to make mundane purchases, entering incorrect passwords or any other reason. Different credit card companies have different technologies and software.
Credit card companies like Visa, Mastercard, Discover, American Express have their own techniques in protecting identity theft. The spending data is analysed from where you buy, how much you buy and how you are spending. Everything adds up and the customer's spending profile is generated. Any deviation in spending patterns or if there are any unusual spendings it can attract system attention, then the next transaction gets blocked.

What alerts do block credit cards?
Credit card issuing companies do not mention on record about the red flags of card purchases but the experts and customers who faced the situation can tell you about these alerts.

Multiple quick purchases
Shopping where you never purchased 
Spending on small purchases before spending big
Shopping far from your home
Travel expenses charges
Purchases made in different regions on the same day
Billing issues
1. Multiple quick purchases
When you are spending quickly at different locations at a quick speed the credit card might get blocked. Shopping at different places and making multiple purchases quickly within an hour can trigger an unusual activity by the system. The smart technology can quickly block the card as it recognises as unusual activity. 
2. Shopping where you never purchased
When you shop at different places where you never purchased before can also trigger an alarm. Risk management specialists say that unusual purchases are identified as risky as using the full credit card limit where a customer never made purchases. In this situation, the card may get blocked by the company.

3. Spending on small purchases before spending big
Credit card fraudsters generally test the water by spending on small purchases first and then spend on big purchases at the lump sum. If the customer purchases anything like this it may trigger an alarm and the card may get blocked. 
4. Shopping far from your home
This is the most common form and this especially happens when you are travelling. Not all purchases trigger, it depends on the nature of purchases and the timings of purchases. If the cardholder makes unusual purchases far away from home then it may trigger a security concern and the card may get auto blocked by the system. 
5. Travel expenses charges
If you're a traveller abroad anything you purchase may trigger a block. Any standard travelling expense such as booking a hotel, paying for car rental and other expenses. Since this is an unusual charge during the travel and the credit card company is not aware that you are travelling then the card gets automatically blocked by the system.
It is always advisable to inform the credit card issuer when you are travelling abroad. This will ensure that your card is not blocked during international travels. 
6. Purchases made in different regions on the same day
Online purchases which are made in different countries of the world at a given period of time can trigger a block on the credit card. If you have withdrawn cash from an ATM before travelling and again you made online purchases after reaching your destination even this can trigger a block. Since you are using your credit card from different locations and making purchases from different regions on the same day it may happen that your credit card gets blocked. 
7. Billing issues
If the card user wants to make an addition on the purchase, it may happen that the second transaction may get declined. The card issuing company thinks that the merchant is trying to take undue advantage of the card number and it gets blocked.

It is advised that whenever you face any billing issues do not repeat the process or do not make any additions on purchases this may trigger a block on card. The software identifies that it is a threat to customers data and it blocks the card. The payment card industry security guidelines provide strict compliance practises to ensure the customers' data is safe.

Tips to reduce the hassles of blocked cards
The following are the tips for reducing the hassles of blocked cards.
Have back up credit cards
Keep credit card contact information handy
Inform your credit card company while your travelling
Use prepaid cards
Sign up for text message services
Update your contact details with the card issuer
1. Have back up credit cards
Having a backup credit card is always a good idea because if you are in urgent need of payment and there is any technical glitch on your card. An alternative card can rescue you and reduce your burden of payment. 
2. Keep credit card contact information handy
Keep your credit card toll free number, your card number, your account number and other details handy. Suppose if your card is lost or stolen you can block the card by calling on a toll-free number. You can block your card through mobile banking or internet banking as well. Having the card details is useful to take quick actions. 
3. Inform your credit card company while your travelling
Credit card companies use advanced technology and the software gets the details of transactions. When you inform your bank before you are travelling abroad they update the system and it allows you to make foreign transactions without any hassles. 
4. Use prepaid card
It is an alternative option to have a prepaid card to ensure you are financially secured in case your credit card does not work. A prepaid card or preloaded card allows you to use your card within the limits of your amount. It provides you with more safety and security. It gives the convenience of credit without any hassles. 
5. Sign up for text message services
When you sign up for text messages services you get instant notifications on the transactions. If you feel there is a fraudulent transaction then you can raise a flag. The card issuer can take quick actions on your behalf and protect your money from misuse. 

6. Update your contact details with the card issuer
When you relocate to a new address, have the billing address changed on record of the card issuer company. It will help the card issuer company to locate your new address. It ensures more security of your financial information.


Vinay Kumar Goguru is a finance professional with more than 8 years of diverse experience as a researcher, instructor and Industry work experience with both public and private entities. Prior to MyMoneySouq, he spent 6 years in Berkadia, It's a commercial mortgage banking company. He has a "Doctoral Degree in Commerce" and two master's degrees with a specialization in Finance, one as Master of Commerce and other as Master of Business Administration. He has written several articles on personal finance, published by different International journals. He loves traveling, reading and writing is his passion. He has a dream of writing a book on his favorite finance topics.