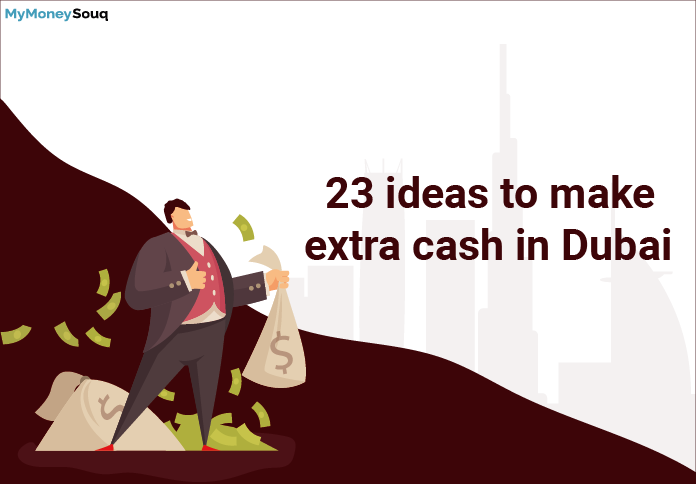 Who doesn't want to have some extra bucks to fill his pocket?! If that's the case and you want to earn a good amount of money in Dubai, there are many good ways to help you in that. Let's have a look at them.
1. Teach your skills
Love to share your knowledge with people? Want your words to get instilled in people's minds? Then this is the right way to earn your Dirhams. Start to teach people the skill which you have expertise in. It might be anything on which you have experience and interest in.
You can try this both online and offline. So, what are you waiting for? Teach online by applying on online portals and teach offline by starting tuition at home in your free time.
2. Turn your crafts to cash
Ever created something so creative? A painting? Handmade baskets? Or even any accessory that's useful? Then this is the right thing to get extra cash for you. Pour all your creative talent in your creative work and let it get uploaded online. This way, you can sell your things online even by sitting at home.
Create. Upload. Earn.
You can also sell your works at an exhibition after getting permission from the respective executives.
Also Check Today's Gold Rate in Dubai
3. Blogging
Well, blogging is a trend now. If you are good at writing, choose the topic you love the most and start a blog on the same. Learn the tips and ways to earn money via blogging and get your things done with your articles. Blogging is a vast ocean of creativity and you can choose any genre of your choice. Entertainment, beauty tips, health advice, financial stuff, anything goes well if you have good knowledge and writing skills within you.
4. Freelancing
Freelancing is that one way where you can use your talent of any sort, get people who are interested in your works and get paid for it.
Graphic designers, writers, photographers, mobile app developers, anyone can use this option to gain a considerable amount of money. Connecting with LinkedIn and other professional websites might help you with it
5. Be a tourist guide
You read it right. You can be a licensed tourist guide in Dubai and help newbies explore the beautiful and luxurious city with your aid.
You can have a good time going around the city and also helping them with the same.

6. Photography
If you are passionate about the camera and the magnificence it captures, move forward to use online portals to make money.
Upload the beautiful images you have captured with your camera by signing up to various portals that pay you for uploading pictures. The cash that you get may depend on the type and quality of the picture you take, but still, it's a good way of making cash if you meet the criteria of the websites.
7. Provide accommodation
You can earn money just by having a house. Yes, that's possible. All you need to do is sharing a room or two with the people who are new or who are tourists that visit Dubai. You can just let them take accommodation in your home till they finish their visit
With this you can have your rent and yeah, if things go well, you can also get a new friend for a few days in your home.
8. Social media
By having a good knowledge of social media, you can earn your money. Nowadays social media expertise has grown a greater significance and you can earn your share of the money by marketing on social media. You can market your own work or go for marketing the work of other people.
9. Baby Sitting
Shower your love towards babies. Transform yourself into a babysitter in taking care of your colleagues or your neighbor's kids during a weekend or anytime when you are free for a specific rent you set.
10. Be a helper
Unleash the helper within you. Give your helping hand to people around you who needs their tasks to be done be it moving to a new house, getting groceries home or even maintaining their garden. Just do tasks for people and earn a few bucks.
11. Rent your car
If you have an extra vehicle which you don't use frequently, you can choose to rent your car to the people who need it. This way your unused car will be in frequent use and you can get money to your hand.
12. Sell your clothes online
Nowadays there are many portals online that provide you a chance to sell your clothes. Sign up for a portal and sell the clothes that don't fit your taste. Who knows? The clothes you sell might become someone's favorite to wear.
13. Portray your cookery skills
Your delicious dishes can fill your wallet. Plan every weekend to make delicious dishes and sell them to the people around you. You can try this by opening a stall at your home or even by delivering the food items at their doorstep.
14. Test a website
This is one of the easy ways to make that extra penny if you are the kind of person who loves to give reviews and feedback about how a website appeals to the new user who opens it. Website owners are always curious and want to know their website response from time to time. So, if you are interested in giving your own word of review, then this is the best way for you to earn money with just a laptop and internet connection.
15. Youtubing
This also stands in the list of one of the creative ways to get money. Nowadays people are showcasing their talents like acting, cooking, artworks, crafts anything just by having a channel and posting their videos on it. You can also have your own way of posting your talent just by creating a channel on YouTube.
Also, you can post the videos of celebrations, tourist places, famous parts of Dubai, etc.,
16. Flea Market
Flea Market is a very good chance to have all your second-hand goods at home at one place and sell them.
Just select a stall in the flea market by paying money to it, have a license and sell everything that's old second hand or of no use to you at your home.
17. Djing
Dubai being the richest country has its own share of celebrations and parties that will be celebrated lavishly. If you want to pump music into people's veins and rock the party on, you can go for swaying the show with your Djing interest and skills.
18. Take part in the events
Not only Djing, but you can also have your hand in the events that will be held in Dubai, Abu Dhabi, etc.,
You can do this by applying for part-time event management courses that are available in Dubai. A letter will be received from the institute allowing you to work for event management. If this is not a feasible option, you can go for agencies by registering with them to take part in volunteering the events.
19. Sell furniture and other goods
Just take a look around in your house. You will be surprised to know that there are many things around you that are not actually useful. This might include your old furniture, electronic goods, etc.,
Get time to bring in place all those things and sell them online. This helps you in not only having a few Dirhams but also in clearing unwanted stuff at the home.
20. Part-time jobs
You can also opt to work for part times in your field of expertise or even in the fields that you are interested in.
There are many opportunities in Dubai that fetch you a part time that you are more amicable with. But if you are planning have a part time job in another organization, it is always advisable to get permission from your employer as it is illegal to work for two organizations at the same time.
21. Pet grooming
This can be a side business and an impressive way to earn money if you are good with animals. Pet parents are willing to spend loads of money on their pets well being and thus it will be a great profit-making business.
22. Become a part time delivery agent
Delivery agents earn approximately about 1500-3500 AED a month. This is a great way to earn money in your own time without a boss. The salary is usually not fixed and would depend on the number of deliveries you make. You will also get benefits like fuel reimbursement etc.
23. Become a typist
There are many sites which are converting hard copy books into online books. If you consider your typing speed to be optimal, make use of it to get a part time typing job, there are chances that you will be able to work from home thus, sparing you the cost of travel and also by providing you extra cash.
24. Content Creator
A content creator is someone who creates and produces content. This can include websites, apps, videos, music, or any other form of communication. Creators are usually amateur social media stars who have a huge online following. Essentially, anyone can become a creator if they put in the necessary work.
There are many video platforms that pay for high-quality content. Meetv.net, Vimeo, Nebula, and Odysee are a few such video platforms.

Making cash needs a proper plan and by following the above stated ways, one can make the ends meet in case of a second source of income.