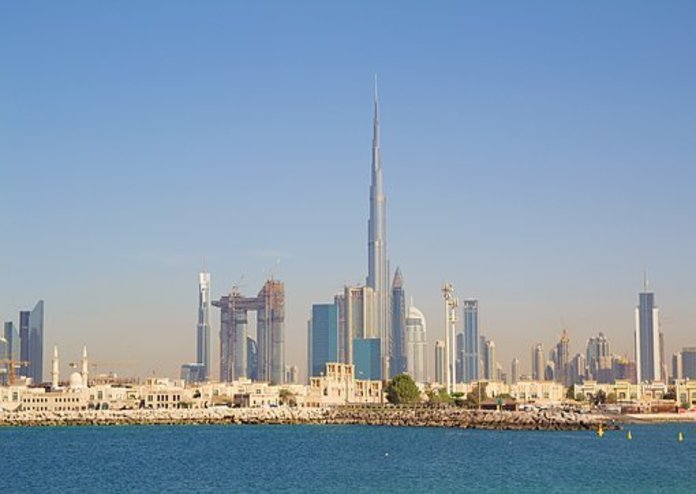 Dubai is the land of tourist attractions and there are many places that welcome with their grandeur and beauty without costing you a penny.
Check : UAE Holiday list 2019
Below are the places in Dubai that you can visit and have a good time.

1. Relax at the beach
Dubai has been a collection of beaches and you reach out to many beaches that are beautiful to spend time and take a stroll. Kite beach, JBR Park beach, Sunset beach are some of the beaches that welcome you with their soft silky sands and beautiful sunsets.

Kite beach and JBR beach are the best places for entertainment as you can fly kites, enjoy watersports all with good vibes. You can also find banana boat rides for kids and volleyball court to have fun.

2. Burj Khalifa and Dubai fountain
You can find the world's largest dancing fountain outside Dubai Mall and Burj Khalifa where the fountain dances with its beautiful moves to the music and tunes of the international artists. This is one of the best things you can do for free in Dubai.

The water in the Burj Khalifa lake reaches a height of 500 feet according to the tunes and this entire magnificence takes place in the total 30 acres space of Burj Khalifa lake.

As everyone knows, this is one of the iconic buildings and the world's tallest skyscraper you can come across in Dubai.

You can just go to Dubai mall and while leaving the place, take a pause at the iconic Burj Khalifa and take as many pictures as you want for absolutely free.

The Burj Khalifa lake also make you go awe with its beauty.

3. Dubai canal
Dubai water canal is an artificial canal is 3.2 km long that stretches from Arabian Gulf to Dubai Creek in old Dubai business bay.

Dubai Water Canal Boardwalk is the best spot to have a nice stroll in the good weather and have a look at the skyline.

You can get access to three bridges from the boardwalk across the canal like Tolerance bridge which has its own importance in providing people with the great view of the water. You can also view a beautiful waterfall curtain that opens you to allow the cruise boats.

You can have all your time at the boardwalk for free without paying even a single penny.
4. Fossil rock
Visiting the fossil rocks in Dubai gives you an enthralling and surreal experience. All the fossils you find at this place are over 80 million years old.

You can drive down the Dubai Hatta road via Al Awir to reach Fossil rock. You can really have a well spent time by watching the blue skies, rocky hills and the thick desert sand spread all over the place. You can enjoy the place by packing some delicious lunch for the picnic with your family and friends.
5. Coffee museum
You can visit the UAE's first ever coffee museum which is located in the Al Fahidi District in Dubai. The museum got started in September 2014 when the day marked as the international coffee day.

Past and present days of the coffee world can be witnessed in the museum and the ground floor of the museum is dedicated to a variety of brewing and roasting styles along with various kinds of documentaries that the visitors can go through in the media room.

You can also have a sip of your favorite coffee by sitting in the lounge of the museum.
6. Free movie to watch
Dubai is a place of entertainment and you enjoy even the little things like watching a movie for free here at Pyramid Rooftop complex.

You can enjoy watching movies under the carpet of sparkling stars and moon having a seat in the colorful bean bags provided over there.

Free movies can also be watched at Alserkal Avenue where different kinds of movies including independent, classic, arthouse, foreign movies etc., are played of which some are free to attend. So, grab your chance and have a wonderful time watching movies for free.
7. Dance your night off
Yes, you read it right! You can dance to all the peppy numbers of the '80s and '90s by finding yourself in the Societe Dubai which is a blend of leather sofas and oversized lampshades making it create a shabby atmosphere altogether.

Visit this brand new club on Friday nights and tap your feet to the awesome tunes of good olden days. Yes, the entry is free.
8. Amaze yourself at AlSelkar Avenue
You can unleash the artistic side of Dubai by visiting AlSelkar Avenue where diversified pieces of art can be found.

This is free to enter and you can pass through a number of galleries, pop up shops and concept spaces in the Al Quoz gallery before helping yourself with a hot drink and cold-pressed juice at one of the coffee shops present.
9. Camping
Camping is one of the pleasant experiences that can be tried if you are out with your family or friends. There are many free camping spots that welcome to you have a good time.

You can find secluded and non-secluded camping spots in Dubai be it in deserts or at the beaches. Camping is absolutely free in any desert in Dubai. So, have your snacks, pack your stuff and you are all set to have a good camping experience under the sparkling stars and at the soft sands of the deserts in Dubai.
10. Ras Al Khor Flamingos
Get a closer view of the pink flamingos that usually stay at the junction of Ras Al Khor road and Dubai Al Ain highway by passing through the Ras Al Khor wildlife sanctuary with binoculars in your hand and hiding in between the three birding hides at the water edge.

You can do this for free and the huts from where you can have a view at the flamingos will be open from 9 am to 4 pm from Thursday to Saturday. This is one of the best activities for free especially if have kids.
11. Walking tour
Perhaps you might have heard about this by now, but still, this stands as one of the peaceful and relaxing things to do in Dubai especially in the evenings or early in the mornings.

Having said that, you can find promenades here to have a walking tour at JBR and Dubai Marina. JBR residencies have a relaxing vibe that makes it a great place for people who want to explore the city.

While having the walk here, you can come across a variety of restaurants, boutiques and especially luxury cars which stands as one of the main reasons why you should visit this place and have a walk.

12. Local wrestling
Wrestling also falls under one of the free things you can do in Dubai. You can find that on every Friday, people of Bangladesh, Pakistani, Indian origin gather themselves in a group to witness the strong and brave men wrestle to showcase their abilities.

You can usually watch wrestling at Deira on Fridays from 5 pm onwards.
13. Abra ride
Hop on the traditional wooden dhow or Abra that travels through Bur Dubai and souks of Dubai. All you have to pay is 1 Dirham to have an Abra ride, one of the cheapest modes of transport in Dubai.

If you want to skip the traffic while exploring the souks and Bur Dubai, then this is the best thing to do so.
14. Coin Museum
Museums also have their own role in providing free visits to people. Coin museum is one of them. Located in Bastakiya, Coin museum has nearly 470 varieties of rare and precious coins that belong to varied historical places and periods.
Special display screens of the museum give the visitors a more precise view of the coins and the electronic dropdown list gives the required information. The entry fee needed to enter the museum is AED 0.

15. Ladies day out
If you are a woman then this is your opportunity to grab the day off at some of the most beautiful pools of Dubai. This luxury can be enjoyed at some particular days of the week like for example on Sunday and Monday you can have a nice time at Barasti during 10 am to 6 pm and also have free pool access, free towel and unlimited Frose.
Added to this, 50% off is provided on food and other beverages.
16. Yoga and workout sessions
Why not stretch your body a bit while having a trip to Dubai? Hit on the Zabeel Park and immerse yourself in some yoga and exercises everything for free.

Friends of Yoga conduct free and quality yoga sessions at the park that makes you lose your calories which were gained by the delicious food you had in the city.

FOY also conducts sessions at different places other than Zabeel parks like Bur Dubai Creek, Deira Creek, Internet City, and JLT park.
17. Horse racing at its best
Want to experience a horse race with a bucket of popcorn in your hands? Head to Meydan Grandstand in the city where you can watch horse racing that is famous in Dubai.

As Meydan Grandstand is stretched nearly across 1.5 kilometers, it can accommodate approximately 60000 people in it. So, why to give it a second thought? Go and entertain yourself with the horse racing for free.

18. Al Shindagha
If you are a history lover, then this is the place for you. The coral clad houses, wind towers, and the amazing architecture is an eye treat for you if you happen to visit this place. Al Maktoum House introduces you to a new face of Dubai.

Al Shindagha is open 24 hours a day for people who want to visit it.

19. Free entry to the waterpark on your birthday
You can have your birthday bash at Aquaventure waterpark of Dubai. The people of this park provides you with a distinctive facility of free entry on your birthday or sometime around your birthday week.

So, brace yourself and blow your birthday candles in the waterpark, all you need to do is to follow a registration process that has to be taken before availing this offer by the park.

20. Cycling
If cycling is your best interests, then Al Qudra is the best place for you. Hop on to the bicycle and keep going. Cycling here is free and you can do it anytime without objections.

21. Bombay toast and Arabic Coffee
A trip to Dubai seems incomplete without having a sip of delicious Arabic coffee. You can find a cup in many outlets in Dubai. Arabic coffee at Bur Dubai and Al Fahidi costs only Dh 1 which is almost free.

Why not a toast with a coffee? Try out Bombay toast that is available in the city on the street side in Deira and Satwa which also costs you at around Dh1.
22. Camel racing
Camel racing is a part of parcel of tradition and heritage in the UAE. Camel racing is popular to a fault especially from mid October to April every year where camel races takes place at different tracks in Dubai.
You can enjoy this camel racing at Al Marmoom camel race track and it is absolutely free to visit the race.
Go through : Best budget hotels in Dubai
Dubai is a place of variety. So, if you are visiting it the first time, make sure that you have a gala time going and trying the things that are mentioned above.