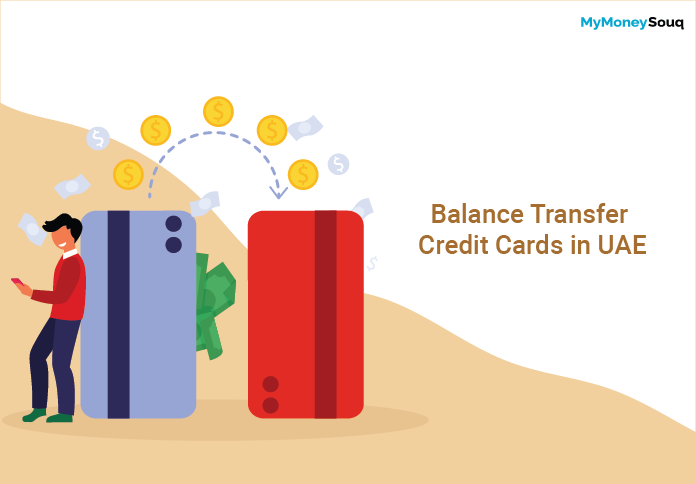 Balance transfer is similar to Buyout Loans basically means shifting the outstanding credit card balance from one bank to another. It could be a Credit Card bill, Personal loan, home loan etc. This usually happens when your credit card interest is too high leaving you unable to make monthly payments properly. Usually, because of high interest rates, you get to pay only monthly interest and the principal amount keeps on increasing; this is when a buyout loan or a balance transfer as we call it, comes into the picture.
Balance transfer in UAE mostly happens with credit cards because when compared to a credit card, personal loans are available for lower interest rates. Many banks approach you for transferring the balance from your existing credit cards to their bank's credit cards. It can be considered a financial service similar to Debt Consolidation.
How does it work?
As said, if you already have a credit card with a high-interest rate, where handling monthly bills is becoming more and more hectic despite making timely payments, then you may transfer your existing outstanding credit balance to a new card with a minimal rate of interest where most of the banks charge zero interest for some limited time.
Interest rates & Processing fees on Balance Transfer Credit Cards:
It's extremely important to check the credit limit of your new card. Your new card may have the same or more credit limit than the previous one. But make sure it doesn't decrease. If it is lesser than your existing card, then there is no point in transferring because only the balance with the new limit will be transferred, which is inclusive of the processing fees.
Minimum Salary for Balance Transfer Cards
The Minimum Salary required for Balance Transfer Cards depends on the card you are transferring to.
Precautions to take?
Even though balance transfer seems easy with no interest payment for a few days, you need to bear the processing fees during the transfer, which totally depends on the banks.
Also, keep a close eye on the following:
Most of the banks say no interest rates for a balance transfer but this would be valid only for a certain time which usually lies between 6 months to 1 year. After that, there would be some interest payable, mostly variable in nature. It is equally true that at least for a limited time, you would be free from interest rates. But it is important to check the rate of interest that will be charged after the offer time. Some banks charge a very high rate of interest compared to your old credit card which would again be a burden. Also, some banks don't accept balance transfer if you have delayed/skipped monthly payments on your old card.
Points to be noted before transferring your balance:
Credit limit of a new credit card.

Processing fees

Zero Interest Rate validity

Rate of Interest
A balance transfer can come in handy when you are not able to manage your existing Credit Card/Personal Loan expenses. But before transferring your balance, do proper research once as mentioned above. Choose your bank properly and know complete details to avoid any unnecessary complications.
Nikitha is a Senior Analyst at MyMoneySouq.com. She has been writing about personal finance, credit cards, mortgage, and other personal finance products in the UAE. Her work on Mortgage loans has been featured by the GulfNews and other popular Financial Blogs in the UAE.