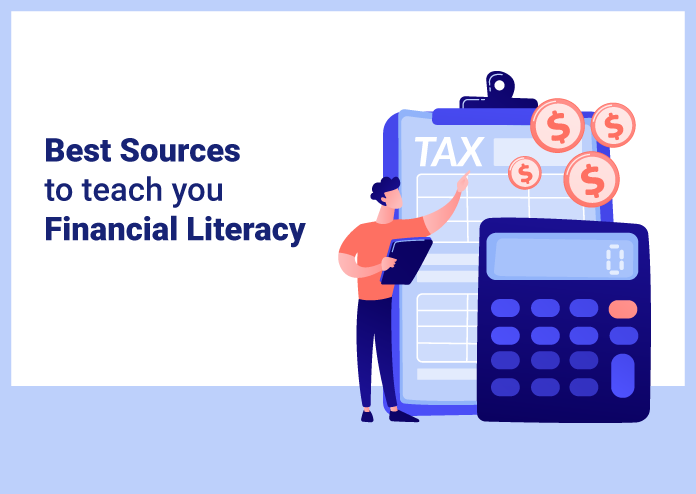 Having a good knowledge of finance is very important in this generation. Whether you are interested in knowing about investments or tax savings aspects or savings, budgeting, etc. It is important that you get the complete information about finance and its related aspects. But how do you gain financial literacy is a very important question.

If you are an expert at the subject it is still important that you stay connected with the financial world by updating your knowledge. The financial world is dynamic and it is useful if you stay updated with the latest developments in finance. Financial tools and investment apps are the best sources that will help you to understand finance. This information is very useful when you are buying a house or planning for retirement.

In today's world there is no problem getting any resource for financial information. You can get help from news, financial blogs, finance websites and other sources. There are many sources such as books, expert talks and others. Here in this article, we provide you the sources through which you can get knowledge about finance.

Financial books
Online publishers
Financial tools
Finance course
Financial therapy
1. Financial books
The first source of financial information is the books. Financial literacy is about building a start about finance. The great advantage of reading a good book is that it is printed and you can read it again and again. A good library is the best source of financial information and you can find many books in the library. You will have a vast selection of books and you can enhance your knowledge on the finance subjects written by the experts.
2. Online publishers
Online publishers of financial information such as e-magazines, financial blogs, websites and other online sources can be great sources of information. By subscribing to the online sources you can get information about the latest developments in the financial world. Websites, e-magazines, financial blogs will provide you with the articles on the finance topics. You can get an understanding about the financial products and get connected with the financial world.

Subscribe to the best financial sources and you will get the news regarding personal finance, wealth management, taxes and other financial information. You can also subscribe to our free newsletters at MyMoneyouq. Here you can get the latest financial content on personal finance, wealth management, credit cards, business, insurance, investments, loans and other finance related aspects. Apart from these, there are online content publishers in youtube and other social media platforms where you can gain knowledge on finance. 
Click here for Finance lessons that you should learn at an early age
3. Financial tools
The money management and financial management are different and interrelated with each other. It is not difficult to go about with, there are many financial tools and apps available which can help you to stay updated. These apps can be downloaded on your phone and you can get the latest financial information about the financial products whether knowing the latest stock market indices or finding the best investments options.

All can be managed with the financial apps on your finger tips. The banking sector has been providing the latest news on investments into financial products through their respective banking apps. To be well informed and more proficient these financial management tools are the best financial sources to teach you about finance.

If you are busy and not able to find time for reading, then apps can help you out in reading the books. The audio books can reduce your efforts and can be read for you so that you can gain knowledge through it. And another way to gain knowledge is podcasts which will help you to listen to the content. It can range between ten minutes to one hour. You can listen to the financial advice from the experts on podcasts. 
Click here for 5 ways to protect your finances in tough times
4. Finance Course
Taking a finance course can give you knowledge on finance. Classes on finance literacy courses are provided by the experts. There are also online courses for free and paid services which provide you the facility to understand different financial aspects. Whether you are going to the office or college, if you are interested in learning then online courses are available for everyone.

Among all the advanced courses, simple courses in which you can learn and which are useful in day to day life are budgeting courses. Understanding the importance of savings, staying organised with money, tracking expenses, spending analysis and other courses can help you organize your financial life. Having knowledge about the basics of finance is very important to make the best of money that you earn. 
5. Finance therapy
Finance therapy is a way to support and help people to understand finance and come of financial stress. Here there are financial advisors who share their expert knowledge to the clients on money management decisions and teach importance of financial management. If the client is into financial issues then they guide the financial expert and advice to overcome the situation.

The financial experts in Finance therapy can teach you how to overcome unhealthy spending habits. Bad money management such as overworking and not spending any money, bad saving habits, avoiding financial issues, uncontrolled spending and others. The experts provide you with suggestions and they share their knowledge so that you can gain the best and become a finance literate person.

Take away
In every individual's life money plays an important role in their well being. Money helps you deal with financial problems. It provides emotional health, money relieves stress when you need it the most, it is a source of life management. If money is not controlled then you will suffer many financial burdens. Money controlling mechanisms can be learnt if you have financial literacy. Financial literacy covers the overall aspects of an individual's life such as personal finance management, stock markets, loans, revenue management, profits and losses, asset management, liability protection, insurance and various other aspects of finance. By having a good understanding about the financial products and services you can manage your life expenses and income effectively.


Vinay Kumar Goguru is a finance professional with more than 8 years of diverse experience as a researcher, instructor and Industry work experience with both public and private entities. Prior to MyMoneySouq, he spent 6 years in Berkadia, It's a commercial mortgage banking company. He has a "Doctoral Degree in Commerce" and two master's degrees with a specialization in Finance, one as Master of Commerce and other as Master of Business Administration. He has written several articles on personal finance, published by different International journals. He loves traveling, reading and writing is his passion. He has a dream of writing a book on his favorite finance topics.