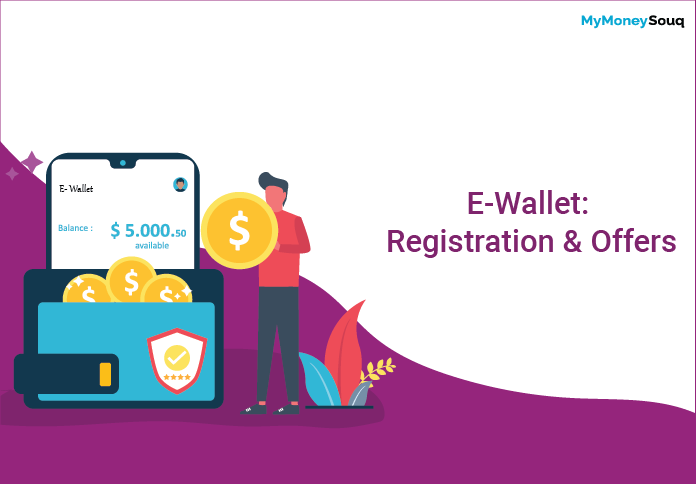 E-wallet is a digital wallet that allows consumers, agents, merchants and organizations to do digital transactions. It is a fast, secure and effective way to make and receive payments. These services are available in smartphones for customers, web portals, API direct interface for agents, business corporations and others.

E-wallet is created as a partnership between Etisalat and Dubai Islamic Bank. It brings together the technology, banking, business marketing and distribution channels that are easy and comfortable to use. This deal will create an opportunity for making a cashless society.

E-wallet for customers and merchants

Consumer
Customers can use an E-wallet to send or receive money from friends or family members. It is not mandatory that the receiver should have an E-wallet account. You can send money to a bank account or buy by air time for mobile numbers from Etisalat. Mobile numbers should be operated within the UAE. Customers can pay Etisalat bills. You can deposit cash at any of the agents, ATM centres and Kiosks. Payment can also be made directly to the merchants. Through Etisalat smiles programme you can earn and redeem points. Customers can enjoy the benefits of this user-friendly app.

Merchants
Merchants can accept payments for goods and services they sell. Merchants can empower their employees to get payments towards services. Merchants can accept payments for goods and services they render. It empowers employees to receive payments for services. They can pay or receive money from business suppliers or partners in the country. It can also be used for sending money from the bank account paying salaries to employees. This service is available for only citizens who are having Etisalat postpaid or prepaid numbers. For visitors who are having valid visas from GCC countries and tourists across the world, these services will soon be provided to them.
Know Your Customer
It is a system where the customer has to provide personal details which act as evidence for accuracy of customers identity. Customers can digitally upload KYC without any physical verification. The customer is required to physically verify their identity which is advised by the system. In physical KYC verification, an agent will verify the identity details of the customer. There are no limitations for physical verification of KYC and customers can get full account benefits.
Click here for Cashu How does it work?
How to register?
Customers, agents and merchants can register on the E-wallet app. They can't send and receive money through the app. It is also used for paying Etisalat bills. There is no registration fee, minimum balance or bank account required.

Customers
Customers should have an active postpaid or prepaid number; this number will be used for a valid registration. Customers have to download the app from Google Play Store or AppStore. The app will direct you to the registration page you have to enter your details. You have to enter the SMS code which is sent on your registered mobile number. Follow the instructions and your registration will be successfully completed.

Agent
Agents have to fill the form on the website and enter the details that are required full stop. You can either contact toll-free number 800 E-wallet.

Merchants
Similar to the agents merchants should also fill the form on the website. For any additional handle, merchants can also contact on toll free number 800 E-wallet.
Click here for Mobile wallets in UAE
Eligibility requirements
All the citizens and residents of the UAE are eligible to use the services of E-wallet. The services can be availed only within active UAE prepaid or postpaid numbers. Tourists and visitors having valid visas from GCC countries are also eligible to use this service.
E-wallet Offers

Super prize
You can make international remittances and get a chance to win upto AED 25000. The offer period is from 20 Dec 2020 to 20 Feb 2021. Cashback offers are available for existing customers and newly registered customers.

For international money transfers
Weekly price is AED 5,000 for one participant. Second prize raffle will be AED 10,000.

Mega Raffle offers
Mega prize is for AED 25,000 for one participant. All weekly winners will also be eligible to participate in the mega offers. E-wallet staff and members cannot participate in the campaigns.

Cashback offers
Cashback offers are available for all the customers. Minimum transaction limit AED 100 or more. Maximum Cashback amount is AED 20 per transaction. This is applicable for the first five transactions in a month. Offer can be availed multiple times and the maximum cashback is AED 100 per month. Cashback will be transferred soon after the transaction.

Cashback on bill payments
With E-wallet, you can earn cashback AED 50 per month. You can pay bills, topup XBox, SALIK, NOL, iTunes and others. Cashback is available for transactions equal to AED 50 or more than AED 50.
Cashback is only available on Etisalat Bill Payment, iTunes, Etisalat top-up, NOL, Ajman Sewerage Bill Payment, SALIK, National Bonds, XBox 360, FEWA Bill Payment, Du Bill Payment, etc..
AED 5 Cashback is provided per transaction and this is valid only for the first 10 eligible transactions monthly. Customers can get this offer multiple times, the maximum cashback will be AED 50 monthly. Cashback can be utilized for making future payments.
Note – The promotions and offers are at a sole discretion of E-wallet. E-wallet has the right to change offers or discontinue any promotions. You can call the 24/7 call centre number at 800 E-wallet or at 800 3925538.

Vinay Kumar Goguru is a finance professional with more than 8 years of diverse experience as a researcher, instructor and Industry work experience with both public and private entities. Prior to MyMoneySouq, he spent 6 years in Berkadia, It's a commercial mortgage banking company. He has a "Doctoral Degree in Commerce" and two master's degrees with a specialization in Finance, one as Master of Commerce and other as Master of Business Administration. He has written several articles on personal finance, published by different International journals. He loves traveling, reading and writing is his passion. He has a dream of writing a book on his favorite finance topics.