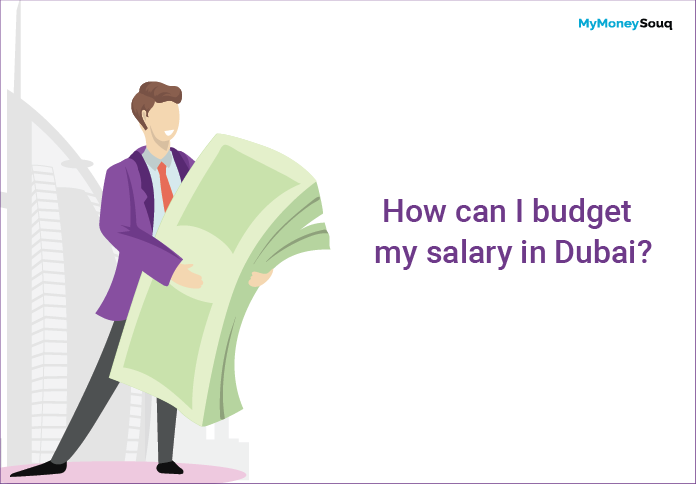 The COVID-19 pandemic has affected many lives and it is still continuing for the past year. The temporary loss of pay for the salaried employees in Dubai has put them in financial problems. It has become very difficult to make a living with the salary amount.
However, by carefully budgeting your salary income, you can reduce unnecessary costs and make the best use of available money. In the long run, after the pandemic situation changes, you can benefit by developing the habit of maximum utilisation of salary. The main important factor of saving is even a small penny that you save will add up to the pool of savings.

Here in this article, we have made the best attempt to categorise expenses for most of the salaried employees in Dubai, UAE. However, it may slightly differ based on the individual earning capacity and also spending habits but the overall principles may apply for almost all the residents in Dubai.

First Save then Spend
Expats in Dubai feel saving money is very difficult and one of the hardest tasks to do with the salary income. In normal situations when the salary gets credited, saving first and spending next should be a very good idea to adopt. If you have a temporary salary deduction it may be very difficult to save your reduced salary. You can give instructions to the bank to automatically deduct a portion of your salary amount and add it to your savings scheme.

Let us take an example to understand how you can save and where you can reduce your expenses. Let us consider an individual who has a salary of Dh 10,000 and has a small family including a child going to school. Budgeting for the month should be done where the allocation starts with unavoidable expenses and then continues to other expenditures. Let us also assume that the family has car expenses as well, along with credit card pay and use expenses.

The basic living expenses such as house rent, transportation, food, education, utility expenses and credit cards should be well maintained within the budget to live a decent life in Dubai.

Rent
A universal rule that you should follow is paying 30% or less than that towards rent each month but this is practically different in many surveys in UAE. The 30% rule has not been applicable to many residents for a few years. The most realistic estimation assumed to be 35% to 45% of monthly income for this salary range. Let us consider 35% from a salary income of AED 10,000 which would be AED 3,500 towards rental expenses.

It is sufficient for a single bedroom occupancy in a few locations in Dubai. With this amount a family can get a two bedroom apartment in Sharjah comparatively. For those working and living in different emirates rent is one of the most prominent factors to consider.

You should reconsider your rental expenses if you are spending more than the above mentioned range. For small families, single bed rooms and studios are a widely preferable choice. For students and bachelors, dormitory or sharing rooms are most preferable which may be heavily crowded sometimes in few places.
Click here for Credit card utilisation-Impact on credit score
Transportation
The next expenses will be towards transportation and this is from office to work and other commutation. In Dubai owning a car is more easy and affordable than any other country. Here used cars and new reliable branded cars are available at affordable prices. If you own a car then you have to arrange for extra costs like annual maintenance, insurance, parking fees and other charges. If you violate the traffic rules or any parking violation, you have to pay a heavy penalty which may range from AED 600 upto AED 5000. If you break the rules then all your monthly budget money will be ruined.

Using public transportation is the best choice in Dubai. The metro connects through almost all the cities. You can commute for office and home by metro to save money on parking, fuel and other expenses if you have your home near the metro station. If you are living in Abu Dhabi and Sharjah there are no metro services available, the best option is to have a car if you are planning to live in these areas. If you have a company pickup and drop facility then you can use that transportation or the public transport and save a little money.

Your car fuel expenses, parking and other maintenance costs should not exceed 15% to 20% of salaried income. Based on the example that we have considered here, the amount is AED 1500 to 2000. You can buy used cars in the best conditions which are driven for less distance. If you are travelling by car then there is another important factor to consider: the Salik. Salik or the toll expenses become a burden which may hit your budget. Make sure you know all the salik free roads to reach your destination. The to and fro costs for salik could be around AED 16, you can use it in times of emergency.

If you are planning to use only bus and train then the transportation expenses could be as less as around AED 230 to AED 1000. If you are spending more than 20% of your monthly income on commuting then you have to reconsider and search for alternative options to live a balanced financial life.

Education expenses
For many residents and the expats, student school fees are the highest amount payable every month. In order to reduce educational expenses, the expats make their children study in their home country. On a yearly basis the fees for school going pupils may range between AED 10000 to AED 100000.

Do not spend more than 15% of salary income on educational expenses that could directly hit on the budgeted amount. As the child grows the expenses will increase automatically and you should be prepared for such expenses. If you make your child stay with you then you have to anticipate future expenses and budget your salary towards those expenses.
Click here to Pay for your education without getting into too much Debt
Expenses on Food
The next important thing is expenses on food. The food expenses can be affordable if you have the idea of spending smartly on food, The thumb rule is always make food at your home to reduce your food expenses. If you are doing this you will spend less than AED 1000 which is 10% of budgeted amount on groceries and other food expenses. Look out for the offers and make the best use of them.

Food coupons, weekend offers on groceries, discounts in supermarkets available all it needs is your attention and timing to grab the deals. Some super markets provide sale dates for foods just grab the deal and save on your budget.
In Dubai, lifestyle is hectic and cooking for every meal might be difficult, plan for a small dine out or food delivery at home. Select the best dining offers on credit cards or coupons if you search thoroughly you will definitely get a good deal.

Expenses on Utilities
Expenses on electricity bill, water bill, gas are all unavoidable and these expenses will be around AED 1000 to 1500. There are few other expenses which have alternatives such as television channels and internet. Having an internet connection is a must but having more than two hundred channels on television is not a requirement and you will not watch all the channels. If you have an internet connection then you can watch all the channels. Spending AED 200 or less than that you can access all the online streams which includes entertainment and news across the world.

Conclusion
You can live a decent life if you are carefully budgeting your salary income, reducing the cost and making the best use of available money. If still you are unable to meet your expenses then try to look out for new job opportunities which provide you good income. Prefer companies which provide you accommodation and transport this will reduce major expenses. Make the best use of money and the opportunities around you to live a happy life. In the hunt for saving money do not forget to live in the moment.


Vinay Kumar Goguru is a finance professional with more than 8 years of diverse experience as a researcher, instructor and Industry work experience with both public and private entities. Prior to MyMoneySouq, he spent 6 years in Berkadia, It's a commercial mortgage banking company. He has a "Doctoral Degree in Commerce" and two master's degrees with a specialization in Finance, one as Master of Commerce and other as Master of Business Administration. He has written several articles on personal finance, published by different International journals. He loves traveling, reading and writing is his passion. He has a dream of writing a book on his favorite finance topics.