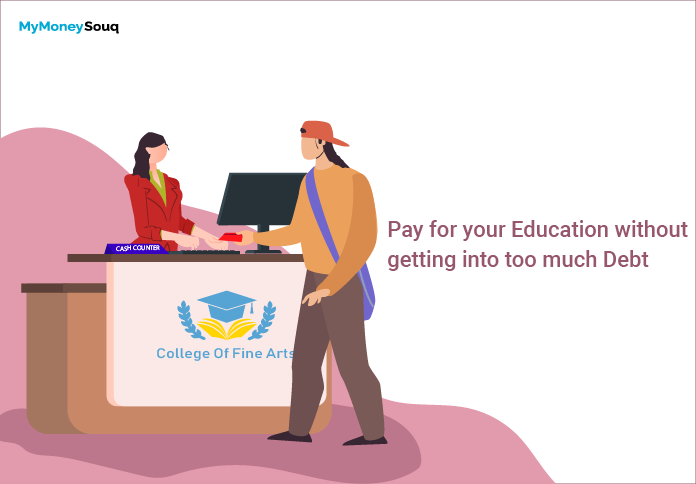 Education has always been one of the top priorities of the UAE. UAE has top universities that provide various academic programs and these universities provide various facilities to students.
Students aspiring for education gather money from multiple sources to fund their education.

Apart from student loans, there are other options available for Education in UAE.

Here we are providing some tips on financial aid for education in the UAE.

1. Fill out Application to get Financial Aid from Universities

Universities provide financial assistance to students, fill the application and get your ticket for financial aid.
After you submit your application university checks your details and provides financial aid. It also facilitates work-study opportunities, federal grants, student loans and others.
Here are some prestigious universities providing financial assistance to students.

United Arabs Emirates University (UAEU)

In UAE, any student from a low-income family has the right to apply for financial assistance for academic studies.
UAEU provides financial assistance and study devices like laptops and iPad. You can check your eligibility and apply for financial aid.

For Expatriates this university has set up a Non-national Student office, the staff helps in matters related to visa, health insurance, financial assistance, acts as a liaison communicating government agencies and students.

Abu Dhabi University

In Abu Dhabi University financial help is provided to students under Sanabil-Qutoof program.
The financial assistance is between 10 percent to 40 percent and it also depends upon eligibility.
You can check the eligibility criteria with the University and apply for financial aid.
American University in the Emirates (AUE):
AUE provides scholarships and various types of assistance which encourages students to continue their education. Students get discounts, grants and scholarships.
Students can enjoy the facility of more than one discount and they can pay only a 40% semester fee if eligibility criteria are met.
You can check the eligibility criteria with the University and apply them to get financial aid.
Click here to know how to Calculate Debt Burden Ratio
2. Look out for Scholarships
Every year the UAE Government and UAE Universities offer scholarships to local students and International Students.
There are various types of Scholarships provided for Undergraduate Scholarships, Graduate Scholarships, Master level Scholarships and Ph.D. level Scholarships.
Scholarships in UAE are given on merit basis and students from different academic degrees can get scholarships.
These include management scholarships, medical and law school scholarships, engineering scholarships, music, sports and arts scholarships.
In the UAE, Scholarships for students are designed to fund various programs. Students can avail the facility and get Scholarships on a fully or partially funding basis.
The American University of Sharjah provides scholarships such as Chancellor Scholarships, Sheik Khalifa Scholarships, Merit Scholarships and Scholarships for undergraduates, irrespective of nationality.
Local Students can get Scholarships to get a bachelor's degree at UAE University.
For International Students Canadian University Dubai offers annual merit-based scholarship which is spread as 20 percent or 50 percent or 100 percent fee waiver.
3. Apply for Fellowships and Grants
If your applying for Higher Education such as Ph.D. and Postdoctoral Research Programs in UAE it is an attractive opportunity.
For Research Scholars and Scientists fully-funded scholarships, travel grants and fellowships are provided for the academic program. You can check with the University for eligibility criteria and apply for fellowships.
4. Work and Study
A Part-time job for a college student will provide work experience and financial aid. It provides network-building opportunities for students to connect with the business environment.
Labor law in the UAE allows students to work while doing their studies. Students have to obtain the required permission to do part-time jobs.
5. Gather your Savings
Saving Money is a strategy to handle the future. You can use your savings to ensure that you can afford your education.
If you have no savings to fund your education ask your parents and family members to contribute. You can utilise your parent's savings plan which was invested for your education.
Click here to know 8 reasons why one should have a savings account
6. Choose an affordable College
Select a college according to your financial ability. It will be the right decision because paying for college fees will be easier for you.
Focus on the net fee payable in each year and calculate your future fee payables. Consider your grants, living expenses and then plan to get into the right college according to your budget.


Vinay Kumar Goguru is a finance professional with more than 8 years of diverse experience as a researcher, instructor and Industry work experience with both public and private entities. Prior to MyMoneySouq, he spent 6 years in Berkadia, It's a commercial mortgage banking company. He has a "Doctoral Degree in Commerce" and two master's degrees with a specialization in Finance, one as Master of Commerce and other as Master of Business Administration. He has written several articles on personal finance, published by different International journals. He loves traveling, reading and writing is his passion. He has a dream of writing a book on his favorite finance topics.