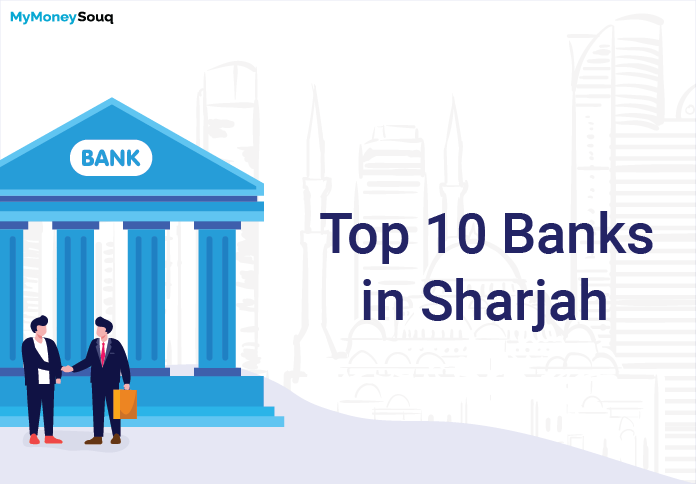 In the UAE's continuous growth Sharjah contributes with its investments and commercial banking facilities. The financial services and financial development is at a fast growing stage in Sharjah. Banks in Sharjah provide services to the residents, companies and the small business firms overall meeting the financial needs of the citizens. Here in this article we discuss about the top banks in Sharjah.

Sharjah Islamic Bank
ADCB Sharjah Bank
RAK Bank 
Habib Bank AG Zurich
Bank of Sharjah
HSBC Sharjah Bank
Dubai Islamic Bank
National Bank of Fujairah
Ajman Bank
Emirates Islamic Bank 
1. Sharjah Islamic Bank
Sharjah Islamic Bank has been providing its services since 1975 to individuals and companies. This bank was started as the National Bank of Sharjah and later converted to Islamic banking in 2002. It was the first bank to be converted and operate in Islamic banking principles. This was a revolution to convert from conventional banking into Islamic banking. Sharjah Islamic bank provides products and services for customers which are in line with the Islamic regulations.

Sharjah Islamic Bank offers maximum profit and maximum flexibility. You can maximise your profit upto 6.75% and get upto 90% of finance against deposit. For more information you can sms "maxplus" to 6667 or call 065999999

Bank Information
Location: Sharjah Islamic Bank Tower, near Al Qasba Canal – Al Khan Timings: 08:00 am to 02:30 pm
Contact: +971-6-599-9999
2. ADCB Sharjah Branch
ADCB Sharjah is a full-service commercial bank that provides different types of products and services to customers. These services include retail banking, wealth management, private banking, corporate banking, commercial banking, investment banking, cash management, corporate banking, currency derivatives, project finances, Islamic products, property management services and other services. The products are for wealth management, loan management, credit cards and accounts. It is committed to providing transparent banking services to customers. The goal is to provide outstanding banking services experience and it promises to serve the customer within three days of service request.

Provides sustainable profit growth through a UAE centric approach
Sustainability through liability growth and funding diversification
Superior customer experience through service excellence
Effective risk taking and management in line with a predefined risk appetite
The exploitation of digital for growth and efficiency – leveraging data analytics
ADCB bank offers a school fee instalment payment plan. You can convert school fees into a 0% payment plan. You can enjoy greater flexibility when you pay school fees with an ADCB credit card.
Bank Information
Location: Near Sharjah Central Post Office – Ibrahim Mohammed Al Medfa'a St – Al GharbAl Soor – Sharjah – United Arab Emirates
Timings: 08:00 am to 07.00 pm
Contact: +971 6 519 1616
3. RAKBANK
RAKBANK Sharjah is among the oldest and most dynamic banks in the UAE. RAKBANK is known as the national bank of Ras Al Khaimah and it had a major change where it shifted from corporate banking to personal and business banking. It offers telebanking services, digital banking with its Islamic banking unit.

With its unique products and services like RAKbooster and RAKsave it increases the habit of savings. There is no minimum balance requirement for the first three months in a RAKsave account and minors can have an account in it.

Rakmore is the service from RAKBANK to its customers. Transfer your salary to RAKBANK and get more from your salary. Get exclusive features of RAKelite account and World Credit Card for Elite Customers.

Bank Information
Location: Mohammed Mubarak Saeed Al Mansouri Building, Al Marieja Area, Rolla, Sharjah – Sharjah – United Arab Emirates
Timings: 08:00 am to 03.00 pm
Contact: +971 4 213 0000

4. Habib Bank AG Zurich
Habib Bank AG Zurich has been in operation in UAE since 1974 and it has a long relationship with a multicultural business community. It is among the top five international banks in the UAE. The range of products and services are focused on one to one relationships with clients. The products and services are designed for individuals, SME businesses and corporate business.

Habib Bank provides business banking solutions with trade finance specially designed for the growth and success of the business. It offers business solutions that are designed to meet the customer's requirements.
Bank Information
Location- Immigration Road – Al MajazAl Majaz 3 – Sharjah – United Arab Emirates
Timings- 8 am to 2 pm
Contact- +971 6 573 0004
Click here for Top payment gateways in UAE
5. Bank of Sharjah
Bank of Sharjah was the first commercial bank in Sharjah and it is the fifth-largest bank in the UAE. Since its establishment, the bank has played a major role in the economic development and growth of the Emirates of Sharjah. Bank of Sharjah contributed to the growth of the UAE. It is listed on the Abu Dhabi Securities Exchange and has its headquarters in Sharjah. The bank has its strong presence in UAE and over the years this bank has been committed to core banking values which create a strong legacy of excellence.

Private banking wealth management is offered by the bank with a range of investment opportunities. It collaborates with global financial institutions and European banks to facilitate innovative investment opportunities to the customers.

Bank Information
Location- Al Khan St – Al Khanالخان – Sharjah – United Arab Emirates
Timings- 9 am to 12 pm
Contact- +971 6 569 4411

6. HSBC SHARJAH
This bank provides a good option for opening an account in international banks in Sharjah. It offers its customers a unique banking experience that caters to financial needs. The broad services are investment banking, lending and insurance portfolios. The services range from wealth to money transfers and general insurance. HSBC has its services in financial planning and wealth management.

With HSBC you can get a card that suits your requirements. Get your exclusive discounts, cashback and make purchases with HSBC credit cards.

Bank Information
Location: Abdul Aziz Majid Building, King Faisal St. – Al Majaz
Timings: 08:00 am to 03:00 pm
Contact: 600-554722
Click here for Top 10 banks in UAE
7. DUBAI ISLAMIC BANK
Dubai Islamic Bank has been serving Islamic banking across the UAE. It has more than 1.9 million customers in the country. In Sharjah, this bank provides solutions for financing loans. It is a sharia-compliant bank that provides banking services. This bank was inaugurated by His Highness Sheikh Rashid bin Saeed Al Maktoum, former Vice-President and the second Prime Minister of the UAE.

Dubai Islamic Bank offers the convenience of flexible finance. Enjoy fast and easy access to funds with simple documents, higher approval amounts and get the first installment up to 120 days.

Bank Information
Location: Al Zahra'a Street – Al Qasimia
Timings: 08:00 am to 02:00 pm
Contact: +971-6-572-6444

8. NATIONAL BANK OF FUJAIRAH
Islamic banking and commercial banking services are offered by the National bank of Fujairah. Business banking solutions and personal baking solutions are the most preferred sources of banking by the customers. Primarily the bank focuses on encouraging SMEs and businesses in energy, marine, industry, metals and other business financings.
National Bank of Fujairah is specialised in banking services for Emirati business women. Women can benefit and have special privileges by opening a bank account with NBF Elham. The bank has developed a specialised segment to cater for the needs of Emirati women.
Bank Information
Location: Faya Business Park, near Al Majaz Park – Al Majaz
Timings: Saturday to Thursday 08:00 am to 03:00 pm
Contact: +971-6-593-1111
9. Ajman Bank
Ajman Bank brings well-rounded solutions to meet the financial needs of its clients. It provides a range of services from investment banking, wholesale banking, consumer banking services with hassle-free solutions to the customers. The bank products are compliant with Islamic banking laws.
With Ajman, you can fulfil your dream of owning a home. The interest rates are as low as 3.8% p.a fixed for five years. The bank also provides the best term deposit investments and savings accounts investments to encourage customers towards savings.
Bank Information
Location: Buhaira Corniche Road, near Starbucks Café – Al Majaz
Timings: Saturday to Thursday 08:00 am to 03:00 pm
Contact: +971-6-701-8567
10. Emirates Islamic Bank
With the best standard sharia-compliant financial products Emirates Islamic Bank provides quality services and the best value to the customers. Emirates Islamic Bank focus is on reaching customers satisfaction and providing the best services to expand its operations at local and regional levels. Commercial banking and personal banking are the main driving forces for the Emirates Islamic Bank.
Emirates Islamic Bank offers special personal finance for UAE nationals, the interest rates are 2.50% flat p.a and finance upto 4 million is provided by the bank.
Bank information
Location- Halwan SuburbSamnan – Sharjah – United Arab Emirates
Timings- 8 am to 8 pm
Contact- 971 600 599995

Vinay Kumar Goguru is a finance professional with more than 8 years of diverse experience as a researcher, instructor and Industry work experience with both public and private entities. Prior to MyMoneySouq, he spent 6 years in Berkadia, It's a commercial mortgage banking company. He has a "Doctoral Degree in Commerce" and two master's degrees with a specialization in Finance, one as Master of Commerce and other as Master of Business Administration. He has written several articles on personal finance, published by different International journals. He loves traveling, reading and writing is his passion. He has a dream of writing a book on his favorite finance topics.