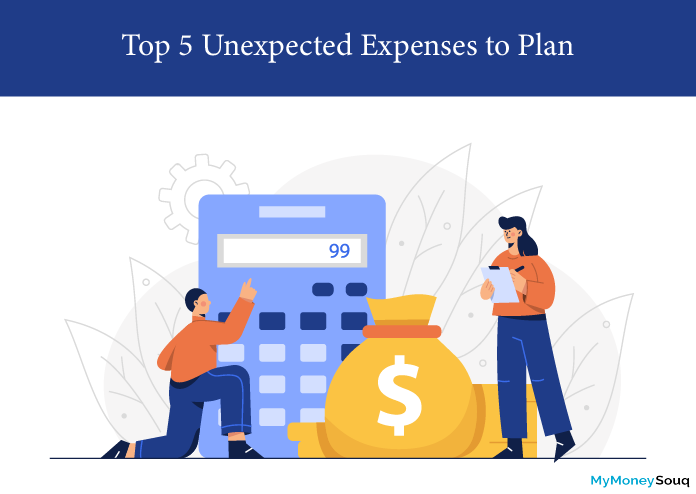 If you are not prepared for an expense you may have to see a sudden rise in bill payment amounts. These payments may come as a surprise on medical expenses, insurance premium payments, taxes, inspections, and other expenses.

The great thing about most unprecedented expenses is that they are unplanned expenses. If you have the plan to meet some expenses then these are planned expenses. If you may have to meet unexpected expenses then having an emergency fund will always help you.

When you are considering unexpected expenses you should have a plan for meeting those expenses. Having a separate savings account or an emergency fund is the strategy to deal with these situations. In this article, we will discuss planning for unexpected expenses.

Medical expenses
Household maintenance
Technical problems
Replacing lost items
Occasionally gifts
1. Medical expenses
The medical expenses can be classified as before covid and after covid. The expenses for health during the covid times have drastically increased. For meeting the emergency medical expenses you need to have a little money aside. You can always be thankful for emergency funds to have come to your rescue. When you go to meet the emergency expenses you cannot estimate how much you will incur. There may be a sudden increase in the bill amount if you are not prepared to meet these expenses. If the bill amount goes beyond your limits then an emergency fund will come to your rescue.
2. Household maintenance
Having a house is a luxury and having the maintenance expenses related to it feels difficult. You need to spend a lot of money from your savings to have the maintenance expenses incurred. You should never meet your household expenses from your credit card because it's a kind of loan. Spending a loan amount for an asset is a somewhat good financial decision but spending money for maintenance expenses is a poor financial decision.

The washing machine repairs, HVAC maintenance repairs, plumbing repairs, termites repairs, painting repairs, and flooring repairs are all household expenses that are recurring expenses. These keep on changing for a period of time and the expenses are not constant. Being prepared for these expenses from your savings amount should be done.
Click here for The seven day rule for expenses
3. Technical expenses
As young adults, having technology and gadgets is a common thing. Gadgets such as phones, tablets, laptops, Pcs, or any devices are useful and most importantly they are becoming a necessity in today's generation. Maintaining these gadgets is a challenging task.

You may encounter problems with broken mobile screens and other wear and tear expenses. Depending on what device you are using, the nature of the expenses is determined. Some may experience low expenses and some experience higher expenses. Nowadays having insurance for gadgets is a common thing. If you are planning to buy electronic expenses then having to maintain those electronic gadgets is an expense to maintain.
Click here for How to deal with financial stress?
4. Replacing lost items
If an item is lost then the expenses to replace the lost items could be a burden especially if you are already in the midst of financial difficulties. A small expense can also be difficult to bear when you are using the products or items and suddenly they are lost. It becomes a burden to replace the item. Financial difficulties are not permanent and they can change at any time.
5. Occasional Gifts
Occasional gifts for marriages, housewarming ceremonies, birthday events or any other expenses which are not permanent in nature. They are not maintained day-to-day expenses and they will not happen on a daily basis. Occasional gifts are not fixed expenses; they will depend on the person spending the expense.
Take away
When you are planning for an expense there is always a chance that the expected amount may be higher until you realize the amount. Having an emergency fund will always be a safe way to manage your expenses. Adding to this the savings account money will come to rescue you in the event.