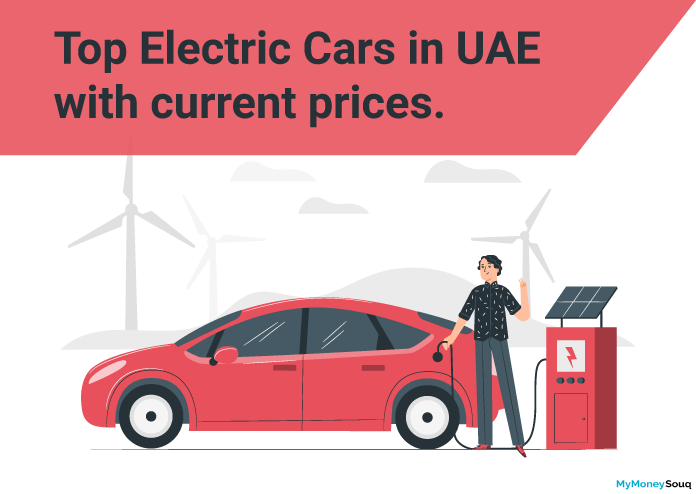 Until the last few years, there were a few car companies that were into electric cars. As year on year, the innovation develops and there is a lot of scope for electric cars. There are a high number of automobile companies that are into manufacturing electric cars. There has been a lot of investment into electric models as these are 'fuel efficient' and eco-friendly vehicles. Here in this article, we bring to you electric cars in the UAE.

Top Electric Automobile Cars

Renault
Renault is a 'French' manufacturer of cars which was established in the year 1899 and it is primarily into the vans, cars, aircraft & 'auto rail vehicles'. Renault has entered into the electric cars market with the energy-efficient ZOE series. This car was designed as a space efficiency car which is recognised and awarded with 'Best small-size e-car' in the year 2020.

This ZOE series car is available in 2 grades which are 'Life and Intens'. The facility of 'children attachment system' and 'daytime running lights' are under life grade and 'hand free smart card' telephone systems are available under Intens grade. For information on Intens price and other car details, you requested to approach the showroom. The starting price of life grade is AED 137k.

Renault showroom: There are multiple showrooms across UAE which include this one in 'Sheikh Zayed Road, Dubai; Near Tasjeel Auto Village Sharjah'
Call at +971-4-339 -3857; +971-6-598 -6222
Click here for Car dealers in UAE
Tesla
Tesla is considered as the most renowned electric car in the world. It is recognised for its energetic products and performance. Tesla is the first electric car company which introduced eco-friendly cars in the country. It is a leader in the automotive industry and its invention of e-cars has zero emission. Tesla cars work with 100 percent battery mechanisms.

In the UAE market, there are 4 types of Tesla electric cars which are available and these include the 'Model S, Model X, Model 3 and Model Y'. Among all these there are three model cars which are running on the roads. Tesla introduced the latest Model Y in the year 2021.

The Model Y Tesla car is a moderate SUV car with approximately 68 cubic feet cargo space. This car has the capacity of traveling 326 mies without the requirement of recharging the vehicle.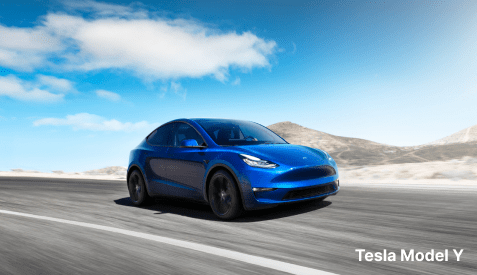 The average car cost of a Tesla Model Y begins at 'AED 180K'.

For more information on buying theTesla car, you can visit their website.

Tesla Showroom: There are multiple showrooms across UAE which include 'The Dubai Mall, Yas Mall, Abu Dhabi'
Tesla Car Models: Model S, Model 3, Model X and Model Y
Call at +971-4- 521-7777; +971-2- 414- 6401

Please Check: Tesla Car Insurance in UAE
Chevrolet
Chevrolet is a global automobile company which is from the US manufacturer GM company. In the year 2017, Chevrolet launched the giant automotive 'Chevrolet Bolt EV'. It is a 5 doors all electric sub compact car. It was the first e-vehicle to do its driving operations on a one time charging mechanism which will drive for an estimated 520 kilometers.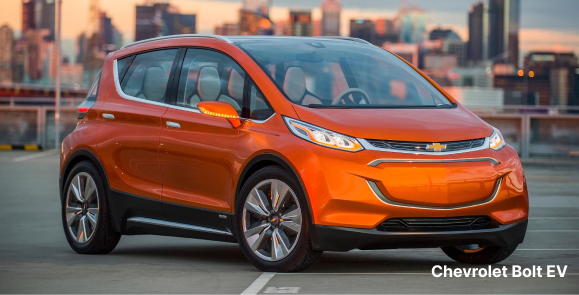 The initial price of this car is 'AED 168,500' according to the advertisements given in the media.

Chevrolet Showrooms: 'Al Ittihad Road', 128-563 Al Khabaisi, Dubai'
Car Model: Bolt EV
Call at +971-4-519-0000

Please Check: Compare & Get Best Car Insurance in Dubai & UAE
BMW
'Bayerische Motoren Werke Aktiengesellschaft' also popularly known as BMW introduced electric cars. The company has a good reputation and build up for electric cars. A great 'collection of e-cars' has been driving the enthusiastic drivers..

BMW has introduced 4 different electric car models which are in BMW iseries. In the emirates showrooms you will see only BMW i3 series. BMW is a 'B-segment high roof hatchback' manufactured car which is from BMW with a facility of electric powertrain which uses 'rear wheel drive' through single speed.

The average car cost of BMW i3 series starts at AED 207,300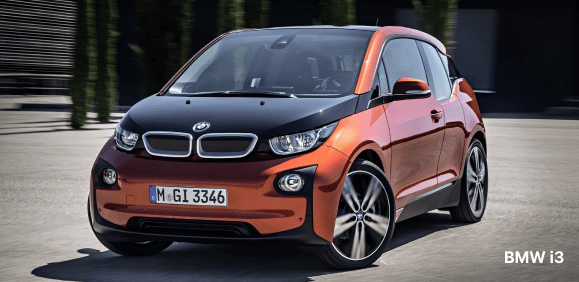 BMW showrooms: There are multiple showrooms across the UAE which include 'Sheikh Zayed Road, Al Quoz 1, Dubai; Airport Road, Abu Dhabi'
Click here for Ways to sell your car in the UAE
Hyundai
This company has been into operations since 1967. Hyundai is a 'Korean Automobile company' which is famous for its fuel efficient cars across the globe. In recent years it has grown its business operations around the world. There are three electric model cars available under Hyundai. These include 'KONA , IONIQ & NEXO'.

Hyundai e-cars in UAE are strengthened by 'Lithium-ion' batteries which will make them speed up from zero to hundred kilometers per hr in a few seconds of time.

The average market price for the Hyundai Kona in the country is AED 76,250. For more details on other Hyundai car models contact the showroom.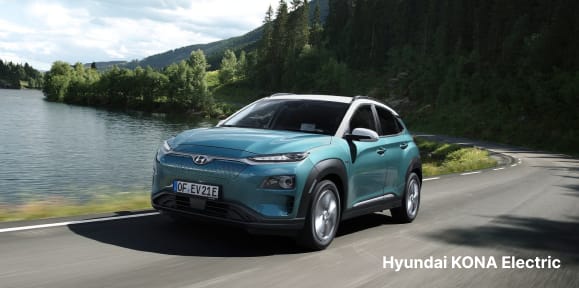 Hyundai Showrooms: There are multiple showrooms across UAE which include this one in 'Al Ittihad Road, Deira, Dubai; 'Sheikh Mohammed Bin Zayed Road' Sharjah
Car Models: KONA Electric, Nexo & IONIQ Electric
Call at +971- 4- 605 -6666; +971-6 -509 – 5777
Nissan
Nissan, a Japanese automobile manufacturer, has its headquarters in Yokohama. It has introduced an eco-friendly electric car called the Nissan Leaf. 'Nissan electric car' is a new car introduced in the emirates. It has a 'floating roof' & e-pedal system which will enable you to apply brakes and do acceleration with one pedal. The price of Nissan Leaf is expected to be AED 134,640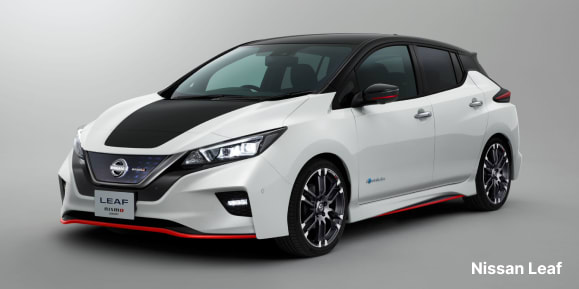 Car Model- Nissan Leaf is coming soon.
Nissan Showroom: 'Al Ittihaad Road, Dubai'
Call at +971- 4- 295 -2222

Ford
America's most popular car company is also into electric cars. This industry has recently introduced the electric car in the country. 'Mustang Mach- E' has 'magnet synchronous motors' which offer 'peak torque' in '0.5 seconds'. This car was introduced in the emirates in the year 2021. With a single charge, this car can travel mileage of 248 miles to 379 miles.

The average price for the 'Mustang Mach-E' is AED 161,076.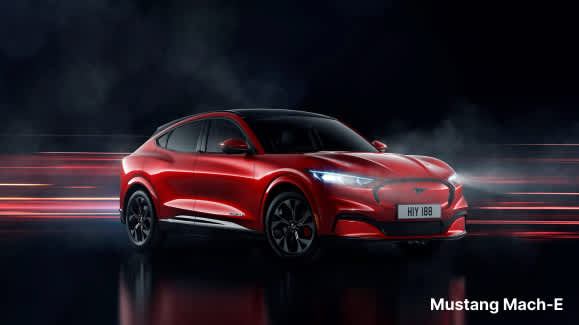 Ford showrooms: There are multiple showrooms across UAE which include these in '697 Sheikh Zayed Rd, Dubai; Jebel Ali Freezone Extension, South Left Side, Nearby Agility Warehouse, Abu Dhabi'
Car Model: 'Mustang Mach-E'
Call at '8000 – 444 -1066'
Porsche
Porsche has entered into the e-cars world and it has introduced majestic Taycon services. With a single charge, this car can travel for '484 kilometers'. A unique feature is the 'over boost facility'. The driver can activate overboost which enables to increase the speed from 0 to 100 kilometers/hr in mere '2.8 seconds'.

The average market price for the Porsche Taycan in the emirates is AED 544,350 .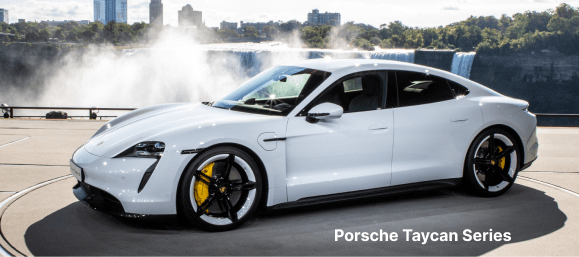 Porsche showroom: 'Shaikh Mohammad Bin Zayed Rd; Sharjah'
Car Model: Taycon Series
Call at +971- 6- 512 – 5550'
Toyota
Toyota launches All new bZ4X SUV Battery Electric Vehicle. Plano, TX. Toyota has a commitment to a carbon neutral future and it does it with style with its all electric cars. The all-new 2023 bZ4X electric SUV begins at $42,000. The Company has said the availability of the cars will be limited. The high end car will start at $46,000. The automaker plans to start selling the bZ4X in other markets later this year, and pre-orders have already started in some European countries.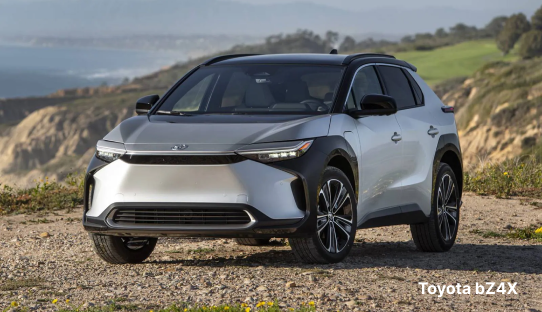 The Toyota bZ4X will go on sale in select markets like the USA, Europe, Japan, and China from mid-2022. When will it fly over to other markets? We will need to wait for Toyota to confirm that. But one thing is for sure. The Toyota bZ4X is the first of 15 Toyota EVs that are slated to roll out in the future.
There are many automobile companies which are bringing different electric car models into the UAE. This is replacing the dependence on petrol and diesel cars, these electric cars are energy efficient and are becoming more popular across the nation. If you are planning for an eco-friendly car then electric cars are the right choice.

The prices given in this article are indicative in nature and are not the final prices.
The final prices are subject to change depending on various factors and may vary from place to place.

Disclaimer: The information and figures provided above are for informative purposes and subject to change. Mymoneysouq holds no responsibility for any increase or decrease in the car prices.


Vinay Kumar Goguru is a finance professional with more than 8 years of diverse experience as a researcher, instructor and Industry work experience with both public and private entities. Prior to MyMoneySouq, he spent 6 years in Berkadia, It's a commercial mortgage banking company. He has a "Doctoral Degree in Commerce" and two master's degrees with a specialization in Finance, one as Master of Commerce and other as Master of Business Administration. He has written several articles on personal finance, published by different International journals. He loves traveling, reading and writing is his passion. He has a dream of writing a book on his favorite finance topics.