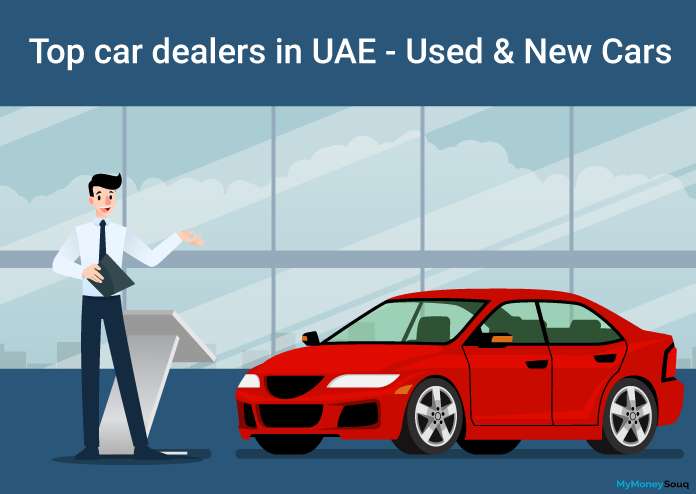 The latest luxury & sports cars can be easily accessed in the UAE. Many brands have their authentic car dealers in the country. These car dealers are not just famous for dealerships in cars but also in car services, car repairs and after sales services. Here in this article, we discuss the top car dealers in the UAE.

List of Car Dealers
Here is the list of car dealers in the UAE who offer both used cars and new cars with good features.

Al Futtaim motors and trade enterprise
This entity was founded in the year 1931 and towards the year 1955 this organization increased its scope of business and formed Al Futtaim motors in the UAE. This trade organisation is very much popular for providing services in more than fourteen countries.
Toyota
Sheikh Zayed Road, Festival city, Airport Deira; Call at +971 800 2366 8677
Lexus
Dubai festival city; Dubai Investment park; Call at +971 452 230 53
Honda
Sheikh Zayed Road, Dubai Festival City; Call at +971 800 46633
Jeep
Chrysier, Dodge, Ram, Dubai Festival Road; Call at +971 800 5119
Volvo
Dubai Festival city; Call at +971 800 8824

This trade entity enterprise is part of Al Futtaim group which came into existence in the 1970s. Across the UAE, this trade enterprise is the dealers of Chrysler, Dodge, Honda, Ram & Volvo.
With its tremendous growth and business influence, it has grown its roots in the rental business, motorcycles, agricultural business, lease, construction equipment and others across the UAE.
Click here for Car Insurance
AW Rostamani group
Rostamani group represents different companies which are in relationship with each other in the automotive industry, car rentals, trade & real estates business. Arabian Automobile company is part of AW Rostamani group; it began its operations in UAE with its first showroom in the year 1968. It has become one of the special distributors for infiniti, Nissan, Renault in Dubai and also across North emirates.

Nissan
Sheikh Zayed Road, Deira Dubai; Call at +971 440 7 5599, +971 295 1234

Infiniti
Sheikh Zayed Road, Al Ittihad Road, Call at 800 46346484

Renault
Sheikh Zayed Road; Call at 800 736 2858

Al Nabooda Automobiles LLC
It is the authorized dealer for some of the luxurious brands. These prestigious brands are in Dubai which includes Audi, Volkswagen & Porsche. This showroom began with one outlet for every brand and today the business net worth is more than 1 billion US Dollars.

The largest showrooms are set up by this group across the UAE. In the year 1991, this group set up the world's largest Volkswagen showroom and later in the year 2012 it set up another world's largest showroom for the Audi brand.

Volkswagen
Sheikh Zayed Road, Al Rashidiya, 80029

Audi
Sheikh Zayed Road, 8002834

Porsche
Sheikh Zayed Road, 800918

BMW and Rolls Royce AGMC
This entity is the official importer for BMW in the UAE which was set up in the year 1976. With more than four decades of experience in BMW AGMC it takes the honor of relationship with the company. The car owner has good access to perks and benefits by getting services at the centres throughout the UAE. AGMC has got recognition for selling the highest number of Rolls Royce.

BMW
Sheikh Zayed Road, Dubai Motor City, 8002462

Rolls Royce
Sheikh Zayed Road, +971 4 339 1555
Click here for Top car loans
Juma Al Majid group
This group was established in the year 1950 and it has joined a partnership deal with many organisational entities which are into the fields of construction, shipping, trade, imports and travel. Al Majid motors is the only distributor of KIA motors in UAE and it was set up in the year 1988. GENAVCO, which was founded by the Juma Al Majid group in 1967 became the leading distributor of ISUZU.

ISUZU
Al Karama, +971 4 396 1000

Hyundai
Sheikh Zayed Road, Al Ittihad Road, 8004986324

KIA
Sheikh Zayed Road, Deira, 800 542823

The choice of selecting the used cars or new cars remains with the buyer. You can buy from the official dealers or from private dealers. The official new car dealers and used car dealers provide a range of various services which include the maintenance of car parts, insurance and even the best resale option. Select your car according to your budget and have a safe drive.

Vinay Kumar Goguru is a finance professional with more than 8 years of diverse experience as a researcher, instructor and Industry work experience with both public and private entities. Prior to MyMoneySouq, he spent 6 years in Berkadia, It's a commercial mortgage banking company. He has a "Doctoral Degree in Commerce" and two master's degrees with a specialization in Finance, one as Master of Commerce and other as Master of Business Administration. He has written several articles on personal finance, published by different International journals. He loves traveling, reading and writing is his passion. He has a dream of writing a book on his favorite finance topics.