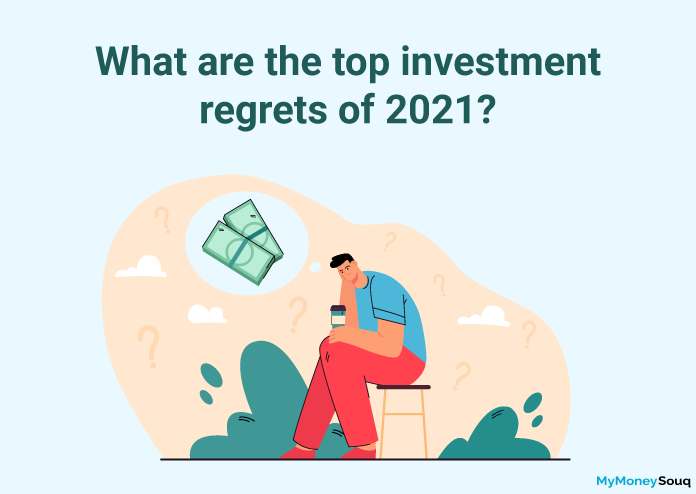 The year 2021 has ended with the hope of increasing business. Though the year that began this year started with the Covid-19 variant and the threats of lockdown continue to haunt the markets, the uncertainty in the stock market will continue to surprise investors. The S&P 500 has ups and downs in the market. The increase and downtrends show the investors struggling to settle with the investments. The Omicron variant and the other future expected variants of the virus threaten the market.

Investment regrets are the main factors which drive the investors in the market to make buying at high and selling at the lowest. Investment regrets will make you take decisions quickly sometimes and the possibility of happening or non happening of an event will fear the suffering of loss or make you a possible win. Here in this article, we discuss the top investment regrets of 2021.

Purchasing a home at the right time
Education loan
Investment in stock market
Credit card debt
Investment decisions
1. Purchasing a home at the right time
Is it good to stay in a rented home or buy a new home is a point of debate but buying a home is always a permanent solution for rental problems. There was a boom in the real estate market and the steady increase in deals., Dubai hopes almost 64 thousand new houses will be built in the near future. If that becomes a reality then it will be the number of completions.

That was the best time for investment many experts suggested. It was also a very tight situation for the investors and also the property buyers to accumulate invested money in the property.
If you look back and see the amount of money you spent on rent for years it will pinch a pain. The amount of money you spent was a loss which will never come back. The pride of having a home can give you relief. Purchasing a home would have been possible only if you have had good reserves and financial backup. Since it was a period of the financial crisis, paying rent was a challenge for many people. If you had money and had not purchased a home at the right time then you would have regret for your decision. 
2. Education loan
Education costs are increasing and parents or the caretakers find it difficult to afford the fees. Making the right decision of taking an education loan would create a good career. There would be high growth and a high income earning position.

UAE has the world's best education system and it is the powerhouse of best universities. The English language education in universities creates good working conditions and job opportunities. The moratorium period worked as a financial cushion to the people who had borrowed money. It gave time to the job aspirants to find a job opportunity after completion of the course.
Click here to Pay for your education without getting into too much debt
3. Investment in the stock market
Many investors think about the right time to invest and hesitate to invest money at the right time. In fact, finding out the right time to invest is a challenge. The stock markets have fallen during the peak of Covid-19 crisis. Those investors who made investments during that period have started to earn good returns on investment now. What kind of shares you are investing also plays a major role.

A good research and future outlook of the stock market and the company is also required to make the right investment decision. In overall, most e-commerce companies have earned highly during this pandemic and the investors who made their capital flow into these companies have largely benefited from their decision. 
4. Credit Card debt
Debt utilization on the credit card if made properly would have resulted in benefit to the card users. Many financial institutions and service providers have provided many relief programs during the pandemic by extending credit services and waiving fees. The idea is to provide relief to the card users during the pandemic. There were various debt relief schemes and debt relief programs. If you got more than one credit card and revolving credit continues then it is better to avoid using credit cards. Credit card utilization is an art if money management is not made in the right spirit, it is a step towards falling into debt trap.
Click here for How credit counselling can help you?
5. Investment decisions
Making the right decision in the stock market is a crucial factor. During the pandemic social media platforms like Tik Tok and Stocktwits have increased their market share. The other biggest regret is investment into the tech companies. Many tech companies started their innovatives online games and various apps.

Investments into these companies would have increased good returns. The markets for cryptocurrencies, online payment portals, apps have dramatically increased during this year. The investors who made their investments knowingly or unknowingly have earned better returns because of their investment decisions.
Takeaway
It is important to put your money safely invested in long term ventures. Do your own research and invest. Do not rely on the past data only because what has happened in the past twelve months will not repeat in this year and anything can happen during this year. Make cash reserves available to meet the financial needs and do not make hasty decisions in investments.


Vinay Kumar Goguru is a finance professional with more than 8 years of diverse experience as a researcher, instructor and Industry work experience with both public and private entities. Prior to MyMoneySouq, he spent 6 years in Berkadia, It's a commercial mortgage banking company. He has a "Doctoral Degree in Commerce" and two master's degrees with a specialization in Finance, one as Master of Commerce and other as Master of Business Administration. He has written several articles on personal finance, published by different International journals. He loves traveling, reading and writing is his passion. He has a dream of writing a book on his favorite finance topics.