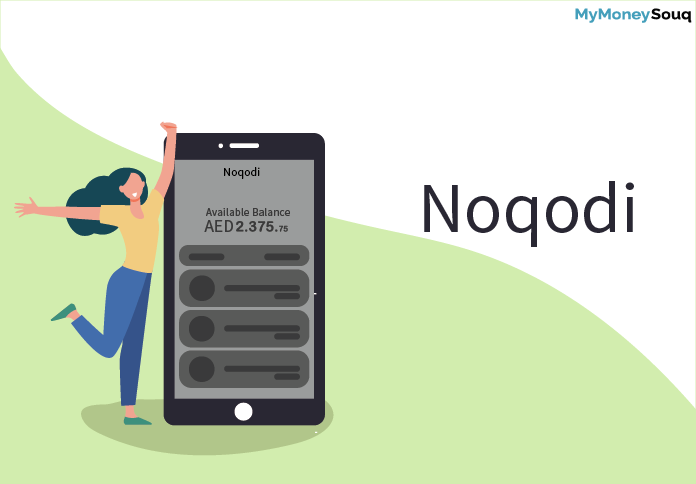 Noqodi is a dedicated electronic payment operated through Dubai Pay which is especially for high volume payments. It is one of the safest and easiest ways to enable online payment.

Noqodi is a powerful payment method that provides a safe and free digital wallet. You can use credit cards/ debit cards/ e-cash or any online wallet to make payments.
Noqodi enables you to register as a customer or a merchant. You can avail these facilities according to your requirements.
1. How can I register as a customer?
You have to visit the website www.noqodi.com and sign up as a customer from the home page. Select the account type accordingly as an individual or a corporate customer.
Fill in the details as requested on the registration page and follow the steps to complete the registration process.
The details of your noqodi account will be displayed. As you follow the instructions your wallet account gets created.
2. How to register as Merchant?
You have to register your details such as Merchant business name, merchant website address, country of business, type of establishment, contact details and business description.
Once the details are filled in, you have to submit the application and your account gets created.
3. How to add money in the wallet?
For Direct Debit- After you log in to your account, select top-up net banking, then select the bank from the drop-down and then enter the amount you want to add to your wallet.
The login page of your bank will appear. Enter the login details of your bank and once your payment is done successfully, funds in your noqodi wallet will be added instantly.
For Credit Card– After you log in, select a top-up credit card. You have to enter the amount if you have already saved a card then select the credit card from the list or enter new card information.
Make sure that your card is 3D secure. Once the payment is successful funds will be transferred to your wallet.
Remit to the bank- For local bank fund transfer into your wallet, Login to your wallet then fill up the details as requested. Enter name, Bank details, Amount in AED, upload bank receipt and save.
Noqodi team will verify your details and cross-check with the actual bank account. Once the verification is successful, funds will be transferred to your account subject to cut off timings.
Click here to know about Mobile wallets in UAE: The future or fad?
4. How does it work for Customers?
First, you need to create a wallet and then add funds to your e-wallet. Funds can be added to your wallet according to your preferences such as debit/credit card, online banking, exchange houses, bank transfer, direct debit.
In addition to adding funds to your e-wallet, you can also link your cards such as debit/credit card.
You can also set your cards as a primary payment mode, this will ensure that all your funds will be transferred from that particular card.
Once you have transferred funds you can make secure and instant payments. You can link your merchant details in noqodi wallet.
You can pay with just one click and also set a daily payment limit for every merchant.
Noqodi wallet is a Smart Payment mode just Scan > Tap > Pay.
You can get money back instantly to your account and you can also track your spending from payment history, account statement reports and top up summary.
5. How does it work for Merchants?
If you have registered as Merchant then you can enjoy the facilities below offered by Noqodi.
Auto settlement- You can use Noqodi's ready-made payment solutions and settle the money directly in your bank account.
Auto refund- Auto refund is done to ewallet, IBAN, Credit/Debit Card.
Auto reconciliation- Auto reconciliation of all transactions: Payments, Business Refunds and Reversals
Multiple Beneficiaries– You can distribute your payments to multiple beneficiaries i.e Courier, Service Fee, Insurance etc.
Receive Payments– You can receive payments from multiple payment options such as ewallet, direct debit, credit/debit cards.
Integration– It provides an API (Application Programming Interface) integration facility so that fund transfer is processed easily.
6.How to view a wallet statement?
To view your statement, from reports drop-down select any of the following.
Account statement report
Funding report
Payment report
Mention the period to view your report and then select the 'Get Report' button.
Click here to know about Ewallets in UAE
7. What are the Noqodi Payment Channels?
Noqodi provides below payment channels.
Online- You can top up and manage your wallet online.
Mobile- Download Noqodi from google play store or app store and make easy payments and top-ups.
Kiosks- You can make payments from Kiosks.
Smart Terminals– Scan the QR code displayed on the smart terminals from Noqodi mobile app and make one-click payment.
8. How to Contact Noqodi?
If you have any issues contact the help desk if you require any additional information or help. Noqodi Support team shall contact you within 24hrs and assist you.

Contact # 600 503036
International Contact # +971 4 2376100
Email- noqodi.operations@emaratech.ae

Vinay Kumar Goguru is a finance professional with more than 8 years of diverse experience as a researcher, instructor and Industry work experience with both public and private entities. Prior to MyMoneySouq, he spent 6 years in Berkadia, It's a commercial mortgage banking company. He has a "Doctoral Degree in Commerce" and two master's degrees with a specialization in Finance, one as Master of Commerce and other as Master of Business Administration. He has written several articles on personal finance, published by different International journals. He loves traveling, reading and writing is his passion. He has a dream of writing a book on his favorite finance topics.