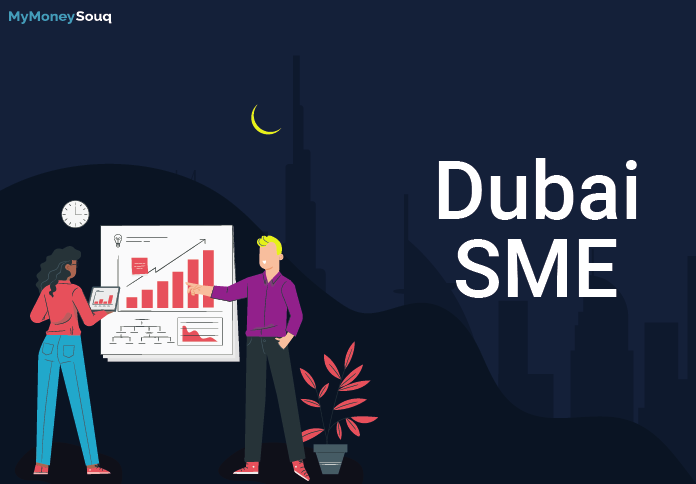 Dubai SME was created and developed by the government to support the Small and Medium Enterprise (SME) sector by providing resources, finance, and promoting the growth of their business. The goal is to promote innovation and leadership in the SME sector. Dubai SME is committed to providing support in financial planning, simplifying business, helping in establishing a business from the start to finish. It guides in setting up your own business and also supports the business continuity process.   

Here in this article, we present you with the services provided by the Dubai SME to the business community.

A. Startup Business
If you have an idea of starting your business, Dubai SME provides you with support in planning, market knowledge, motivation and finance to bring your business products or services. Below are the services offered to startup businesses.
Business Development and advisory services
Intelaq program
Innovation Incubator
Support services
The Fund criteria
Dubai Entrepreneur academy
1. Business Development and advisory services-Dubai SME provides a range of services which are a support for the UAE national entrepreneurs by starting the business and developing the business in Dubai. It helps in making the business idea into reality by finding edge in the market, bringing the business idea into reality, preparing a business plan, and a road map for the business. It also helps in getting to know the market basics and target market. Dubai SME helps startups in the early stages of business development by providing funding and hiring employees.
Offers for start-up companies
Funding facility to launch your business.
Getting approvals from Dubai Government departments and agencies.
Save government and other fees in the first years of your business.
Low licensing fees
2. Intelaq Program-The Intelaq business program that was launched in the UAE helps the emiratis living in Dubai to take initial steps in the world of business. Intelaq program is to provide business owners with start-up support at all levels of phases.
Intelaq license-The expense incurred for getting the Intilaq license is AED 1,060. The business can have only one trade or professional intelaq license. It is permitted to operate more than one activity under the license as long as the business is related to the nature of the company. A relevant fee should be paid for getting approval from government departments. Intelaq license does not allow to hire staff but you can buy the services of contractors if required irrespective of the location.
3. Innovation Incubator facility-Dubai SME provides both the hardware and software facilities. Hardware facility comprises 20,000 sq feet of space which can accommodate more than 60 companies. Software facilities consist of the powerful intellectual infrastructure of 10 years experience with 500 established companies.
Apart from the hardware and software facilities, Dubai SME also provides H12 development facilities and support services. These facilities are business development, advisory services, a lab for products and inventions prototypes, 3D printers, multimedia lab, strategic partners and other activities and events.

4. Legal Support service offers
Trade license is issued with exemption to local fees that includes Dubai municipality fees and Department of Economic Development fee. This is for 3 years from the date of issuance of license but it does not include fees imposed by federal entities. Yearly renewal for licenses with a minimum fee for renewals/amendments.
3 years membership for Dubai Chamber of commerce and Industry
Obtaining renewal of labour guarantee exemption, this is subject to satisfying terms and conditions.
Obtaining discount on lease premiums from govt and semi govt entities
Providing necessary support with Simple processes and procedures for the company.
Eligibility conditions
The business should be located in Dubai
The business should be 100% owned and managed by UAE nationals
For an existing business, it should not increase 3 years since startup
One license can be obtained during the exemption period. Another license can be obtained if activities of the new license are according to the first license.
Prior to submitting the membership applications, the number of trade licenses should not exceed four.
5. Fund facility criteria-Fund facility criteria would be done based on the projects of the start ups. The financial support is provided considering the
Commitment of the entrepreneur
Financial parameters 
Business idea
Business model 
Business risk
Business sensitivity
Business growth
Quality of business plan.
Check: The best SME accounts in the UAE
6. Dubai Entrepreneur academy-Start ups and experienced entrepreneurs get help from the Dubai SME. Dubai academy provides training to staff of the start up companies in developing skill sets. Training sessions, workshops, seminars and other learning activities and networking with like minded entrepreneurs and individuals are provided. A start up company or already established business company, Dubai academy provides business skills training and turns vision into reality.
Click here for How Inflation affects your life in Dubai?
B. Growth of ongoing business
Dubai SME provides growth opportunities and facilitates the ongoing business concern. Business development facilities are provided by the company such as
Business promotion
Government procurement program
Rating system for SME
Financing solutions by the fund
Fund services provided by strategic partners
1. Business promotion-Dubai SME provides business promotion facilities to entrepreneurs. The opportunities to participate in exhibitions and events at competitive prices to sell, promote, and display products and services. Below are the documents and conditions required to participate in business promotion.
The business enterprise should be 100% owned & managed by UAE/GCC nationals
A passport copy
A trade license copy
Membership copy of the Dubai SME
Company Profile
Company Logo
List of products provided by the business & their prices
You can get register at sme-memberregistration.hidubai.com
2. Government procurement program- This programme helps to qualify entrepreneurs to meet needs and requirements of government, semi-government and private sector companies. Below are the documents and conditions required to participate in the government procurement program.
The business enterprise should be 100% owned and managed by UAE nationals
The activities shall meet the needs of the entities
Passport Copy
Trade licence copy
Authorization signature letter from the bank
Audited financial report
Benefits of the program:
10% allocation of government purchases to the members.
Promotion for members at the business entities.
Giving members proper opportunities for contracting with business entities
Free membership at Dubai Government E-Supply portal.
As approved by the supplier, programme members are exempted from fee for registration.
For the first three years space at discounted rentals for members
Click here for Dubai water Taxi
3. Rating system for SME-Rate SME is the first rating system launched by Dubai to give ratings to the SMEs. It provides a comprehensive view of enterprise performance with financial and non-financial evaluation criteria. Below are the documents required.
Trade licence copy
At Least 2 years Audited financial report
Business continuity plan
4. Financing solutions by the fund-The financing solutions are provided by the Dubai SME through LPO finance, Loan expansion, asset financing and term financing.
LPO finance:
The local purchase order (LPO) provides financing payable invoices until the enterpriser receives his dues.
Loan Value: From 1,000 to 1,000,000 dirhams with value assurance will be provided
Loan Expansion:
Loan expansion is provided for ongoing continuing and existing business in the F&B sector. This facility is provided for those who have been in the market for two to five years. This facility is for those business entrepreneurs who want to expand their business.
Loan Value: Maximum of 1 million dirhams
Asset financing:
Asset financing is provided for businesses who are existing in the market for 1 to 3 years. This facility is best for those who are seeking to expand their business activities. Asset financing is done by investing in equipment, machinery and commercial assets.
Loan Value: Maximum of 300,000 dirhams
Term financing:
Dubai SME provides support to existing businesses for two to five years. It provides cash to support operations and work costs until contract value is settled.
Loan Value: Maximum of 500,000 dirhams. Below are the conditions required for getting the financing solutions from the Dubai SME

The business enterprise shall be 100% owned. It should be managed by UAE nationals
The business should be located in Dubai.
The applicant should personally implement and develop the business plan.
The applicant should manage the enterprise.
The age of the entrepreneur should not be less than 21 or above 65 at the time of making the payment.
The enterprise should meet the requirements and be economically viable.
The minimum financial contribution of the applicant to the funding shall be 20%. This is in accordance with the decision of the Committee and depending on the type of activity. It also depends on the degree of the risk.
Before starting the enterprise an operation manager and accountant shall be appointed with the consent of the fund.
5. Fund services provided by strategic partners
Credit Bank Scheme: Business entrepreneurs can get high value credit loans with the bank guarantee from banking partners. This is in low interests along with a grace period for repayment of loans. This enables them to cover costs and get profits. Loan Value: 1 million to 3 million dirhams. You can register through www.thefund.ae
Crowdfunding in partnership with Beehive:A group and individual financing solutions are provided through the crowdfunding mechanism. This is provided with the economic interest rate which is in addition to the guaranteed value of the funded product.
You can register through www.Beehive.ae
C. Training programs
Dubai SME provides training programs to the entrepreneurs. Its aim is to develop professional capabilities and increase competencies of business entrepreneurs.
With the COVID-19 outbreak the training programs for startups and entrepreneurs have been organised online. Dubai Entrepreneurship Academy is fully digitalised to provide training and education to the start ups and business organizations. A remarkable level of resilience was demonstrated by the academy under COVID-19 measures in the UAE. The training programs are offered by the academy on the following topics.
Consultancy services
Crisis management
Cost control
E-commerce
Sales
Marketing techniques
Project management and others
Altogether 21 training programmes and more are provided by the Dubai SME. It included 10 consultancy services sessions all done remotely by the training experts. The Dubai academy contributes to the comprehensive support package of Dubai SME.
To have convenient access to programs the academy uses digital platforms such as microsoft teams, webinars, zoom and other tools so that its convenient to get access at less cost.
Dubai SME with its institutions provide financial, advisory and knowledge services to the start ups and entrepreneurs. The Dubai Academy provides online channels, resources, partnerships and survival tips for SMEs. It enables them to have focus on business development and continuous improvement. 
Check: Zero Balance Business Accounts in UAE
Dubai SME facilities to overcome challenges of COVID-19
During the COVID-19, Dubai SME took various measures to support the SMEs by postponement of rent, easy access to finance, remote assistance, easy navigation of resources, assistance in overcoming operational challenges, business sustainability and continuity.
The beneficiaries of Hi2 can get advantage of postponement. They can focus on project development. A facility of fee reduction upto twenty percent is offered on private office packages.
Loans to support business continuity of projects. A three months grace period is provided for loan repayments for easy access to get finance.
Mohammed Bin Rashid Fund for SME will offer zero-interest financing to Dubai SMEs. The facility is provided for the members who are finding difficulty to meet their operating expenses such as salaries, rent and other maintenance expenses.
It also provides for online financial consultancy services for entrepreneurial projects.
Takeaway
Dubai SME is a resource of support for the startups and entrepreneurs in the SMEs business community. It works for the survival, growth and development of the Small and medium sized businesses. If you have a business plan and you do not know where and how to start your business then Dubai SME provides solutions to your questions. It helps in starting your business and supports entrepreneurs at all phases of business development. It encourages creativity in business, provides finances, training and development of your business so that you can achieve your business success.

Vinay Kumar Goguru is a finance professional with more than 8 years of diverse experience as a researcher, instructor and Industry work experience with both public and private entities. Prior to MyMoneySouq, he spent 6 years in Berkadia, It's a commercial mortgage banking company. He has a "Doctoral Degree in Commerce" and two master's degrees with a specialization in Finance, one as Master of Commerce and other as Master of Business Administration. He has written several articles on personal finance, published by different International journals. He loves traveling, reading and writing is his passion. He has a dream of writing a book on his favorite finance topics.